Tanzania: Kikwete – Economy On Sound Footing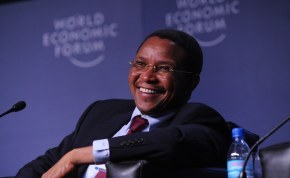 THE Chairman of Chama Cha Mapinduzi (CCM), President Jakaya Kikwete, has said that the country's economy is moving in the right direction and that the future looks much brighter.
President Kikwete told delegates at the National Congress here on Sunday that the economy has grown from 6.4 per cent last year to 7 per cent this year.
"According to vision 2025, we want our country to move ahead from the list of poor countries to middle income. We want the per capita income to increase from 545 US dollars to 3,000 US dollars. This is a distant target that needs better arrangements," he said.
"Our exports are getting bigger and better. For example, in 2005 our exports netted 2,945.5 million dollars and now the income stands at 7,461.2 million dollars. Our foreign reserve is good as well. As of now we stand at 4.1 billion dollars which is enough to help us import goods for 3.8 months.
He said that the government launched the National Five-Year Strategic Plan last year that would be successful by the (2011/12 – 2015/16). The aim is to achieve vision 2025. He, however, noted that inflation has been a problem despite the reduction from 19 per cent to the current 13 per cent.
He added that efforts were being made to reduce it even further. "It is true that inflation has gone down from 19.8 per cent in December, 2011 to 13.5 per cent in September, 2012. However, the reduction is still small. We will continue to take measures to reduce this and since one of the reasons is the hike in oil prices, we have ordered EWURA to control the market," he said.
He added that there have been remarkable achievements in revenue collection, saying that, for example, in August, this year TRA collected 554.8 billion compared to the 147 billion netted in December, 2005. President Kikwete noted that the government was increasing investment opportunities and that during his term in office many new investments have been made.
"For example, in 2011, there was a total of 826 investments made. These were valued at 7,177 million dollars and were expected to generate employment for 79,000 people. These are remarkable achievements," he said. In another development, President Kikwete noted that his government has made tremendous improvement in terms of building tarmac roads.
"My government has to a large extent fulfilled its promises made on connecting the country with tarmac roads. We also intend to upgrade and extend our central railway line to Rwanda and DR Congo. I want the work to start before my term in office ends in 2015," he said.