Power of Music Part 3: Emmanuel Jal And The Business Of Peace Music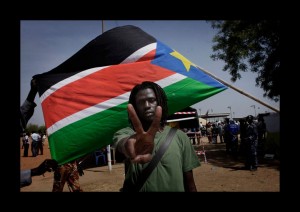 When Emmanuel Jal first tried to get a record deal, he was met with a reaction all too familiar to many socially-conscious musicians.
"I had record labels wanting me to change my style, they wanted me to be more 'hard,'" he says. "I was being told, 'You're soft, you're not like a real soldier.'"
The executives dispensing that advice had no idea how wrong they were—Jal has been fighting all his life. He grew up in what is now the independent nation ofSouth Sudan, a region that lost roughly one-fifth of its population in a civil war that split the country in two and continues to reverberate today. And at the age of seven, after his mother was killed by government forces, he was sent to a training camp to become a child soldier.
Jal's story represents one of the more heart-wrenching and improbable paths to a happy and fulfilling life, let alone international fame as a musician. Now 32, he has just released his fifth studio album, See Me Mama, on his own Universal-distributed label. Combined with a healthy dose of live performances, a memoir and a documentary about his life, music has given him not only a voice but a financially viable career that enables Jal to take care of himself and others
On a recent visit to the Forbes headquarters inNew York(see video of the interview below), Jal compared his relationship with music to an airplane's interaction with air pressure: the level inside must match the level outside.
"What music does to me, it helps me balance my inner pressure so that I can deal with the forces outside that are trying to pressure me," he says. "And it makes me tell the story in a way that it doesn't hurt me."
That story began in South Sudan, where he spent his childhood fighting in the Sudan People's Liberation Army, rebelling against government forces sent in from Khartoum (still the capital of Sudan, where Omar Al-Bashir remains president despite the At age 11, Jal and a handful of other child soldiers broke from the main fighting force, escaping from the city of Juba to a town called Waat. There, Jal met British aid worker Emma McCune, who adopted him and arranged for him to attend school inNairobi. After McCune died in an accident shortly thereafter, he was left to fend for himself inKenya, haunted by memories of his homeland.
"Thinking about the moments when we were walking in the jungle," Jal recalls. "Or the times when I was tempted to eat my friend because we had no food."
In the streets of Nairobi, though, Jal found comfort in music. Combining the influence of American hip-hop and African rhythms, he developed his own reggae-tinged, peace-promoting sound. And he soon found that his message was catching on. In 2004 he independently released his first album, Gua, which means "peace" in the South Sudanese language of Nuer and "power" in the brand of Arabic spoken in the region. The title track topped Kenyan charts.
It wasn't until the following year at the Live 8 concert inCornwall,United   Kingdom, that he realized he could make a living as a musician. Performing to a crowd of 5,000 people alongside celebrated artists like Peter Gabriel, it suddenly seemed anything might be possible.
"It was like I was floating in the air," he remembers. "There were promoters so I was booked for another tour. … From $300 [per show], now you're being paid 1,000 pounds, 2,000 pounds, and I said, 'Wow.' From there I was able to take care of my family, rent a place for myself, establish my charity Gua Africa."
Though he doesn't earn as much as the politically-minded Lupe Fiasco, whom I profiled in the second installment of this three-part Power Of Music series, Jal has similarly been able to make a living as a musician while generally resisting pressure to "sell out." And like Fiasco, he may actually benefit from the distinction of being a "conscious rapper" because it sets him apart.
"[The record label executives'] advice was, 'Sex and violence sells more than just singing about peace and being lovey-dovey, and so it doesn't give you street cred,'" says Jal. "But when you look at it, artists are influenced by the system nowadays. Because … if you play more conscious music, then you're going to raise a more tough generation that will ask questions."
That impulse has continued to put him in harm's way. On a recent trip toSouth Sudanto play at a peace concert with hip-hop legend DMC, Jal was beaten by police before being rescued by forces who recognized him as a musician.
For that and other reasons, Jal feels he almost has no choice but to forge ahead.
"I still have nightmares of dead comrades, a long time ago, talking to me," he says. "'Emmanuel, don't forget about us, don't give up, keep telling our story.' … So it was no longer about me telling my story. It was about telling the story of those people."
See the full videos of my interview with Emmanuel Jal below. This is the third part in my three-part Power of Music series, which looks at examples of music making a difference in the world. For more, follow me on Twitter and Facebook.
*Source http://www.forbes.com/sites/zackomalleygreenburg/2012/11/08/power-of-music-part-3-emmanuel-jal-and-the-business-of-peace-music/