China and DR Congo reach communications satellite deal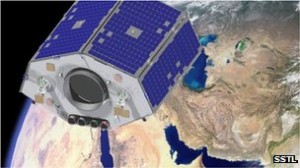 China is to launch a communications satellite for the Democratic Republic of Congo within the next three years, Chinese state-owned media reports.
DR Congo will be the second African country after Nigeria to have such technology.
The satellite, known as CongoSat-01, will be launched from the Chinese province of Sichuan, Xinhua news agency reports.
It is expected to cover the whole of southern and central Africa.
DR Congo's National Network of Satellite Telecommunications (Renatelsat) head Richard Achinda Wahilungula described the deal as historic.
"China has abundant experience in satellites and telecommunication. We came here because China can help us develop a satellite and telecommunication, and we never contacted anyone else for this project," he said.
Renatelsat signed the deal with China's Great Wall Industry Corporation in China's coastal city of Zhuhai on Saturday, Xinhua reports.
China provided Nigeria with a satellite in 2004.
*Source BBC