Cameroonians Must Lead The Charge for Change-Hafis Ruelfi
By Ajong Mbapndah L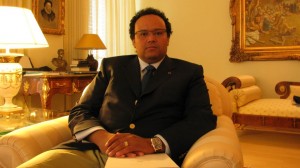 Politicians have failed and it is up to Cameroonians to salvage the country says Hafis Ruelfi President of the Cameroon Citizenship Movement. The clarion call of his movement is to galvanize popular support and action from Cameroonians to rescue the country from the vicious grip of unscrupulous politicians in both the opposition and the ruling. Despite the failures of President Biya's three decade rule, Hafis believes that the country has a bight future but it is up to Cameroonians to shape and work towards the change that is needed to enjoy that future.
You are head of the Cameroon Citizenship Movement; may we know what the
organization stands for and what is its mission?
Hafis Ruefli: Thank you for the interest on our activities and political programs and our appreciation for the promising work your publication is doing. Young Africans must remain a very active part of the way forward all over the continent. Our movement, the Cameroon Citizenship Movement has as its main mission, the galvanization of Cameroons of all walks of life to work together towards the restoration of a peaceful, progressive and development oriented Cameroon. A Cameroon which beams with promise, a Cameroon which will one more be the envy of others, a Cameroon which should be a power house in the continent. A Cameroon, where everybody enjoys the fruits of its wealth and resources instead of a handful of people as the situation is now. A Cameroon where science, technology and research are promoted. This mission is shared by many Cameroonians but the present generation of politicians has shown incompetence and unpatriotism in handling the affairs of the country. Hence, it is incumbent on the people to take destiny into their own hands. The Cameroon Citizenship Movement has the intention to rally Cameroonians in answering this call.
Cameroon currently has about two hundred political parties, and a ruling party that has been in power for multiple decades, where do you situate your movement within the current political context of Cameroon?
Hafis Ruefli: There are many Cameroonians who have lost fate with the political class in the country. Here I mean people on both sides of the political divide. The ruling CPDM has no credibility and has squandered all opportunities it was given to transform the country. The opposition on the other part is so divided and it is hard to believe that there will rule any better than the CPDM if given the opportunity. If in the opposition, the leaders who came in with so much promise in the 90s are still there and behaving exactly like President, then why should Cameroonians trust that , there will be any better if they get to power? These are very legitimate questions any concerned Cameroonian should ask.
Having 200 political parties does not make Cameroon a democracy, everyone knows these parties are either created out of political greed or are sponsored by the ruling party to keep Cameroonians confused and lost while there continue to ruin the country. Should Cameroonians sit arms folded? Absolutely no, we must fight; we must rise up as one people and put the country back on track. With all due respect, the present political class deserves no more trust and opportunities. If the country has to get back on track, the people must lead the charge. The change we need must come from Cameroonians, students, teachers, doctors, business people, farmers, Moto cycle riders, taxi men and pressure from progressive minded Cameroonians in the diaspora. Clearly, our movement is to see Cameroonians rightly stake the claim to power. It belongs to them and not a generation of self centred politicians.
You are based out of the country, is the movement implanted back at home and how are you able to measure the impact of its activities?
Hafis Ruefli: Saying that I am based out of the country is not necessarily a factor. For Professional and political reasons, I am often out, but I have a very active and regular presence in country. I have investment, business; charitable and family projects that constantly warrant my attention. I should also add that living out of the country should not be a reason for people not to be active in the fight for change. In some other countries, dual nationality has paid serious dividends. Any progressive minded politician will fight to attract its best brains back home, its engineers, doctors, entrepreneurs etc. back home. A serious government will ensure that it makes the investment climate friendly so its folks abroad can bring investments back home. Look around Africa and compare Ghana, Ethiopia, Kenya or Nigeria in terms of what is done to accommodate its diaspora and the pathetic situation we have in Cameroon. Despite the stumbling blocks and discouraging messages from the CPDM government, I salute the efforts of Cameroonians abroad from sponsoring their younger ones, development projects etc. There should in every respect be back of the change that Cameroon needs. There should be part of the change that will see Cameroon elect a leader through elections that will make the country proud, and make the world look at us differently.
President Biya recently clocked thirty years in power, what is your assessment of his leadership?
Hafis Ruefli: When all your marks for over 25 years are just "can do better" or "more still to be done" that means it is a real failure of government policies. So I will use only one word "failure". With the education he had, with smooth, peaceful, promising and debt free country he inherited, a country which had no rival in the sub region and was highly respected across Africa and the world, there is no way to describe the Biya years as a failure. It is part of the reason why the kind of movement we are working on is needed to ensure that Biya does not only leave but that Cameroonians are able to ensure that there is no chaos after he leaves. That the country does not generate to chaos when power eventually changes hands.
You said in a recent article that it was unfortunate for the remains of former President Amadou Ahidjo to be in Senegal, how important is it for Ahidjo's remains to be brought back to Cameroon, and any advice to
President Biya on how to go about this?
Hafis Ruefli: First it is unfortunate that the reward Former President Ahidjo gets for serving Cameroon as President for 25 years is for his remains to remain buried in Senegal. He  had no better love than Cameroon and worked extremely hard to make the country a power house in Africa. No matter what issues he might have had with President, it is the hall mark of great leaders to pardon even their biggest enemies. The examples in history are many, you see a man like Nelson Mandela of South Africa not only forgiving those who wrongly jailed him for 27 years, but also working with them to help South Africa move forward. By not working towards the return of Ahidjo's remains to Cameroon, President Biya confirms that he is not a great leader. You know even the late Bishop Albert Ndongmo who was jailed under Ahidjo compared Biya and Ahidjo in a Jeune Afrique interview and admitted that he thought Ahidjo loved Cameroon more and was a better President. There is no logic to justify keeping his remains in Senegal.Is it not odd for Cameroon to be celebrating 50 years of independence when the remains of its first President are buried in a foreign country? On a personal level as well, do not forget that it is President Ahidjo who voluntarily picked Biya as his successor. Cameroon is a country in need of healing; Cameroon needs reconciliation, the country is getting divided by the day. By bringing the remains of President Ahidjo back, President Biya could start a healing, and reconciliation process.
Looking at the political situation in Cameroon today, what do you suggest as the way forward and any political leaders both in the opposition and the ruling party you think could help move the country in
a better direction?
Hafis Ruefli: The country needs a younger generation to step up. It needs Cameroonians to rise up and take their responsibilities. Why we accuse President Biya of staying in power for thirty years, do not forget that in the SDF, Mr John Fru Ndi has led the party since 1990, Dr Ndam Njoya has led the UDC since 1990, Bello Bouba has led the UNDP for over twenty years. The country needs fresh faces, younger, more energetic leaders with a vision and the passion and excitement to move the country forward. We all need to get involved in one way or the other. We need to ask questions louder, we need to be more demanding and manifest a stronger interest for things to change. Cameroon is blessed with a abundant resources, it is blessed with amazing talents , that's why you see Cameroonians excelling in all parts of the world. With a new political leadership, with a better environment, I have no doubt that the country will be headed for greatness again.
You are from the Grand North Region of the country where there have been reports of tensions following the arrest and jail term slammed on former Minister of Territorial Administration Marafa Hamidou Yaya, what is your take on this and should Marafa not have been arrested if guilty of corruption just because Biya is afraid of the Grand North?
Hafis Ruefli: Corruption should be condemned and sanctioned irrespective of what region any one comes from. The pervasive nature of corruption will remain one of the lasting legacies of the Biya decades in office. While fighting corruption must be supported and encouraged, when it is used as a tool to settle political scores, we must also avoid that. If someone is declared corrupt, there should be proves made available to Cameroonians to justify the case. People should not be labeled as corrupt and arbitrarily jailed just because they happen to be in the bad books of the President or the President sees them as political threats. Remember when he was asked some years back, President asked for proves. His actions and policies have helped to make corruption thrive and that is very unfortunate.
What is your general take on the whole crusade against corruption and the presence of an entire government in jail, Prime Ministers, Secretary Generals at the Presidency, Ministers, Directors, etc.?
Hafis Ruefli: It is a charade .The fight is seems to be politically motivated, the judicial process involved is a disgrace .Yes these people have embezzled funds, did the President just realized that all these people were embezzling public funds? Why are some arrested and not others? For all the arrests that have been made, how much has been recuperated and put back in the public treasury? The current crusade is a sham and is not serving any purpose as people continue to do the same thing. By the way is President was so serious about fighting corruption why has he not implemented Article 66 of the 1996 constitution which calls on public officials to declare their assets before and after leaving office? That article could be the simplest most effective tool to check corruption. Yet since 1996, the article has not been implemented. Can you imagine how much has been embezzled between 1996 and today?
Thirty years of Biya, the opposition looking confused, and Cameroonians disgruntled, what future do you see for the country?
Hafis Ruefli: I am always optimistic and positive and to be candid, I think the future is bright but it depends on usCameroonians.It is up to us to work for the kind of future we want instead of trusting in self centred politician who think of nothing but their survival. When I see the resources the country is blessed with, when I see the fertility of our land, the productivity of our farmers in hard conditions, the brilliance and talent of the youth and more, there is no reason not to be positive about the future.