10 Highest Paid African Footballers
*By Kate Hodges*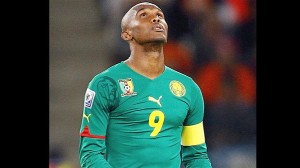 Africa's football stars have become a common sight in the world's most competitive leagues. These sons of Africa are among some of the highest earning athletes in the world. Howzit MSN looks at the current 10 highest earning footballers from Africa.
Samuel Eto'o (Cameroon)
Striker Eto'o moved to Russian football club in August 2011, as a result he is currently the highest paid footballer in the world. His annual salary tops €20 million after tax. In addition to his whopping salary, Eto'o earns millions from sponsorship deals annually. Eto'o started his club career at Real Madrid aged 16. He then moved to various Spanish clubs before a five-year stint at Barcelona and two years at Inter Milan. He has 110 caps for the Cameroon national team in which he has scored 53 goals.
Yaya Toure (Ivory Coast)
The Manchester City midfielder commands a salary of €15 million a year. Before Eto'o moved to Russia Toure was the highest paid African footballer in the world. Toure is a power player with an impressive record with former team Barcelona. He moved to the Premier League to join Manchester City in 2010. Since his move he has played a central role for the resurgent City side – earning himself the African Footballer of the Year award for 2011.
Didier Drogba (Ivory Coast)
The Ivorian striker's move from Chelsea to Chinese side Shanghai Shenhua sees him earning a salary of €12.9 annually. The power forward moved to the Chinese side at the end of June 2012 when his contract with Chelsea expired. Drogba scored 100 goals at Chelsea in 226 appearances over a period of eight years. The striker has scored 59 goals in 90 caps for his national team. He has undertaken several projects for charity and has started his own foundation – The Didier Drogba Foundation. The double African Footballer of the Year winner is a UN Goodwill Ambassador.
Seydou Keita (Mali)
The Malian midfielder earns an impressive annual salary of €12 million from Chinese Super League club Dalian Aerbin F.C. He moved to the Chinese side in 2012 following a successful four year spell at Barcelona. He has already scored four goals in 12 appearances for his new side. Dalian Keita has made 72 appearances for Mali since making his international debut in 2001. He has scored 19 goals for the national team.
Emmanuel Adebayor (Togo)
The Togo striker's current salary is €10 million. He finally joined Tottenham Hotspur, where he spent a season on loan from Manchester City, permanently following a protracted salary negotiation. In contrast to Adebayor's reputation as a difficult player, he is also one of the most charitable footballers around. He has undertaken several projects in his native Togo and other parts of the continent. Earlier this year he launched his own charity – the SEA Foundation.
Kolo Toure (Ivory Coast)
The Ivorian earns €5.8 million a year, an impressive sum for a defender. He moved to City following a seven year stint at Arsenal. Toure made his international debut in 2000, he has since made 98 appearances and scored 15 goals for the national team. Toure was linked with a move to Turkish giants Galatasaray during the last transfer window, but the centre back remained at City when the window closed.
Christopher Samba (Congo)
Congolese defender Christopher Samba joined the list following a lucrative move to Russian club Anzhi Makhachkala. His current salary is in the area of €5.5 million. Samba's move came after a five year spell at Premier League side Blackburn Rovers. He was often played as a striker at Blackburn, scoring 16 goals in 161 appearances. He has 26 international caps for Congo.
Frederic Kanoute (Mali)
The Franco-Malian striker joined Chinese club Beijing Guoan for a reported salary of €6.2 million annually. Kanoute, who was born in Lyon France to a French mother and Malian father, was a Spanish side Sevilla for seven years. The devout Muslim helped buy a mosque in the Spanish city. He scored 23 goals in 39 appearances for Mali, before retiring from international football in 2010.
Michael Essien (Ghana)
Ghana midfielder Michael Essien reportedly earns a salary of €5.1 million annually. The former BBC African Footballer of the Year also has several lucrative sponsorship deals with Nike, MTN, and Guinness-Africa among others. Following a seven year spell at Premier League giant Chelsea, Essien was reunited with former manager Jose Mourinho, when he went to Spanish super club Real Madrid on a season long loan.
Mikel John Obi (Nigeria)
Mikel John Obi reportedly earns a €4.5 million salary from Premier League club Chelsea. When he was just 18-years-old he was linked with a move to Manchester United, but ended up signing with Chelsea under highly controversial circumstances. He has made 172 appearances for Chelsea and 38 for the national team. He has been shortlisted for the 2012 African Footballer of the Year award.
* Source african.howzit.msn.com/