Watching the debate with continental Africans For Obama
-Despite Debate hype, support for Obama in immigrant Community unfazed.
By Ajong Mbapndah L
At the Come to Africa Restaurant on New Hampshire Ave, Takoma Park, MD, it is unusually crowded. It is Oct 3, and the much anticipated first debate of the 2012 Presidential elections is about to start.
Watching the debate together is the initiative of Joseph Eyong of the Continental Africans for Obama. Eyong who serves as Legislative Aide for Council Member Valerie Ervin of Dist.  5 in Montgomery County, has been actively involved in the re-election bid for President Obama.
Buoyed by recent polls which show candidate Barack Obama ahead, Joseph Eyong believes that the President is steadily cruising to a second term. As President Obama and Governor Romney are introduced by moderator Jim Lehrer, folks emulate the cheering that came from the live audience on TV. As the debate goes on, every now and then you hear cheers from answers provided by Obama.
Throughout the debate, Romney provides the more forceful of answers; he tries to dominate the trend of the debate. This does nothing to diminish the enthusiasm that the continental African folks have for candidate Obama. Romney is not "providing specifics," one quips, he is "changing positions," another observes. Under assault from Romney with statistics that paint a grim picture of the economy under President Obama, someone repeated the "thirty straight months of job growth" refrain that is often used by democrats in defense of the President.
Known for his gifted oratory, candidate Obama puts up a performance which fell below expectations. The verdict from Eyong and co is however different. Chants of "four more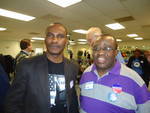 years" erupted after the debate. "Who do we want?" Eyong asks the crowd.  "Obama," his audience answers. "Obama was more Presidential than Romney and was willing to offer more specifics," Eyong said. He has shown a willingness to stand up for the middle class, passed a health care law which is going to help many and his immigration reforms will be of help to the continental African community as well, Eyong said.
Although MD is a not a battle ground state, Eyong said he and others working in the campaign from the Continental African Community will continue to canvass for resources which can be redeployed to other states. Congressional races are important and Eyong believes it is imperative to elect democrats who will support the President's agenda. "Our support for Obama is based purely on the policies and direction he wants to take the country to," said Eyong who got to meet Obama a few months back at a campaign event in VA. "He has shown a willingness to fight for the middle class, and has accomplished much in a hostile political and economic climate," Eyong said.
Elated at the turnout, Eyong said similar gatherings will be organized for the rest of the debates in the DC metro area. Watching the debates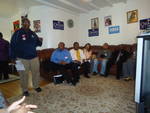 together is a way of creating bonds and introducing Africans to the kind of businesses which will thrive under policies of the Obama administration Eyong said. The African Community must organize itself into a respectable force that can get actively engaged in political events and voting in leaders who will best articulate their concerns, he went on.
Eyong, who has participated actively in several campaigns before, used the opportunity to encourage Africans to vote. Using his experience as a former Team Leader for Organizing for America, Eyong called for more volunteers to sign up and help the campaign in battle ground states like VA. Watching the debate together was wonderful he said, promising to continue with the same initiative in subsequent debates.
Pundits may have declared victory for Romney in the first debate, but for Eyong and Continental Africans, Obama did well. Eyong and his group left with enthusiasm to recruit more volunteers, raise more funds, and work harder towards the election of President Obama for a second term.