Shalom Africa Israel's second coming

Brand new embassies, booming trade in agriculture, precious stones and information technology together with shadowy security deals:Israelis back inAfrica. But this time tycoons and generals are leading the charge.
From the besieged migrant workers in shanty-towns around the central bus station in Tel Aviv to the chauffeur-driven African diplomats threading through the traffic ofYitzhak Rabin   Boulevardto the ministry of foreign affairs inJerusalem, the message is clear. The Africa-Israel axis is back in business.
More than 40 African countries have full diplomatic relations withIsrael, and that is more than before the rupture in response to the Six-Day War in 1967. Trade is growing rapidly – much faster than official data records – and new security arrangements are being set up in the shadows. Senior officials in the foreign affairs ministry such as Emmanuel Seri and Marc Attali talk of a new buzz in theAfricadepartment.
They see the accreditation of seasoned diplomat Haim Koren toSouth Sudanas a land-mark.Israelnow has five embassies inEast Africa, which it sees as its security backyard. Less discussed are the growing numbers of African politicians – in power and opposition – journeying toJerusalemto meet with their counter- parts, aid officials or securocrats.
Israelhas also sent a young Africa specialist, Sharon Barli to headIsrael's mission inAccra, the first timeIsraelhas had an ambassador inGhanafor 30 years. More groundbreaking still isIsrael's appointment of Beylanesh Zevadia, a Beta Israeli woman of Ethiopian origin, as its ambassador toAddis Ababa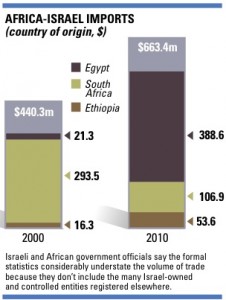 Beylanesh's appointment could also helpIsrael's application to the African Union to reinstate its rights as an observer member.Libya's Colonel Muammar Gaddafi had made a ban onIsrael's attendance a condition of his financial contributions to the organisation.
Foreign minister Avigdor Lieberman's trip toEthiopia,Kenya,Nigeria,GhanaandUgandain September 2009 was the highest-level Israeli delegation toAfricafor 30 years. There are plans for another Lieberman trip this year, followed soon afterwards by one by Prime Minister Binyamin Netanyahu.
Although there was much fine talk on Lieberman's trip about combating desertification, developing biotechnology and boosting farm yields, it had an overwhelming security imperative. Also on the plane with the minister was an official from the defence ministry's foreign assistance department and a phalanx of executives from arms companies such as Soltam Systems, Israel Military Industries, Israel Aerospace Industries and Elbit Systems.
Murky Waters
Some arms deals have proved questionable, such as a $275m contract withNigeriain 2006 for three Aerostar drones secured byIsrael's Aeronautics Defense Systems and a little-known British-registered company called Hudson Marine Management for use against militants in the Niger Delta.
Executives from a rival Israeli drone manufacturer said the contract was appallingly overpriced and was secured mainly by the efforts of the ex-director of the Shin Bet intelligence service, Avigdor Ben-Gal, who is on the board of Aeronautics.
Similar criticisms about transparency and accountability were raised about a $100m contract between Israeli companies and President Teodoro Obiang Nguema's regime inEquatorial   Guineafor patrol craft and drones, initially due for delivery last year.Israel's largest reputed arms deal with Africa in recent years was a $1bn set of contracts withAngola, supplied by Israel Aerospace Industries and Tadiran, and including more than $200m in artillery, mortars and ammunition from Soltam.
Yet, in the aftermath of Lieberman's Africa trip, the deputy director of the foreign ministry, Haim Divon, told journalists that "the most important need ofAfricais countering hunger and the shortage of water, not arms." He was pointing to the old tensions between diplomats and securocrats.
According to veteran Africanist and a former liberal member of the Knesset, Naomi Chazan, these tensions reflect the absence of a clear Israeli state strategy. Instead, private firms broker contacts with African governments and finance the visits of their leaders toIsrael. She writes: "If in the past there was an overt struggle between the diplomats and African aficionados on the one hand and the defence establishment and private interests on the other, in this latest phase of Israeli-Africa relations, this battle has been won by the latter."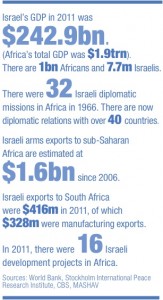 Certainly Lieberman, regarded as the most hawkish foreign minister sinceIsrael's foundation, appears far more concerned with domestic politics than grand international strategy. He says he wants to revoke the citizenship of Israeli Arabs who will not swear an oath of loyalty to the state, and he tried to bar two Arab political parties that opposedIsrael's 2008-2009 Gaza war from naming parliamentary candidates.
One academic compared Lieberman to a "bull in a china shop" whom Netanyahu has to keep away from the more delicately balanced politics of the Middle East and the fractious relations betweenIsrael's ruling coalition and President Barack Obama's government inWashington.
Police are currently investigating claims that diamond magnate Dan Gertler made substantial payments to companies controlled by Lieberman. Both men fervently deny wrongdoing and look untouchable politically, even ifIsrael's independent courts can often surprise politicians.
However much Lieberman's views grate with liberal Israelis, some express muted respect for the way he has been able to push Africa back onto the government's political agenda, even if it is mainly for a combination of geopolitical, security and narrow business interests.
Chazan argues thatIsrael's relations withAfricaare linked to "the shifting concerns of its decision-makers rather than any consistent policy design." Israeli academics worry about the privatisation and personalisation of policy. That trend emerged in the 1970s when Mossad agents, military experts and tycoons – who would report to the Israeli government but also profit personally from their operations – replaced diplomats asIsrael's intermediaries with African leaders and oppositionists.
Kibbutz to Kalashnikov
Abraham Avi Sivan, a former head of the Israeli defence delegation to Cameroon who died in a helicopter crash in 2010, became a security adviser to Cameroon's President Paul Biya and founded the country's Bataillon d'Intervention Rapide.
These sorts of ties are far fromIsrael'sAfricapolicy in the 1950s and 1960s, which was based on its own nation-building experience such as the socialist-oriented kibbutz and moshav agricultural cooperatives. That spirit reached its apogee under Golda Meir. She led missions to Africa, establishing close ties with leaders such asTanzania's Julius Nyerere andKenya's Jomo Kenyatta.
Part of it survives in Mashav, the agency for international development cooperation. But Mashav director Daniel Carmon emphasises that its resources and reach have been much reduced since the 1960s: "We don't try to compete with USAID orBritain's DFID, but we can often work well with them on a trilateral basis."
The most successful projects, he says, are those where there is a large transfer of …
Read the original article on Theafricareport.com : Shalom Africa Israel's second coming | The Africa Report.com
Follow Africa Report: @theafricareport on Twitter