''Invest in the people,' says Seychelles president James Alix Michel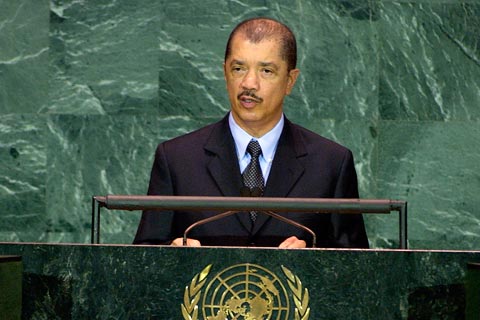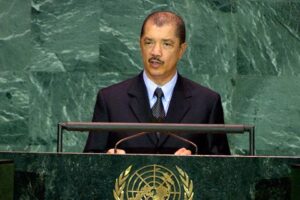 The Seychelles, with its many Indian Oceanislands and beaches, is renowned as a high-end destination for tourists. Besides profiting from its beautiful landscape, it is also known as business-friendly, politically stable and a strong voice in international discussions on climate change. President James Alix Michel, who was previously a teacher, trade unionist, journalist and army colonel, has been elected twice to the country's highest office, in 2006 and 2011. In this exclusive interview, Africa Renewal's Wanjohi Kabukuru spoke to President Michel on theSeychelles' successes and challenges.
Many people saw you as not being your own man in your initial days as president. How did you change those perceptions?
[Former] President [France-Albert] René and I came from the same party. Maybe it was normal for people to be impatient as they expected that radical changes would come rapidly. There were other people who, because of their own political agenda, were propagating these perceptions. The majority of Seychellois saw from the day of my swearing-in that I was pushing for a modern economy and I was for dialogue with representatives of all sections of our population. I was ushering in greater transparency, involving more people in national affairs. It was necessary at the same time to have some continuity, and maintain stability.
You took a gamble when you liberalized the economy in 2008. At the time,Seychelles' inflation had reached 60 per cent and the International Monetary Fund was giving grim projections on your economy. What did you do to turn the economy around?
Liberalizing the economy and floating the rupee was really a huge political gamble. Our country needed a strong leadership and we had to take bold decisions. We needed to deal a fatal blow to the parallel foreign exchange market. It disappeared in a couple of days after the floatation of the rupee. When owners of foreign exchange found they could get more from the banks, the black market was wiped out.
It was a time of great sacrifice for the Seychellois people. Liberalization also brought some disruption to local production. We are now looking at innovative ways to boost the performance of local production. We now have the basis of a modern economy. Growth last year was 5 per cent. The main success of the reforms was the support of the Seychellois people.
You have been an ardent advocate for international intervention on piracy. How has piracy affectedSeychelles' economy?
Pirates' activity is costingSeychellesmillions of dollars in lost revenues from fishing and tourism, in extra transport costs and patrolling of the sea. It is estimated that the costs are equivalent to a 4 per cent loss in GDP. The costs of imports have also increased due to higher insurance for cargo bound forSeychelles. Piracy caused a [total] loss of almost US$17 million in 2011. The losses and extra expenditures are significant for a small nation of 85,000 people.
What measures has your government taken to ward off piracy?
The Seychellois Coast Guard has stepped up its activities to secure national waters. Our naval force has had several notable successes in freeing civilian vessels, including Seychellois fishermen captured by Somali pirates. We are cooperating fully with foreign navies that patrol the waters of the westernIndian Ocean. We have modernized our laws against international piracy to make it easier forSeychellescourts to put on trial pirates captured. Presently over 90 Somali pirates are either serving jail time or awaiting prosecution inSeychelles. Very recently we've had to start recruiting military personnel, among them Gurkhas fromNepal, to provide security aboard vessels operating in our waters.
Because we are the country most threatened by piracy in theIndian Ocean, we find ourselves at the forefront in the fight against the scourge. We are also using diplomacy to fight piracy. We use every forum we attend to appeal for concerted international efforts to bring peace toSomalia. Without peace and a strong central government,Somaliawill remain lawless, a breeding ground for pirates.
You have been calling on global leaders to take action on climate change. What are your thoughts on the International Conference on Sustainable Development inRio?
Our focus should not just be on words but on action. It is 20 years since the firstRiosummit. During that time we made a lot of statements. We have spoken about sustainable agriculture, sustainable tourism, sustainable financing and so on. But 20 years later we find that we have many unfulfilled pledges and non-binding agreements to accompany them. The people need to put pressure on their governments to do something about climate change.
Among the leaders of the small island developing states, you stand out as having been very vocal on climate change. Any explanation?
It is a question of survival for us. The relative lack of action of the last 20 years signifies that the cries of those that are the most vulnerable have not been heard. We need a legally binding agreement to limit carbon emissions. The time has come for everybody to develop the political will, a strong political will, for us as humanity to get together and see how we can seriously tackle this problem and save our only home, our planet. We need to do this soon as we are running out of time.
In 2007 you launched the Sea-Level Rise Foundation to draw global attention to the impact of climate change on small island states and other low-lying areas. What prompted this?
The effects of climate change are being felt already in small island states. When you live on an island, climate change is a reality that you wake up to face every day. The fisherman sees it every day as he takes to the sea. Every child sees it when returning to his favourite beach to play. But it is perhaps much harder to see from the aisle of a supermarket in the Western hemisphere.
As low-lying small island developing states, we are not only vulnerable to sea level rise but also aware of the importance of sustainable coastal tourism, responsible management of marine resources and the protection of ecosystems and biodiversity. I am very proud ofSeychelles, as our islands are at the forefront of the fight against climate change, as well as advocates for the development of a sustainable "blue economy."
Why is your country always ranked high on economic management and good governance?
Just after independence 35 years ago, we started investing in the welfare of our nation. All our money, and assistance we received from partners overseas, was well spent on education, health, decent housing and infrastructure. We were determined to moveSeychellesfrom an economic backwater to a middle-income country. We are a nation of opportunities. We spend on education and learning, giving young people and professionals the chance to develop themselves and increase their knowledge.
With a more educated population, there are greater demands for transparency. There is greater debate and exchange of ideas, and with these there is an increased sense of scrutiny. In a vibrant democracy where government actions are scrutinized by half a dozen political parties and movements, three daily newspapers, three weeklies and other stakeholders, we have to deliver and always look for ways to do better. People have to know where their money is being spent, and see the tangible results of the investments. We are happy we have established the tradition of good economic management and good governance.
What advice would you give to emerging leaders inAfrica?
Invest in the people and have belief in them, especially the young generation. No nation is built in a day. The culture of popular participation, openness and good governance helps a great deal.Africais a huge continent waiting for new things to happen. This is the excitement!
*Source Africa Renewal online http://www.un.org/africarenewal/