Introducing Afro -Swedish Perspectives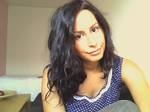 Hello Readers, Greetings and welcome to my new blog Afro-Swedish Perspectives. My name is Charlene Rosander. I grew up in the south of Sweden in a town called Malmö where I still live today. My mum is from Ghana and I define myself as an Afro-Swede as Ghana and Swedenare the places I'm culturally from and it forms a sense of belonging amongst Africans in Sweden. My definition is less complicated than my heritage. My Grand Father was actually Lebanese but he was born and raised in Ghana and my Grand Mother is Ghanaian. My Mum, Aunt and Grand Mum live with me in Malmö. Every now and then we go to Ghanato stay with my Uncles in Achimota in Accra.
I have a Teacher's Degree but I've also studied International Migration and Ethnic Relations, Peace and Conflict Studies, English and Project Management. Currently I work at a high school as a Student Assistant. My work is very rewarding as I get to guide the students along the right path, motivate them and help them throughout their studies without needing to grade them.
My heart and soul is with my students but I'm simultaneously torn as I burn equally for combating racism, especially racism towards people of African descent. This is not solely because of my descent as I also feel the need to focus especially on this group as racism is widespread towards this group without necessarily being acknowledged, especially in Sweden.
I'm part of an organization called Pan-African Movement for Justice which is an organization based in Sweden which works with creating awareness and acknowledgement of the situation for people of African descent. We also try to mobilize people with African descent acrossSweden, Europe,Americaand hopefully the rest of the world in due time. We want us to stand together and react on injustices.
Still in 2012 we find malicious images, caricatures, of black people in art and culture; black people are still being harassed and looked down upon simply due to colour. This is something I feel I need to address and fight against which I do through Pan-African Movement for Justice by being part of a project called Café Pan-Africa Malmö where we meet once a week and discuss issues concerning black people. When needed we also take action by for example writing articles and empowering ourselves with education which can be implemented practically. Recently, I and two colleagues went to Warszawa to the OSCE, ODIHR to learn how to combat Hate Crimes towards people of African descent.
I'll be able to contribute to PAV-www.panafricanvisions.com, by sharing incidents happening in Sweden, and other parts ofEurope, towards people of African descent. I will let you in on my thoughts as a mixed young woman from Ghana living in Sweden and I will also let you in on our struggle inSwedenandEuropefor a society where we are all truly equal. I believe that there is such a time otherwise I wouldn't have all this energy to spare. The struggle goes on. Check on my blog and feel welcome to share your thoughts as well!!