"Africa currently bears 50% of Neglected Tropical Diseases"
-Dr Neeraj Mistry on the mission of the Global Network for Neglected Tropical Diseases
By Ajong Mbapndah L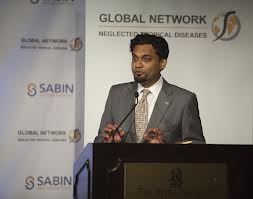 Neglected Tropical Diseases(NTDs) affect some 1.4 million people around the world and Africa currently bears 50% of the burden says Dr Neeraj Mistry Managing Director of the Global Network for Tropical Diseases. Dr Mistry and the Global Network are at the forefront of the crusade to eliminate the seven most common NTDs by 2020. More than 30 African countries have finalized multi-year national plans for NTDs said Dr Mistry in an interview with PAV.Mistry who has served as Managing Director of the Global Network since 2010 has succeeded in rallying global attention on NTDs with the help of celebrity support.
Can you introduce the Global Network for Neglected Tropical Diseases to us and how it operates?
The Global Network for Neglected Tropical Diseases is an advocacy and resource mobilization initiative of the Sabin Vaccine Institute.  We work with international partners, private sector companies, the high levels of government and the ministries of health, as well as local communities to facilitate NTD treatment in endemic and at risk regions.  Our role is to serve as the central voice for the NTD movement. The Global Network is the keystone organization that supports the entire NTD community's progress towards meeting our goal to eliminate the seven most common NTDs by 2020.
The medicine needed to control and eventually eliminate many NTDs already exists.  And, because pharmaceutical companies are donating this medicine for free, it only costs approximately 50 cents to treat and protect one person for up to a year. Unfortunately, right now the medicine isn't getting to communities in need fast enough and that's where the Global Network comes in! Through our partnerships, we break down the logistical and financial barriers to delivering existing NTD treatments to the people who need them most.
We also raise awareness among the general public about NTDs and the threat that they pose to poor communities.  We encourage industrial nations, foundations and individuals to make funding for NTD elimination programs a priority.  And we collaborate with a group of world-class partners to help national governments undertake annual, low-cost mass drug administrations (MDAs)  to treat and eliminate NTDs as a public health threat in their countries.
Our vision at the Global Network is to see a world free of NTDs, enabling children and families to be happy, healthy, and productive members of their communities.
Before we proceed, can you explain what are considered to be tropical diseases today and how prevalent they are in Africa?
Neglected tropical diseases, or NTDs, are group of 17 parasitic and bacterial infections found in developing countries in Africa, Asia and Latin America. The Global Network focuses on the seven most common NTDs that create 90 percent of the total disease burden—hookworm, roundworm, whipworm, schistosomiasis, onchocerciasis, trachoma and lymphatic filariasis. These seven diseases are also what we call "tool-ready" meaning that we have drugs and other methods to treat them available today.
In total, NTDs infect 1.4 billion people around the world and Africa currently bears around 50% of that global NTD burden.  The Global Network supports governments in their efforts to define their own NTD priorities and develop their own policies to take ownership of their NTD control programs.
Considering you are based in the USA and a lot of these diseases are in Africa, how strong is your presence in the continent and how do you measure the success of your mission?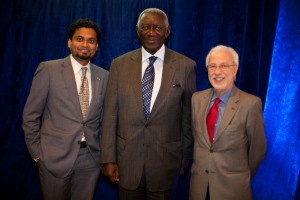 The Global Network is not an implementing entity however we are entrenched in Africa (as well as Latin America and Asia) via our partnerships with the World Health Organization Regional Office for Africa as well as implementing partners such as Helen Keller International, Deworm the World, the Schistosomiasis Control Initiative and several others with whom we mobilize resources for mass drug administrations (MDAs) and other NTD treatment programs.
Through our END7 campaign, the Global Network was able to raise $25,000 to give to Helen Keller International to support an MDA program to treat schistosomiasis. Our team even travelled to Sierra Leone to capture the event on video to share with our donors.
We raise the consciousness for NTDs to our audiences in the global north to garner philanthropic support and public goodwill for our cause. In the global south, we work to ensure that NTDs are not forgotten on the national policy agenda
As a leading global health care professional, can you help us understand why there seems to be greater focus and resources towards HIV/Aids for instance as opposed to the tropical diseases that the global network seeks to eradicate?
Even though NTDs infect more than a billion people worldwide, the issue has often fallen off the radar in comparison to the "big three" diseases, HIV/AIDs, TB and malaria. A major reason for that is that NTDs have a very high morbidity rate, but a low mortality rate, meaning that unlike AIDS or TB, they don't kill very many people. Instead, people infected with NTDs suffer from a lifetime of problems such as malnutrition, fatigue, disabilities and even severe disfigurement that make it impossible for them to attend school, work or care for their families. Often people with NTDs like onchocerciasis or lymphatic filariasis are seen as outcasts in their communities due to the severe disfigurements associated with the diseases.
The key to reducing morbidity to emphasize its greater benefits. By prioritizing morbidity reduction, we can offer one of the best options for sustainability and self-sufficiency –if the people are healthy, they will be empowered to take charge of the health and well-being of their own communities.
Based on the results achieved so far and the projections you have, is there a time frame within which these diseases will be a thing of the past?
Along with the World Health Organization (WHO) and other partners, we aim to control and eliminate the seven most common NTDs by 2020.  The good thing about NTDs is the drugs that treat them already exist.  We just need to get them to the endemic communities.  With mass drug administration (MDA) of these treatments, we are already starting to see the control and elimination of several of these diseases in many countries.  The key is to make sure these treatments are consistent and continue for at least 5 years to stop the disease transmission cycle.
A few months back Former Ghanaian President John Kufuour was introduced as one of the Global Ambassadors of the Network , and we also noticed that there were a number of tweets from celebrities supporting the mission of the network, how effective have this been in raising awareness?
President Kufuour has been a very beneficial advocate.  This past month, he traveled to Europe to bring awareness and support for NTDs, most recently speaking with the Norwegian Parliament, the French Ministry of Foreign affairs and the former President of Germany, Horst Köhler.  He also co-hosted an event with the Global Network and vfa, the German trade organization for research-based pharmaceutical companies in Berlin, where we discussed the future of NTD control, particularly in Africa. You can read about Mr. Kufour's Europe advocacy trip on our blog, End the Neglect.
Our celebrity support has also been overwhelming.  It really makes a difference in our public visibility.  On July 31, more than 40 celebrities, including Katy Perry, Ewan McGregor, Stella McCartney, Paula Abdul and MC Hammer tweeted their support for the END7 campaign and shared our video with their followers—reaching almost 50 million people!
The tweets and messages of support from celebrities had to do with the End 7 Campaign, could you shed more light on the campaign for us?
END7 is the Global Network's grassroots advocacy campaign.  We have almost 20,000 fans on Facebook.  Our following is growing strong largely in part of our celebrity ambassadors, like Harry Potter's Tom Felton.  The message is also simple and powerful, for just 50 cents you can keep one person safe for an entire year from NTDs. That resonates with a lot of people.
May we know the level of cooperation and support you have received from African governments as well as the international community?
Right now, more than 30 African countries have finalized multi-year national plans for NTD control. Last November, the Kenyan government officially launched their five-year national plan to control and eliminate NTDs and in March of 2012, Burundi became the first francophone country to launch a five-year national plan to control and eliminate NTDs. We support the launch of these plans through in collaboration with the World Health Organization as they are critical documents to advocate to African governments and development partners to allocate funds to support NTD treatment and control efforts.
Through our Global NTD Envoy, Former President of Ghana John Kufuor, we also pursue the engagement of regional and international bodies such as the Africa Union, the G8 and others.
And what will you consider some of the biggest challenges you and the Global Network face, what can take to make the Network achieve its goals?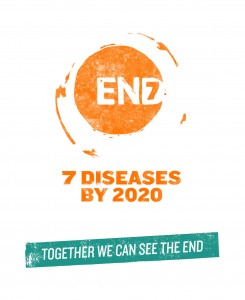 Our biggest challenge today is raising the awareness and funds necessary to meet our 2020 elimination goal. The global health community has taken significant steps to fight NTDs, such as the January 30, 2012 London Declaration, but what we really need is the public awareness and political will to make NTDs the next major issue in global health. We want to involve people living in Europe and in North America, but we also want to make sure the people who directly impacted by these diseases are also joining the fight—by becoming more educated on how NTDs are transmitted (improved water and sanitation program, for example), encouraging their governments to prioritize MDAs and other NTD treatment programs into the public health budget and even by becoming advocates themselves as community health workers. We hope to achieve this goal by working with our partners and through our END7 campaign.
Is there anything that Africans could do to help, from the governments, to health care groups and professionals etc, anything there could to help the Global Network succeed?
The African community needs to vocal about their desire for improved NTD treatment programs. This includes parliamentarians and ministries of health prioritizing budgets for NTDs as well as the people living in the community letting the government know this is an important issue to them.
Africans living in major cities can be the greatest voice for their brothers and sisters living in rural areas who most impacted by NTDs.
For more on the Global Network, visit http://www.sabin.org/global-network