Job and wealth creation in Africa (1)
By President Olusegun Obasanjo*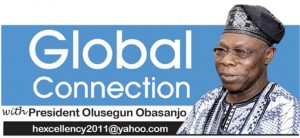 I was privileged, as the Patron of the Africa Governance, Leadership and Management Convention jointly organized by Kenya Institute of Management (KIM) and Africa Leadership Forum (ALF) and strongly supported by the UNDP, to preside and deliver an Opening Remark recently in Mombasa, Kenya. I feel constrained to share the view I expressed at that Convention and the conclusion of the Convention with the readers of this column. But first my remarks: "We have gathered this year to follow up our previous engagements in the last three years on the need to match growth with development and improved standard of living in Africa. Last year, at this same venue, myself and other leaders of the public and private sector in Africa spent an interesting and quite engaging two days on the issues of leadership development in Africa.
One of the major outcomes of that engagement was the reiteration of the fact that in spite of the good news in terms of economic growth, the challenges confronting Africa remain daunting.
This is because the acclaimed growth has been accompanied by increased poverty and more joblessness. For us to address this concern more appropriately there is a need for a resurgence of dialogue on African Renaissance in content and context, anchored on the principle of public-private partnership and driven by the spirit Q u o t e o f t h e d a y of enterprise and entrepreneurship.
"It is, therefore, in this light, that the Secretariat of this Convention has brought us together to take a more critical look at our economic growth indices and its impact on the life of African citizens.
"The need to assess the challenges and highlight the opportunities for Sustainable Wealth and Job Creation in Africa cannot be over-emphasized.
This is because it remains by far the most worrisome challenge of most African countries at the moment. Everywhere we turn to in Africa, the story is the same. Unemployed young people are in huge numbers.
The lack of opportunities for them to unleash their creative energies positively has turned them into desperate young men and women, unfortunately becoming ready-made tools for unwholesome activities.
"The memory of the 'Arab spring' is still fresh in our minds and it tells an apt story of what our continued foot-dragging on lifting the critical mass of people above poverty levels can unleash suddenly and destructively.
Dr. Kaberuka has told us an eye-witness story of how it all began in Tunisia. "That Africa generally is experiencing positive growth within its economic frontiers today is no more news.
That we survived the global financial crisis with very little effect is also not in doubt.
What is, however, worrisome is the fact that substantial gains achieved on the economic front and the high economic growth rates in GDP terms have not been matched by corresponding improvement in the living standards of our people. It seems that the richer our countries become in GDP terms, the more our people get enmeshed in poverty.
It is clear that in addition to GDP as a factor of measure of growth, we need another factor of measurement of the well-being and improved living standard of our people.
"This was noted in the recently launched 2012 Annual Report of the Africa Progress Panel of which I am a member.
The report stated that countries across Africa are becoming richer but whole sections of society are being left behind. After a decade of buoyant growth, almost half of Africans still live on less than $1.25 a day.
Wealth disparities are increasingly visible. The current pattern of trickle-down growth is leaving too many people in poverty, too many children hungry and too many people especially young people without jobs. Governments are failing to convert the rising tide of wealth into opportunities for their most marginalised citizens. Unequal access to health, education, adequate food and nutrition, water and sanitation is reinforcing wider inequalities.
Smallholder agriculture has not been part of the growth surge, leaving rural populations trapped in poverty and vulnerability .
*The Author is a former President of Nigeria. Contribution culled from http://nationalmirroronline.net
TO BE CONTINUED