Interview: The man behind Africa's answer to the iPad and iPhone
By Jaco Maritz*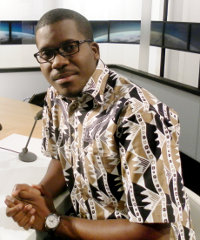 Vérone Mankou is the 26 year old entrepreneur behind the African designed Way-C tablet computer. The tablet was launched earlier this year and attracted significant media attention. Mankou's company VMK, which is based in the Republic of the Congo, this month also unveiled its first smartphone. How we made it in Africa asked Mankou about the business and how his company competes with the likes of Apple and Samsung.
Why did VMK decide to launch the Way-C tablet?
The project began in 2006. I was working at an internet service provider (ISP) and wanted to design a cheap computer to give access to internet for more people. After one year, when Steve jobs unveiled the first iPhone, I changed my plan and the project became the "big iPhone", meaning a tablet.
Earlier this month VMK also introduced its first smartphone, just days before the launch of the iPhone 5. Why enter the smartphone market?
You know, when I was working on the tablet, I noticed that the biggest difference between a tablet and a smartphone is the screen size. After we launched the tablet we decided to work on a smartphone project, and now the project is finished. It's a Android phone called the Elikia (which means "hope").
Your products are designed in Africa, but assembled in China. Tell us a bit more about the design and manufacturing process.
You know it's like building a house. Firstly you have an architect who draws the house and after you have the workers who will build that house using the plans of the architect, but the architect need to be there every time to check if everything is okay. And for the designing of a tech product, it's the same.
You mentioned in a previous interview that you will roll out 3G enabled tablets.
The first version of the tablet was Wi-Fi only, and many people didn't like this. They asked us to develop a 3G tablet, so now we are working on a 3G tablet that we will launch in the beginning of next year.
How do you compete with multinational tablet manufacturers such as Apple and Samsung?
For me Apple and Samsung are not interesting in Africa, because their cost is so high. My goal is to put a tablet in the hands of all Africans, their goal is just to make money. It's different.
VMK has also launched a market place for African-focused apps. Tell us more about this.
I noticed that in Android Market, now called Play Store, more than 99% of apps are not developed in Africa and/or are not developed for Africa. When you search African content, it's hard to find good ones. We decided to launch our own marketplace to help us promote African content. And for the smartphone Elikia we decided to launch a new version of our market, called VMK Market, with the possibility to buy apps via our gift card, called VMK Market Card. So now we are developing a real environment (including devices, content and monetisation) to help developers.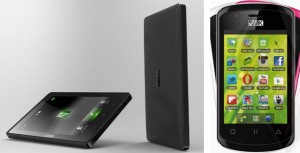 Describe some of the greatest challenges you are facing in making the Way-C a success.
Our biggest challenge is just to get funding, because it's needed to produce more products and for marketing purposes.
What is needed for Africa to become a serious player in the tech industry?
Funding and innovation.
What does the future hold for VMK?
We decided to launch a tablet and smartphone. It's done. Now I want to give all African households access to technology, and develop a new tablet for education priced at about US$100.
*Source http://www.howwemadeitinafrica.com