Ethiopian Airlines:Ethiopian dares to Dream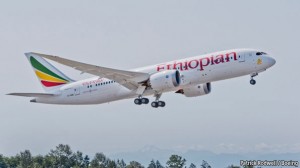 AFRICA'S booming aviation industry reached another landmark in August when Ethiopian Airlines became the first carrier outside Japan to operate the Boeing 787 Dreamliner (pictured), a state-of-the-art passenger jet. The introduction of the 787 to African skies could transform the nature of air travel across the continent—and even worldwide.
With its lightweight carbon-composite wings and fuselage, the 787 is 20% more fuel-efficient than the similar-sized Boeing 767, an existing industry workhorse. In a world where fuel typically accounts for around 30% of an airline's total costs, such efficiency is extremely attractive, and Ethiopian has ordered ten planes.
The carrier's arch-rivals, Kenya Airways and Nigeria's Arik Air, have not stood idly by: they have ordered nine and seven of the 787s respectively. But theirs won't be delivered for years, as severe supply-chain delays mean Boeing's backlog of the Dreamliner has reached an eye-watering 841 planes. In the meantime, Ethiopian can enjoy the significant cost advantages that accrue from being among the 787's first operators.
Ethiopian may elect to pass on its cost savings to customers, which is good news given that airfares in Africa are the highest in the world per kilometre and stymie trade between countries that badly need growth. Or the airline may choose to reinvest the savings into buying yet more aircraft to add to its 42-strong fleet, in which case it would probably overtake South African Airways to become sub-Saharan Africa's biggest carrier.
In any case, Ethiopian's 787 operations are likely to have ramifications far outside the African continent. Since the 787 has a massive 14,200km range—roughly equivalent to a 20-hour non-stop flight—Ethiopian can now operate direct flights from its hub at Addis Ababa to almost any city on the planet. As if to prove the point, the airline will this year begin its first ever flights to Latin America, with São Paulo rumoured to be the first of many new destinations. Tewolde Gebremariam, the chief executive, also talks of significant expansion throughout Asia; this October, Kuala Lumpur will become his airline's 70th international destination.
Intercontinental passengers should start to benefit from the central location of Ethiopian's hub at Addis Ababa. Situated between west Africa and the Middle East, and between Europe and sub-Saharan Africa, Ethiopia's capital could become a Gulf-style 'aero-city', providing much-needed competition to Dubai and Doha, the glitzy transport hubs where Emirates' and Qatar Airways' intercontinental passengers currently change planes.
In short, frequent flyers may soon find themselves getting acquainted with the facilities at Addis Ababa's Bole airport. In anticipation of a passenger boom, the once-grim airport was comprehensively remodelled last year: the runways were extended, an expo centre was built, and a new automated baggage handling system was introduced. It can handle 11,500 suitcases per hour—as many as London Heathrow.
Some aviation analysts are sceptical, because Ethiopian Airlines is somewhat hamstrung by its emaciated regional network. Unlike Kenya, whose national airline offers services to economic boom-towns in neighbouring Tanzania, Uganda and Rwanda, Ethiopia is surrounded by unfriendly neighbours like Eritrea and Somalia, so Ethiopian Airlines flies to just five regional destinations. When competition or recession trims margins in intercontinental markets, the airline has no local fiefdom to which it can retreat for easy profits.
Partly in an effort to overcome this dilemma, in 2010 Ethiopian launched ASKY Airlines, a Togo-based subsidiary, to cash in on the buoyant performance of west Africa's regional air market. The move has worked effectively, and ASKY became profitable within months.
Ethiopian is well managed, and has consistently exceeded the profit targets set out in its strategy plans. It is unusual among state-owned African airlines in being able to raise its own debt and finance its own expansion without government cash. Its ten new 787s have been bought with a $1bn loan guarantee from America's Export-Import Bank, and it is currently tendering for an additional 15 single-aisle jets to solidify its African presence.
It could, in other words, be the example that others follow. Too many African carriers are plagued by debt and managed with the sole aim of satisfying the short-term interests of their cash-hungry owners. Africa's fragmented economy desperately needs airlines to facilitate trade, tourism and growth, as well as to provide employment and technical skills. With its ten modern 787s and its confident global ambitions, Ethiopian Airlines has not just Africa, but the whole world, in its hands.
*Source http://www.economist.com