Uganda Olympic champion Kiprotich given hero's welcome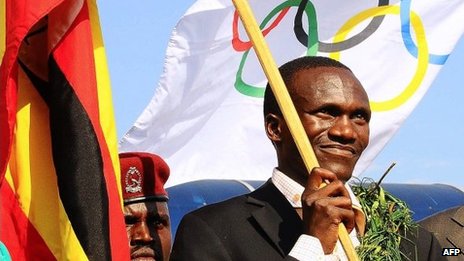 Crowds in Uganda have given a hero's welcome to Stephen Kiprotich, the country's first Olympic gold medal winner in 40 years.
Kiprotich, a prison warden who won the men's marathon on Sunday, was then presented with a cheque for $80,000 (£51,000) by President Yoweri Museveni.
He was also promoted nine ranks to become an assistant superintendent in the prisons service.
Mr Museveni promised that more would be done to invest in athletes in future.
Convoy blocked
The BBC's Catherine Byaruhanga in Entebbe says people lined the street as Kiprotich waved from an open-top car with the personalised number plate "UG GOLD".
At one stage the convoy was forced to stop by the crowds blocking the road on the way to State House, where Kiprotich had breakfast with the president, she says.
After Kiprotich was presented with the cheque, he asked the president if he would build a house for his parents in north-eastern Kapchorwa district.
Mr Museveni agreed that a three-bedroom house would be constructed.
The president also admitted that funding in sports had suffered as the country had concentrated on development projects such as building schools and roads.
But he promised that in future all athletes who won international medals would receive a 1m Ugandan shillings (about $400) monthly stipend to help them train.
A high-altitude training school would also be built, he promised.
Correspondents say the reaction in Uganda to Kiprotich's victory has been euphoric.
The state-owned Vision media group set up a fund to raise prize money for the runner after he won on Sunday – and in three hours raised more than $100,000 – it aims to make it to $500,000.
Uganda's last Olympic champion was 400m hurdler John Akii-Bua, who won gold at Munich in 1972.
*Source BBC