Three African countries with good potential for tourism investors
BY Jaco Maritz*
While countries such as South Africa, Kenya and Tanzania have had strong tourism sectors for many years, there are also a number of new contenders looking to position themselves as the continent's tourism hotspots.
Research firm Euromonitor International recently identified some African countries that are likely to see strong growth in tourism, and could possibly be lucrative destinations for investors in the tourism industry. We take a look at Rwanda, Sierra Leone and Tanzania.
Rwanda
The small but densely populated East African country of Rwanda is emerging as a well-known destination on the world tourism map. According to Euromonitor, Rwanda recorded a 3% increase of inbound tourists in 2011 to reach 723,000.
In 2011, the majority of tourist arrivals came from other African countries. Arrivals from the African continent were led by the Democratic Republic of Congo (16.5%), followed by Uganda (13.5%) and Tanzania (7.4%). Rwanda's core overseas markets include the US (3.6%), Belgium (2%) and the UK (1.5%).
One of the country's most popular attractions is its mountain gorillas. Rwanda is, however, trying to diversify its tourism offering, for example through the 150 metre high canopy walkway, the Congo Nile Trail and bird watching routes. Last year How we made it in Africa also reported about the Iby'Iwacu Cultural Village, a community owned and operated "cultural village", run by ex-poachers, that replicates traditional tribal life in Rwanda.
Through its 'Look East Policy' the Rwandan government aims to attract more tourists from East Asia. "This will help to increase the number of tourism arrivals and subsequently boost incoming tourism receipts in the future," says Euromonitor.
The growth of the country's national flag carrier RwandAir is also impacting positively on the tourism industry. Over the last few years the airline has grown into one of the major players in the regional air transportation industry. RwandAir currently operates routes within the continent and to the Middle East. It has recently expanded its fleet size by acquiring two Boeing 737-800s, making it one of the first African airlines to own and operate Boeing's new next-generation aircraft.
According to Euromonitor, Rwanda is also ready to implement the East African Community single tourist visa, which will allow tourists to travel freely across the region.
Sierra Leone
"Sierra Leone is small in size, but has significant potential to become a popular tourist destination," says Euromonitor. Tourism is currently the country's third largest industry after mining and agriculture.
Following several years of political and civil unrest, travel and tourism in Sierra Leone is slowly but surely recovering. There is a renewed interest in the country due to marketing campaigns by the Sierra Leone government.
Last year the number of incoming tourists increased by 2% to reach 45,537. Africa was the leading region for international tourist arrivals, followed by Europe, North America, Asia and the Middle East. The UK and US were the key source markets for overseas tourist arrivals.
According to Euromonitor, Sierra Leone is one of the most unspoilt and underdeveloped tourist destinations globally. "The nation's main attractions, which include beaches, natural reserves and mountains, provide a strong platform for the future and offer a significant opportunity to develop special interest tourism in the country. The government has identified several growth niches, among them eco-tourism, beach and adventure tourism, as well as cultural heritage tourism."
A number of hotel companies have turned their attention to Sierra Leone. The Sam-King Group of Companies, which currently owns the Leone Lodge Freetown (previously Taia Resort), has partnered with the US-based Christie Company to invest in a 222-room hotel in Sierra Leone. Last year the Rezidor Hotel Group announced that it will rebrand the former Mammy Yoko Hotel, situated in the capital Freetown, to Radisson Blu Mammy Yoko Hotel. In addition, Hilton Worldwide has signed a management agreement with Cape Sierra Hotel Company to develop the first Hilton Hotels & Resorts property in Sierra Leone.
"The entry of multinational hotel brands will provide the marketing channels needed by the travel accommodation category to develop," says Euromonitor. "New investments will also help to create a change in the hospitality industry by providing tourists and potential investors with top quality facilities. It will also encourage other multinational hotel chains to invest in Sierra Leone in the future."
Tanzania
Despite the troubles in the global economy, tourism in Tanzania has continued to see strong growth, registering a 5% increase in 2011 compared to the previous year.
Euromonitor says that the Tanzanian government is trying to diversify its tourism source markets to reduce dependence on countries such as the US and UK, which are still battling with economic troubles. "In a bid to remain competitive and attractive to potential tourists, it has launched a new tourism campaign dubbed 'Think Asia', aiming to tap into the growing Asian outbound travel market. Looking at wooing tourists from the emerging markets of China, India and Russia, the government is also promoting Tanzania's tourism offering through foreign missions and embassies in those countries. This initiative should help to further boost the number of overseas tourist arrivals."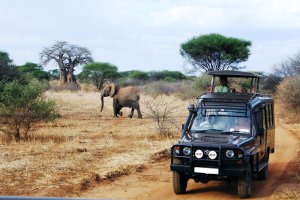 "As a result of the increase in number of visitors from the Middle East to the East Africa region, the Tanzania Tourist Board (TTB) is also currently eyeing upcoming Arab travel markets and intends to take advantage of airlines from the Middle East operating in African skies. Tanzania is also targeting Brazil as a key tourism source and has recently opened a new diplomatic office in the capital city of Brasilia."
In addition to international visitors, domestic tourism in Tanzania is also on the rise. "Over the last few years the nation has witnessed a significant increase in the number of locals visiting tourist attractions thanks to initiatives from the TTB," notes Euromonitor.
While Tanzania's tourism sector traditionally focused on wildlife, the country is also trying to develop other niches such as sports, family and medical tourism.
Earlier this week How we made it in Africa reported that Canadian luxury hotel group Four Seasons has taken over the management of a lodge in the Serengeti National Park. The property comprises 60 rooms, 12 suites and five villas. Four Seasons has also announced two additional new hotels planned for Tanzania – one at the Ngorongoro Conservation Area and another on the island of Zanzibar.
Euromonitor, however, says that while Tanzania's tourism industry remains a key driver of economic growth, the country's global ranking in terms of tourism and travel competitiveness has fallen in recent years. "This is a clear indication that there is a need for increased investment in the industry so as to make the nation a more attractive tourist destination in the future."
*Source www.howwemadeitinafrica.com