Hillary Clinton's most excellent African journey
J Brooks Spector*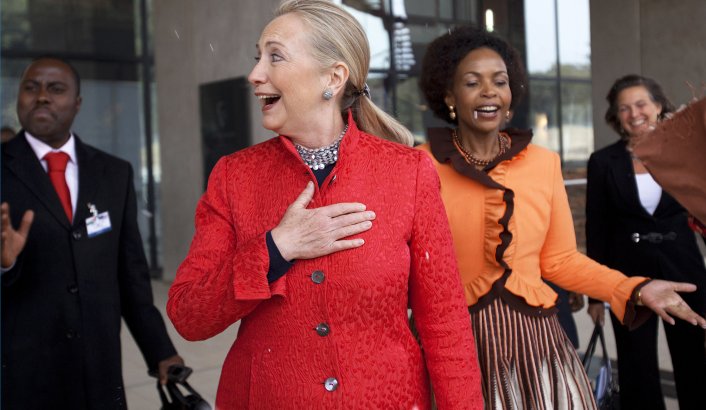 Hillary Clinton's exuberant progress across Africa is a marked departure from the tough, challenging reception given George Bush's secretary of state. Rather, this trip seems to have been more a victory lap accompanied by modest economic goodies and a round of drinks or two to celebrate a litany of success. But, were there some other, darker, currents at play? J. BROOKS SPECTOR takes a look.
The text for Hillary Rodham Clinton's multi-nation itinerary was constructed quite explicitly out of a strategy document, a white paper that had been issued by the White House two months earlier, the US Strategy Toward Sub-Saharan Africa. According to this paper, US goals for its Africa policies were to: 1) strengthen democratic institutions; 2) spur economic growth, traded and investment; 3) advance peace and security; and 4) promote opportunity and development.
All of this comes as the US commits as few resources as possible to the cause. The cupboard is virtually bare in many ways. So, instead of yet another call for yet another Marshall Plan, this White House paper sums up by saying that "across all [these] objectives, we will: deepen our engagement with Africa's young leaders; seek to empower marginalized populations and women; address the unique needs of fragile and post-conflict states; and work closely with the UN and other multilateral actors to achieve our objectives on the continent."
Fine words, those, but they are also point to the fact there are few if any new grand initiatives in the works any time soon. Quite simply, this is the case because the money either isn't there, or because Congress is not about to look for any more, given today's budgetary climate and the languid economic recovery. In fact, foreign aid programmes may face a real buzz cut from the potential fiscal cliff that may kick in at the beginning of 2013 with the federal budget.
As for Hillary Clinton's trip itself, older-style "war on terror" themes were still on display, at least in the opening segments of the trip, as when the stop in Senegal pointed to the role of the US military teams active in confronting Islamic fundamentalist insurgents said to be operating in the Sahel region, or when they were a key point of emphasis with Clinton's stopover in Uganda in terms of US military support in confronting the Lord's Resistance Army (the LRA) or in Kenya in speaking about the ongoing crisis in Somalia.
However, by the time Clinton touched down in South Sudan's capital of Juba, the focus had shifted to efforts to bring wary, recalcitrant Sudan and South Sudan to turn their energies away from conflict with each other and towards cooperation. This would permit a flow of revenue from the export of South Sudan's great petroleum resources to be dedicated to development purposes, as was planned for in the recent independence agreement.
By the time Clinton and her entourage landed in South Africa, the focus had turned resolutely towards pragmatic, practical business deals—save for a bit of required noise about Syria.
While Clinton was off for a photo-op lunch in Qunu with an elderly Nelson Mandela and his wife, Graca Machel (as always a touchstone for the US media), most of the rest of her entourage was in Sandton to participate in the first US-SA business partnership conference. Co-hosted by the Chamber of Commerce in America and the American Chamber of Commerce in South Africa, in tandem with South African business federations like Busa, the event was a daylong speech-a-thon that pulled in three sustained contributions by three South African cabinet ministers: public enterprises' Molusi Gigaba, trade and industry's Rob Davies and energy's Dipuo Peters.
In Clinton's comments to that business crowd at the end of the day after she departed Qunu, she told the throng, "We want sustainable partnerships in Africa that add value rather than extract it. And one of the ways we are building those partnerships is to look to enhancing and strengthening the ties between American businesses and African businesses because, as we look across Sub-Saharan Africa, we see enormous economic growth even as the global economy continues to struggle. Seven of the world's 10 fastest-growing economies are in this region. And these emerging markets present enormous opportunities not only for the people themselves, who we hope will benefit because of inclusive, broad-based prosperity arising from growth, but also for American businesses who have a lot to offer."
This event was a "full-court press" to provide a chance for American companies to line up to bid for a good share of the big spending expected to flow out of South Africa's infrastructure development program now coming down the track. Specifically, the US already seems to be pinning its hopes on scoring big in the energy and transport sectors. As a result, representatives from really big companies like GE, FedEx, Black & Veatch and Boeing got up close and personal with Transnet and Eskom's plans to buy lots of the big stuff that will be the key to rebuilding South Africa's economy and aging infrastructure.
A heavy-duty quartet of senior officials, including Undersecretary of State Robert Hormats and Undersecretary of Commerce Francisco Sanchez and Export-Import Bank and Overseas Private Investment Corporation top officials, were all on board as essential parts of this super sales pitch. Hormats in particular has been a player inside Washington political circles and New York City financial power centres for decades.
In their every utterance, all of these individuals were at great pains to make the case America and its businesses (unlike some other unnamed countries) are reliable partners who work and play well with local businesses and government to achieve a nation's social goals like supporting BBBEE processes and providing effective training and other advancement opportunities (unlike some other unnamed places). Coming from a deeply heterogeneous society like America, American businesses understand, right in their DNA, the kind of society South Africa is (unlike some places).
Paralleling this revved-up sales pitch on behalf of American business have been some public statements highlighting a growing realization by the South African government as to the impact and importance of the US-SA economic relationship in foreign direct investment, trade and training. As part of this, the South African government now seems increasingly aware of the importance of what has become yet another major element in the US-SA economic relationship: the African Growth and Opportunity Act, and the fact that in its current incarnation it runs out in 2015, unless the US Congress decides to renew it.
AGOA provides tariff-free import into the US for thousands of products from some 37 African nations. More than for most African nations, it has become an important element in the success of South Africa's export-driven industries such as auto manufacturing. South Africa is actually under two "threats" vis-à-vis AGOA. One is that the US Congress might not renew the law. The other is that South Africa might even be written out of its provisions for eligibility because of its middle-income industrialized status in comparison to most other African nations.
A cynic—or a sharp-eyed observer—might note that the SA government has to some degree brought this upon itself when it waved off signing a free trade association between the US and the Southern African Customs Union nations over half a decade earlier. As a result, a key part of SA's trade relationship with the US is dependent on the US Congress' sensibilities regarding any new lease on life for AGOA or for SA's inclusion in it if it does pass.
Like his predecessors George W Bush and Bill Clinton, Barack Obama has embraced AGOA to demonstrate that the US commitment to Africa is not just a function of foreign aid largesse, military ties or special bilateral deals. Rather, it is the embodiment of the partnerships Obama said he hoped for in his Accra speech several years ago. Back then, he said "the true sign of success is not whether we are a source of perpetual aid that helps people scrape by. It's whether we are partners in building the capacity for transformational change."
Given the pressures on the foreign aid and even PEPFAR (the major US programme to combat HIV/Aids) budgets, increases in aid are highly unlikely.
On her final day in South Africa, Clinton spoke at the University of the Western Cape. In her speech, after reiterating those Obama strategic pillars, Clinton asserted, "I've often heard it said that African problems need African solutions. Well, I'm here to say that some of our global problems need African solutions too. And few nations on this continent can carry as much weight or be as effective partners and leaders as South Africa.
"You are a democratic power with the opportunity to influence Africa and the world. You have led on non-proliferation at the International Atomic Energy Agency and on climate change at the Durban conference. You've led on economic cooperation at the G-20. You've led on women's participation in politics. And a South African woman will soon become chair of the African Union Commission, a first in the history of that organization. Now all of this is good news for the people of South Africa, this continent, and the world. But respectfully, I say that we and you can, should, and must do more."
One South African politician who attended told The Daily Maverick that he had been "especially impressed by Hillary's clear attempt to distance herself from any perception of the US as empire building. Her reference to the idea that the world needs African ideas to succeed was telling. It was the right message for the time," he added.
If the meetings, dinners, speeches and congratulatory remarks did not deliver a major diplomatic initiative or major economic agreement, they just as clearly showed the two nations have moved well beyond the edgy prickliness that so-often exemplified the Bush-Mbeki era. And the new bilateral business partnership meeting and the third session of the US-SA strategic partnership meeting held the day after the business conference generated a laundry list of smaller agreements, grants, loans and handshakes of the kind that mark the conclusion of talks between two friendly nations.
In this case, the announcements included a $2-billion declaration of intent between the US Export-Import Bank and South Africa's Industrial Development Corporation for credit guarantees in renewable energy; a Global Disease Detection Centre in South Africa established with the assistance of the US Centers for Disease Control; a credit guarantee for $150-million in funding to small and medium enterprises; a $7.5-million public-private partnership to improve teacher quality; and a half million dollars to help South African students pay for admissions testing, application expenses and travel to study in the US.
There were also similar small grants to combat sexual and gender-based violence; fund collaboration between SA's Competition Commission and the US Federal Trade Commission, as well assistance with water resource management in South Africa's trans-boundary river basins along its northern borders.
Despite all these "warm fuzzies" in meetings of what may well be Clinton's final trip to South Africa as secretary of state, she did take an opportunity to bring up the crisis in Syria. This was, in effect, the diplomatic equivalent of a small but visible frown over South Africa's reluctance to back a stronger UN role there.
As Clinton herself said, "I hope that we will look at the urgent tasks that I think confront the people of Syria and the international community and think through how we can address them. First, we must figure out ways to hasten the day when the bloodshed ends and the political transition begins. We have to be sure that we're working with the international community to bring that day about and to be very clear of our expectations of both the government and the opposition about ending the violence and beginning the political transition."
She noted further that following her stops in Ghana, Benin and Nigeria (the latter two added just recently to her itinerary), she would be going to Istanbul to discuss these issues with Syria's neighbour, Turkey, before returning to Washington.
If this visit marked an underscoring of an improved relationship in the character of the clear commercial pitch for American products for South Africa's national infrastructure, it was also simultaneously a recognition that a 500-kilogram panda was also in the room.
If Robert Hormats declined to comment about Xinhua News Agency reports the Chinese government was unhappy with the tone of Clinton's remarks in Senegal about the reliability of America as a trade partner in contrast to some other nations, this competition kept popping up during the informal conversations at the business conference. That, and the fact this trip was clearly designed to be a counterweight to the heft and presence the Chinese are showing in Africa.
And of course, everyone wanted to speculate about Hillary Clinton's future in American politics, now that she has insisted she will not remain in her position after the election (or run for president again), regardless of who wins in November. This would be true, even if Mitt Romney wins the election and she becomes a kind of default leader of her defeated party. By 2016 she will be 68, after all, and that is rather old to begin a strenuous race for the White House. She is apparently in excellent health, and there is the example of Ronald Reagan, who was 71 when he first took office as president.
Well, we shall see on that score. A year, let alone four of them, is a lifetime in politics, as the old saying has it. DM
*Source Daily Maverick