Djimon Hounsou: Grounded, Firm And Deep!
Djimon Hounsou is taking the film world by storm
By Obed Boafo*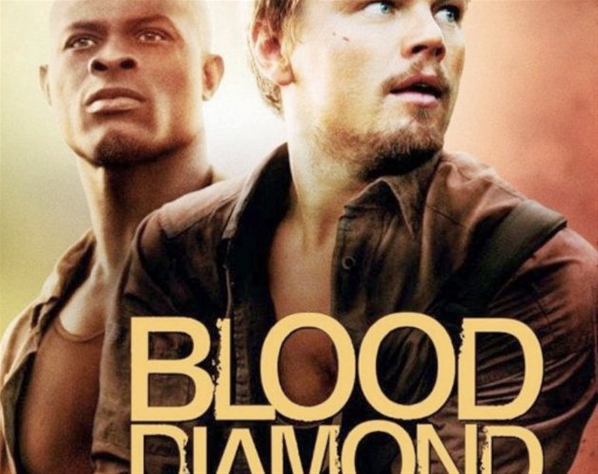 For most African actors actively involved in the global filmmaking trade, there are factors that motivate and keep them going. The inspiration may not be too far from the need to do good movies, and to have as many titles as would come, to their credit.
It is a tough market out there, and for some, the rule for getting busy, is even harder.
Beninois actor and model Djimon ((pronounced Jie-Mon) Gaston Hounsou, known for his adroit acting skills, and who has featured in numerous movies in and outside Hollywood, is a perfect example of an idea, which didn't only take time to blossom, but also worked.
Soul Food, Gladiator, Blood Diamonds and Amistad are but a few of an impressive collection of productions he's played key roles in.
A hardworking personality who took the world by storm with his debut mainstream film "Amistad" (1997), Hounsou has worked for, and with some of the best hands in the industry including Russel Crowe, Anthony Hopkins and Steven Spielberg among others, and continues to make his mark in the world of filmmaking.
Hounsou's rise to the top of what is today, a successful career, is simply awesome and inspiring.
The story is told of how he left Cotounou, the Capital of Benin, at the age of 13 to the French Capital, Paris, with his older brother – to pursue a dream that looked too distant to be realized. Even at that young age, he persevered, hoping for a breakthrough that would exhume him from the shackles of hardship, pain and struggle.
"The dream was to escape that surrounding,' he told CNN in an interview this year.
It was at a later date in the young man's life that French fashion designer Thierry Mugler discovered him, offering him an instant platform to rise and shine.
Days after being spotted by Mugler, he saw himself working with and for industry giants like Herb Ritts and David Fincher, who is said to have given him roles in music videos. The relationship he had with some of the well known names in the industry in France, took him to the United States in 1990, where he also made his mark.
Subsequent cameo appearances and smaller roles in low, and sometimes "okay budget" films, led to his mainstream breakthrough in 1997 when he featured in Spielberg's drama Amistad. In Amistad, Hounsou played Cinque, an African leader of a slave ship mutiny who leads an uprising to regain his freedom.
Amistad brought Hounsou some substantial fame as film earned him a Golden Globe nomination a year after its release. He also received a NAACP Image Award. For a young African in another land, this was too good to be true.
But Hounsou wouldn't stop there as subsequent nominations including two Academy nominations, followed. Productions like Gladiator (2000) and Blood Diamond (2006) further exposed him to the outside world as that next big African actor to watch in Hollywood.
But before his 1997 appearance in Amistad, Hounsou had done Sandra Bernhard's 1990 film Without You I'm Nothing.
He's also starred in productions like Beverly Hills, ER, Alias and also in the science fiction film Stargate as well as, The Tempest, The Island, Constantine, Beauty Shop, Tomb Raider: The Cradle of Life, The Four Feathers, and The Black Panther, a BET animated series based on the Marvel comic.
A successful model before taking up acting, he became the new Calvin Klein underwear model in February, 2007, and also became a naturalized American citizen in 2007. He is however still a citizen of Benin.
In his early ages of acting, Hounsou like most African actors was constantly faced with fear of rejection by an industry that was all perfect, prim and proper, and wasn't ready to gamble on novices like him. But he gradually worked his way up to the top to a point where he even got recognition as a talented act from some of the industry's lading names.
 In finding a suitable character to play KRATOS in the God of War movie, creator David Jaffe said:
"You'd have to get past the fact that Djimon is black, and Kratos isn't, but in terms of the way he looks and his acting ability and his physique — I can't think of a better choice".
Hounsou, 48, and father of three, is most remembered for his great display of acting in the movie – "Blood Diamonds", which was set in Sierra Leone in the 1990s, and which depicted a time of civil war and a period when more than 4% of all African diamonds were sold on the black market".
In the movie, which won him his two Academy nominations, Hounsou played a fisherman who joins forces with Danny Archer (LeoNardo Di Caprio), to "recover a rare pink diamond".
It was directed by Edward Zwick and written by Charles Levitt. He took on a role that brought awareness to the world. He was quoted to have said that he felt "Black Diamonds" is the most powerful human story coming from Africa.
For someone who once scavenged for food through garbage and sleeping in the streets of Paris, it wasn't hard to identify with the story.
A great philanthropist who spends most of his time doing charity work, Hounsou is an Ambassador for Oxfam, and also supports the SOS Children International.
"These organizations have opened my eyes to serious problems facing people on this planet, and the environment itself," he says.
"I have had the blessing and opportunity to travel to various parts of the world as a result of my modeling and acting career.
"I have seen incredible cultures and spent time with wonderful people; however I have also seen the seemingly never-ending industrialization of our planet. Cities like Moscow, Bangkok, and Hong Kong, not to mention my home city of Los Angeles, have more congestion and contribute greater amounts of pollution than most countries put out as a whole," he said in a blog for the Huffington Post.
A strong advocate on the need for society to take the environment serious, he's been involved in several projects that seek to raise awareness on Climate Change. In 2009, Hounsou had the privilege and honor to open the ceremony of the Summit on Climate Change in New York.
"I read a moving passage, written by astronomer and author, Carl Sagan, about our delicate. In addition to the Summit, the Clinton Global Initiative was also hosting its annual event during the same week, which I was fortunate enough to attend as well. Following these two events I was inspired and motivated, and had high hopes as many of the world's leaders were preparing to gather in Copenhagen in the fall to address the very issues that we were speaking about".
Hounsou is married to Model Kimora Lee Simmons, a relationship that was recently rocked with rumours of a split.
One of the reasons I love Kimora is her eagerness to adopt my life's work and passion for uplifting Africa".
Two years ago, the couple was on a humanitarian trip to South Africa during the World Cup in 2010, where they were invited to meet Desmond Tutu, and also to leave their handprints on a mural for the Nelson Mandela Foundation.
"During our week in Cape Town, we participated in Puma's African Unity campaign and also toured SOS Children's Village visiting kids…"
"It was a moving trip to say the least".
Hounsou's trip to the top of a fledging career that continues to shine has also been inspiring to say the least.
*Source african.howzit.msn.com