Merck Foundation Africa Research Summit–MARS Awards 2022 of Best African Women Researchers and young African Researchers announced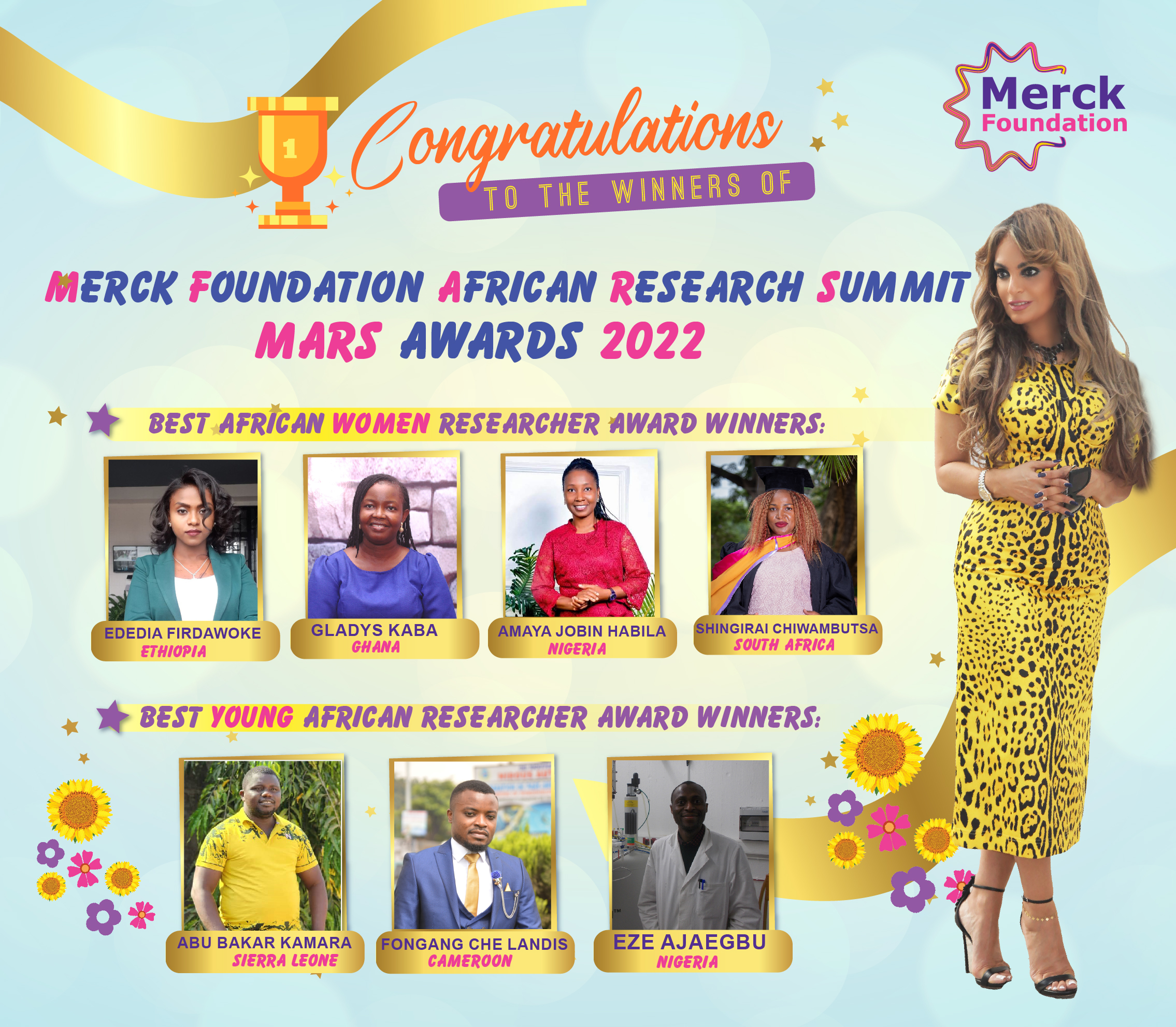 Merck Foundation also announces the Call for Applications for Merck Foundation Africa Research Summit – MARS Awards 2023 to empower Women and Youth in STEM in Africa
Merck Foundation  announced the winners of Merck Foundation Africa Research Summit – MARS Awards winners 2022, 7 Researchers from 7 different African Countries recognized for two categories – Best African Women Researchers and Best Young African Researchers; Merck Foundation Africa Research Summit – MARS 2022 Awards was in partnership with African Union Scientific Technical Research Commission.Merck Foundation also announces the Call for Applications for Merck Foundation Africa Research Summit – MARS Awards 2023 to empower Women and Youth in STEM in Africa with special focus on scientific research in Women Health and Infertility & Reproductive Health; The 2023 MARS Awards will emphasize the collaboration between Merck Foundation and Internationale Federation of Fertility Societies -IFFS, Africa Reproductive Care Society – ARCS, Manipal University and African Union Scientific Technical Research Commission. Merck Foundation, the philanthropic arm of Merck Germany announced the winners of Merck Foundation Africa Research Summit (MARS) Awards 2022 announced in partnership with African Union (Scientific Technical Research Commission) to recognize African Researchers for their valuable research work and contribution to empowering women and youth in STEM in Africa with special focus on Scientific Research in Infectious Diseases and Cancer Research.Senator Dr. Rasha Kelej, CEO of Merck Foundation and Chairperson of Merck Foundation Africa Research Summit -MARS expressed, "Like every year since 2016, I am extremely proud of MARS 7 winners who have been recognized under the two categories of 'Best African Women Researchers Awards' and 'Best Young African Researcher Awards' for their valuable contribution in research, especially by African Female Researchers who are under presented in this field, as we all know. Through Merck Foundation African Research Summit – MARS Awards, we aim to empower African young researchers and of course to empower and encourage African women researchers through advancing their research capacity and promote their contribution to STEM (Science, Technology, Engineering and Mathematics)". The winners of 'Best African women Researchers Awards' and 'Best Young African Researcher Awards' will be enrolled into research training at a premier research institute in India.The MARS 2022 Award Winners are:Winners of "MARS Best African Women Researchers Awards"
TOPIC: Diversity of Cervicovaginal Human Papillomavirus Genotypes and Naturally Occurring E6/E7 DNA Sequence Polymorphism: A Study Among Selected Women with Clinical Suspicion of Cancer of the Cervix or Diagnosed Cervix Cancer/Precancer Cases in Ghana
Amaya Jobin Habila, Nigeria
TOPIC: Evaluation Of The Immunoprotective Potential Of Trypanosoma Brucei Glycerol Kinase In Mice
Shingirai Chiwambutsa, South Africa
TOPIC: Effect of genetic polymorphism and co-medications on tamoxifen metabolising enzymes and plasma levels of endoxifen in black South African breast cancer patients
Ededia Firdawoke, Ethiopia
TOPIC: HPV in women with invasive cervical cancer lesion and cancer: the use of urine as an adjunct specimenWinners of "MARS Best Young African Researchers Awards"
Abu Bakarr Kamara, Sierra Leone
TOPIC: Safety and immunogenicity of an Ad26.ZEBOV booster dose among children previously vaccinated with the two-dose heterologous Ad26.ZEBOV and MVA-BN-Filo Ebola vaccine regimen
Fongang Che Landis, Cameroon
TOPIC: Effectiveness of Mhealth (Text Messages) in Enhancing Cervical Cancer Screening uptake among Women in the North-West Region of Cameroon
TOPIC: Anticancer agents from Millettia aboensis root Merck Foundation Africa Research Summit – MARS 2022 had a scientific support from African Union Scientific, Technical and Research Commission (AU-STRC), Infectious Diseases Institute, College of Health Sciences, Makerere University, Kenya Medical Research Institute (KEMRI) Graduate School. "I am also excited to announce the Call for Applications for our prestigious Merck Foundation Africa Research Summit (MARS) Awards 2023. 'The Role of Scientific Research in Women Health and Infertility & Reproductive Health' will be the key focus this year. Eventually, through these awards, Merck Foundation aims to empower Women Researchers and young African researchers to strengthen the important role research plays towards contributing to public health thus improving healthcare capacity with special focus on women health, infertility and reproductive health in Africa", added Senator, Dr. Rasha Kelej.MARS 2023 of Merck Foundation will be in partnership with African Reproductive Care Society (ARCS), International Federation of Fertility Societies (IFFS), Manipal Academy of Higher Education (MAHE) and African Union Scientific Technical Research Commission.MARS aims to contribute to building research capacity in the African research community.Details for MARS AWARDS 2023Abstracts are invited from final year African PhD students and young investigators involved in research related to either of the following topics:1) Women Health2) Infertility and Reproductive HealthThe applicants should be primarily based at African Research Institutes and Universities.Last Date of Submission:Applications can be submitted till 31st July 2023How to apply:Applications and abstracts can be submitted via email to mars@merck-foundation.com along with CV (including Name, Gender, Country, University/Hospital Name, Email address, Mobile Number) and the abstract document as an attachment.Other Details:
All Abstracts will be peer reviewed.
Research Awards will be dedicated for two categories of Best African Women Researchers and Best Young Africa Researchers
Winners will be eligible for Research Training in prestigious Research Institute in India.
*Merck Foundation