ECoDAs, a Rising Conservation NGO, Celebrates Its Fourth Anniversary in Cameroon
By Kenneth Nsah (aka Nsah Mala)*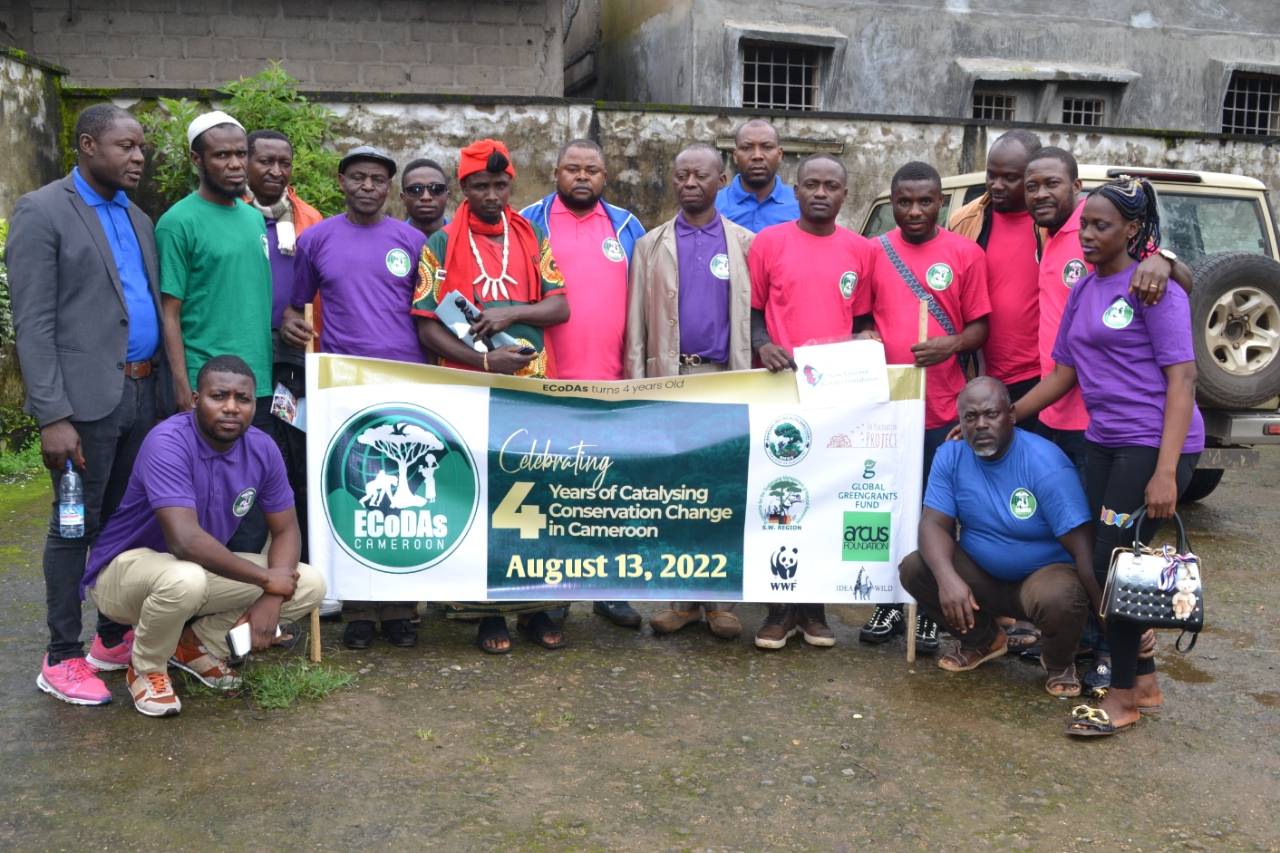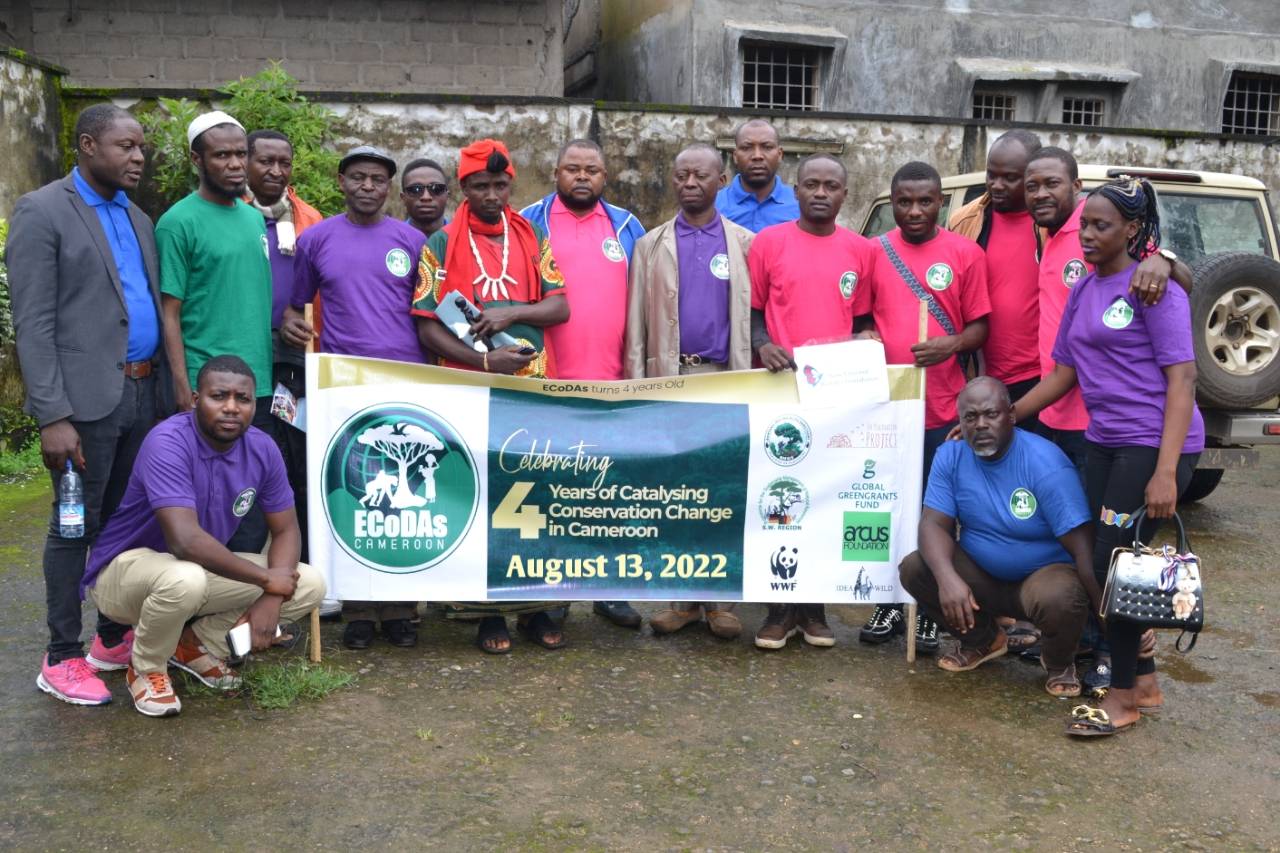 MELONG, CAMEROON – The Environment and Community Development Association (ECoDAs) Cameroon, an emerging environmental NGO, celebrated its 4th anniversary of supporting conservation work in Cameroon on 13th August 2022 in an event held at the Ban'Bingoe Hotel in the town of Melong, Moungo Division, Littoral Region of Cameroon.
The round table discussion event in Melong was attended by ECoDAs members, beneficiaries, collaborators, partners and well-wishers of the ENGO. This event consisted of presentations and speeches from a number of persons in attendance.
In his welcome speech, Mr Godwill Tansi, founder and president of ECoDAs, expressed gratitude to all the supporters responsible for the growth of the organization."The evolution of ECoDAs into the present organization was inevitable with the participation of many enthusiastic scientists and both national and international nature-lovers. Thus, our achievements are the product of the hard work and dedication of many people," Mr Tansi stated.
So far, ECoDAs has recorded many major achievements. These include: 1 vegetable marketing cooperative legally registered in Bana; 50 farmers trained and supported to engage in back-yard market gardening. Home gardening and farm tools (hoes, cutlasses, watering cans, spraying machines) have also been provided to 50 farmers.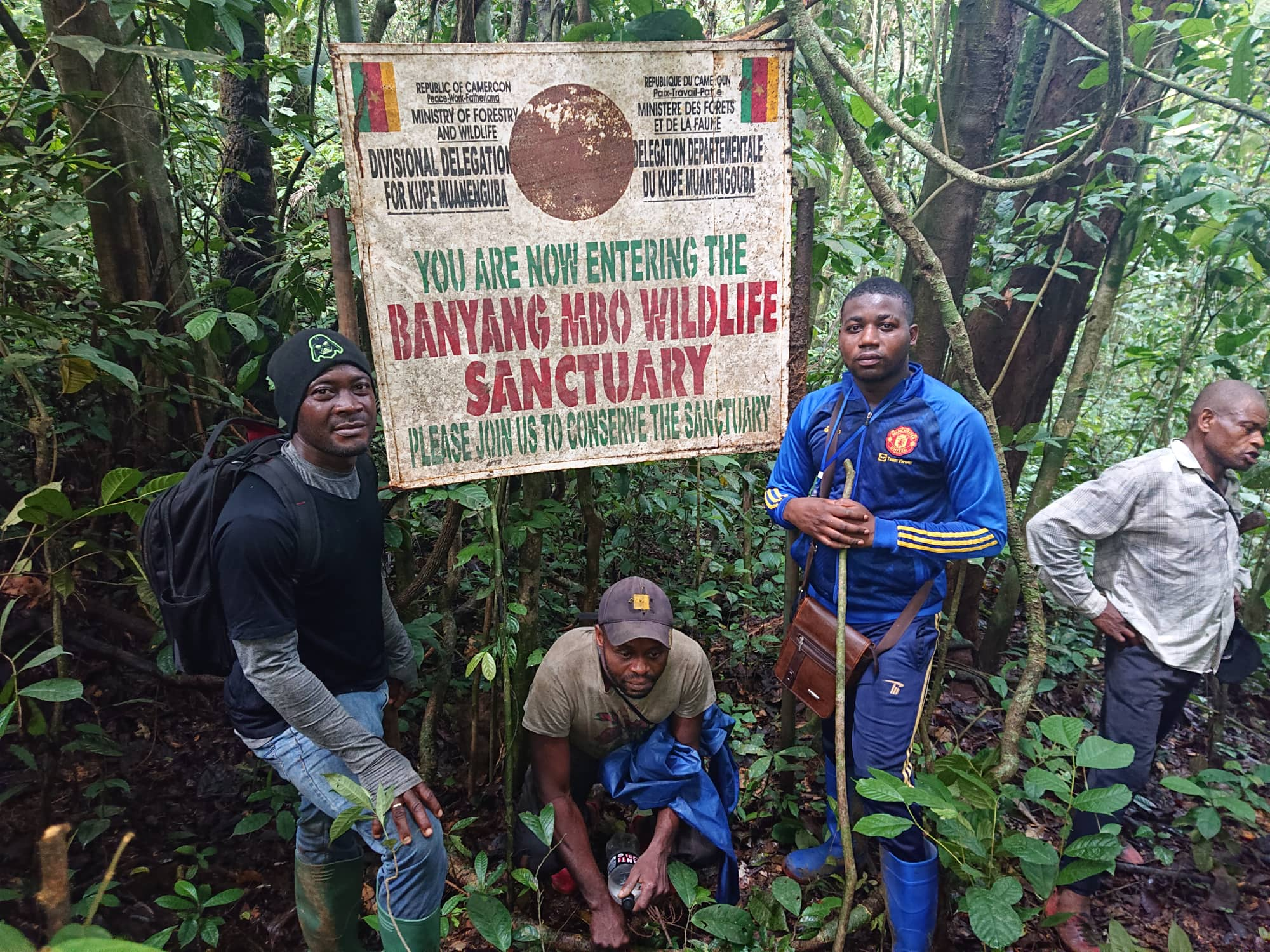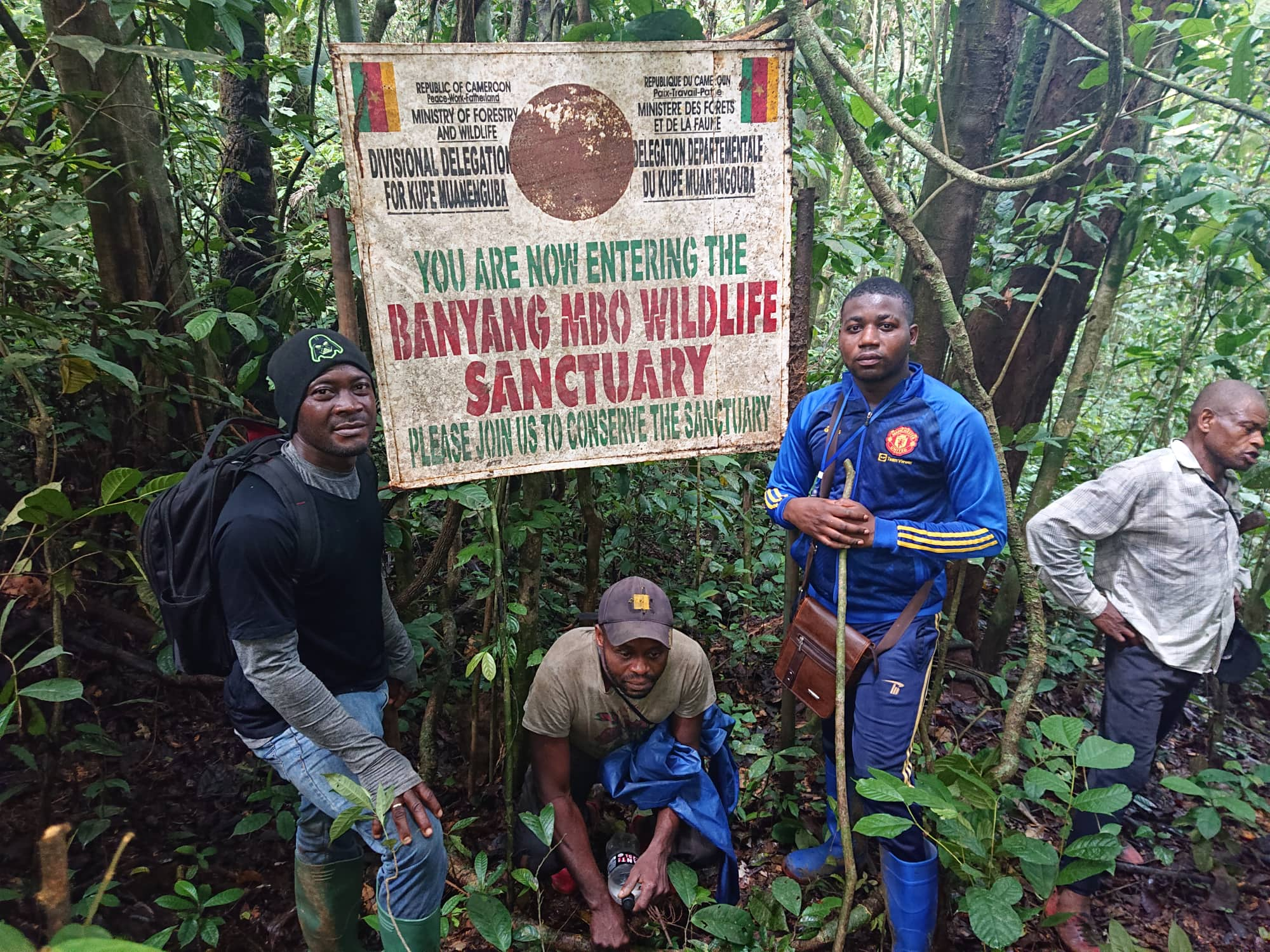 Furthermore, 22 modern piggeries have been constructed and stocked with 220 improved breeds of piglets (10 piglets per hunter) as alternatives to poaching; over 100,000 seedlings of crop and trees have been distributed to 310 forest users; eight conservation cooperatives have been formed and capacitated; one multipurpose cassava processing machine has been donated to a conservation cooperative in Nzobi village; and 11 village forest management committees (VFMCs) have been formed and empowered. Additionally, 18000 indigenous trees have been planted in degraded agro and forest ecosystems adjacent to the Mount Kupe Integral Ecological Reserve.
ECoDAs is also collaborating with the Banyang-Mbo Wildlife Sanctuary (BMWS) to strengthen law enforcement by carrying out a series of community-based forest patrols and surveillance. In the past four years, over 4000 traps have been dismantled; 4 guns have been seized from hunters; and 6 hunting huts have been destroyed. Moreover, on 14th July 2022, ECoDAs joined hands with the Banyang-Mbo Wildlife Sanctuary to organize the first-ever celebration of the World Chimpanzee Day in Cameroon.
Mr Tansi proceeded to acknowledge past and current funders/partners of ECoDAs. And these included: the Programme for the Sustainable Management of Natural Resources in the South West Region (PSMNR-SWR), the World Wide Fund for Nature (WWF), Idea Wild – USA, The Pollination Project – USA, the Global Greengrants Fund, the Arcus Foundation, New England Biolabs Foundation, and the Banyang-Mbo Wildlife Sanctuary (BMWS).
He also thanked other civil society organizations and stakeholders like CAMGEW, AFRINET, CIRMAD, CAEPA, the ECoDAs team, traditional authorities, and the local communities for their varied support and active participation in the implementation of their conservation projects. According to Mr Tansi, these partners and funders do not only help ECoDAs to survive but to thrive.
ECoDAs project beneficiaries used the occasion to show appreciation to the ECoDAs team. His Royal Highness Maurice Mboussoum, the Chief of Ediengo village, expressed delight in the activities of the NGO in villages adjacent to the Banyang-Mbo Wildlife Sanctuary over the years.
"Everyone from Ediengo to Edikang, we are thankful for the work ECoDAs and its partners have done for the people and we plead that as the organization continues to grow, they should not forget us," Chief Mboussoum said.
Mr Pius Edoung Etati, the Banyue Cluster Platform Chairperson, expressed satisfaction for the successful installation of 22 piggery farms with over 220 improved breeds of piglets. He also appreciated the establishment of multipurpose nurseries in the cluster communities by ECoDAs and partners like BMWS, PSMNR-SWR and WWF.
Representatives of some partners and collaborators also took the floor to appreciate ECoDAs. Mr Samuel Ngueping, WWF Landscape Officer for Bakossi Banyang-Mbo Landscape, declared: "ECoDAs has not only succeeded in sustaining local livelihoods and protecting wildlife, ECoDAs is equally conquering the heart of the communities."
Mr Anchankap Bakia Mor, WWF Landscape Advisor, made positive remarks on the partnership between WWF and ECoDAs. While reminding ECoDAs of its responsibilities in biodiversity conservation and community development, Mr Mor also advised on practices towards the better functioning of the organization. His advice touched particularly on aspects like fundraising and human and material resource mobilization to ensure sustainability for the activities of ECoDAs.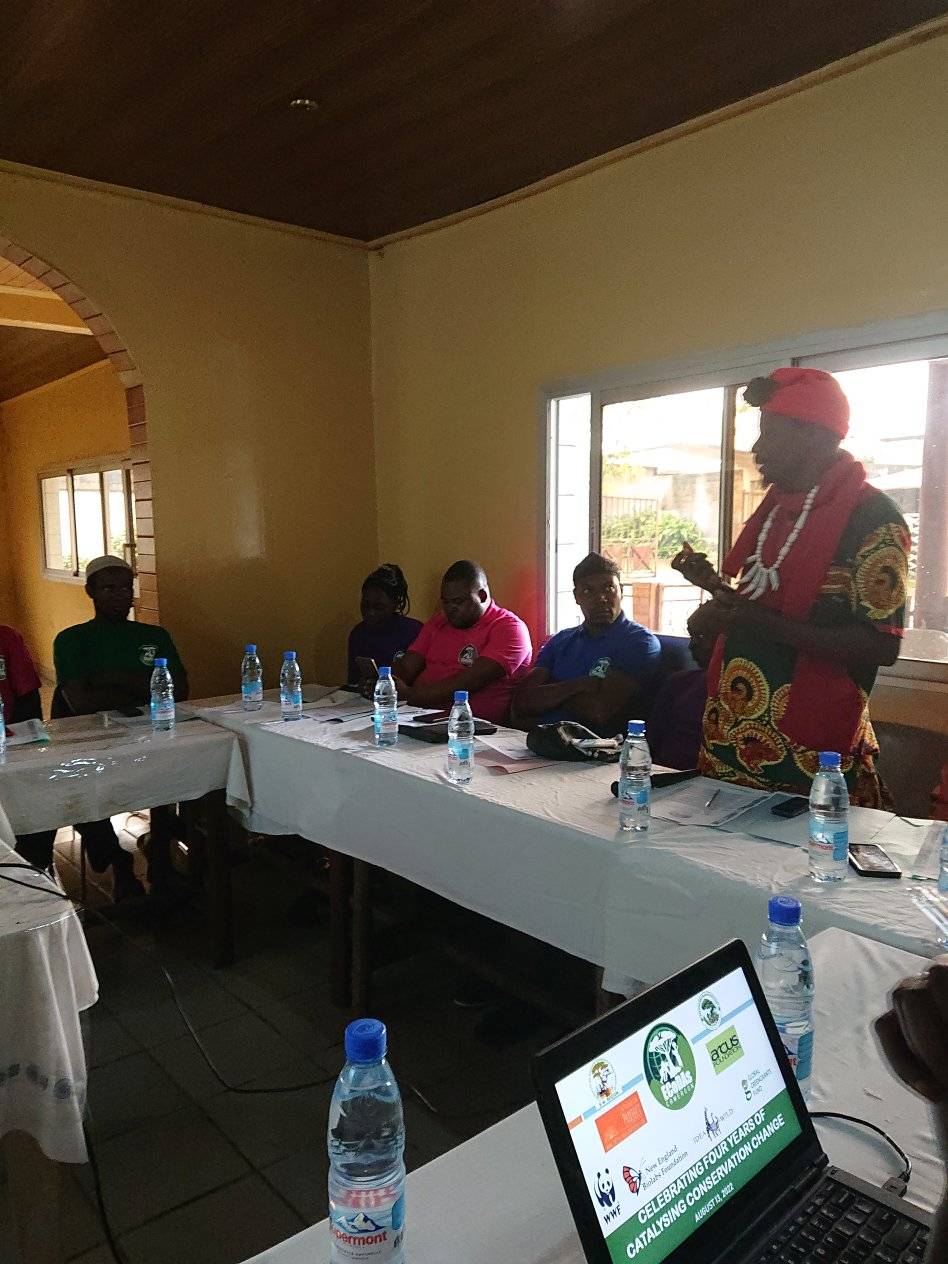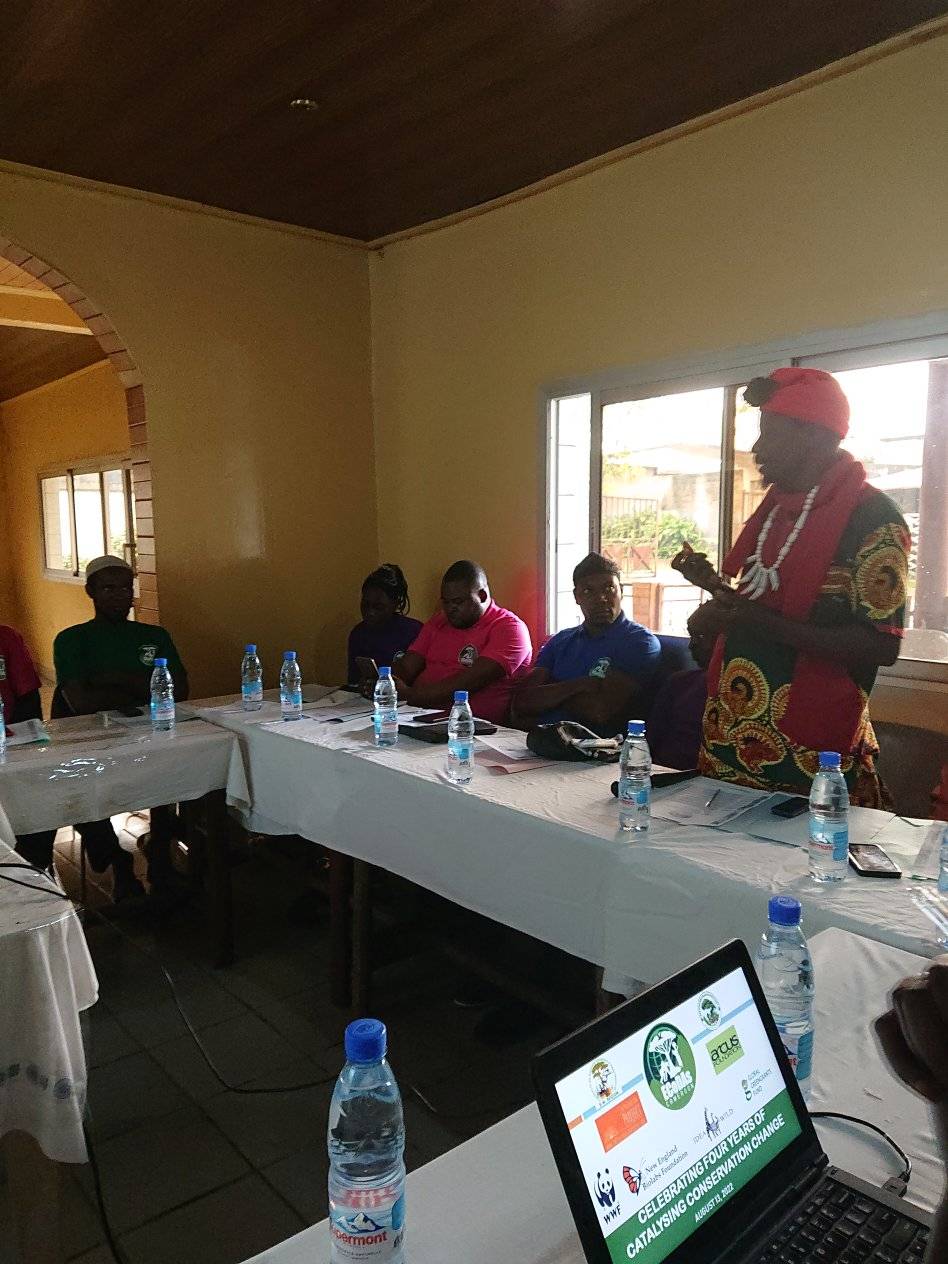 Mr Geofrey Sunday, Coordinator of Support Humanity Cameroon (SUHUCAM), which is an environmental and humanitarian NGO, admitted that ECoDAs' achievements and determination in achieving results in the fields of biodiversity conservation and rural development have served as inspiration for the activities of SUHUCAM.
Other reactions came from Mr Moussa Souleman and Mr Smith Oyah as eco-guards serving in the Banyang-Mbo Wildlife Sanctuary (BMWS). They expressed gratitude for collaborating and building an understanding relationship with ECoDAs in executing projects in the BMWS for the past four years.
Responding to the remarks from beneficiaries, partners and collaborators, Mr Tansi expressed ECoDAs' commitment to continue working with local communities to improve livelihoods while fighting against biodiversity loss and climate change in Cameroon. He further discussed the 5-year perspective of the organization as captured in its five-year strategic plan. Despite numerous challenges, especially limited funding and the ongoing separatist armed conflict in the Anglophone regions of Cameroon, ECoDAs remains resolute in its conservation mission as portrayed by its five year strategic plan.
ECoDAs' main goals for the next five years include: ensuring that its projects are practical and continue to attract funding; that its projects remain sensitive and adaptable to community priorities; that communities have the capacity to develop resilience and achieve meaningful livelihoods; and that communities continue to respect their commitments and engagement for wildlife conservation.
In his closing remarks, Mr Tansi expressed his satisfaction about the event and highlighted the importance of environment protection and biodiversity conservation. "I think the importance of biodiversity conservation and environmental protection need not be emphasized since these days everyone is familiar with the negative fall-outs of climate change. I think we have wrongly taken Mother Nature's bounty for granted and as unlimited.  It is time for everyone to work together to protect the planet for ourselves and for the future generations who will live with the consequences of the choices we make today," Mr Tansi said.
And the occasion marking the 4th anniversary of ECoDAs Cameroon ended with group photos and refreshments at about 2PM, Cameroon local time.
About ECoDAs
The Environment and Community Development Association (ECoDAs) is legally registered under Cameroonian Law No 90/053 of 19 December 1990 relating to freedom of associations and Non-Governmental Organizations (NGOs). ECoDAs was created on  22nd May 2015 (World Biodiversity Day 2015) and registered officially as a non-profit and non-governmental association by Cameroon's Ministry of Territorial Administration on the 13th August 2018 (Registration No: 247/E.27/750/SAAJP). ECoDAs seeks to advance community-based, sustainable solutions that conserve biodiversity and improve the livelihoods of the poorest of the poor while bolstering socio-economic development and addressing climate change. The activities of the organization are focused on protecting rare habitats and endangered species; implementing projects on environmental education and public outreach; restoration of critical and fragile ecosystems; conservation of at-risk flora and fauna species through collaborative management of protected areas; habitat restoration; strengthening communities' livelihoods through income and economic development opportunities; and promoting sustainable agriculture and forest regeneration through agroforestry/non-timber forest products domestication and restoration of degraded agricultural landscapes.
**Kenneth Nsah (aka Nsah Mala) is a journalist, children's author, poet, writer, English <> translator, and cultural-literary scholar who operates professionally in English and French. He has placed journalistic pieces with Times Higher Education (UK), The Conversation (Africa & France), and ERA Environment (France/Comoros). Under his pen name Nsah Mala, he is the author and co-editor of numerous poetry volumes in English and French. And he has published many peer-reviewed articles and book chapters on issues such as migration, environment and climate change from an interdisciplinary literary perspective. In 2022, Nsah obtained his PhD in Comparative Literature from Aarhus University (Denmark) with a thesis that focused on how literary texts can contribute in addressing climate and environmental problems in the Congo Basin.