Macron's Visit gets mixed reviews from Cameroonians
By Boris Esono Nwenfor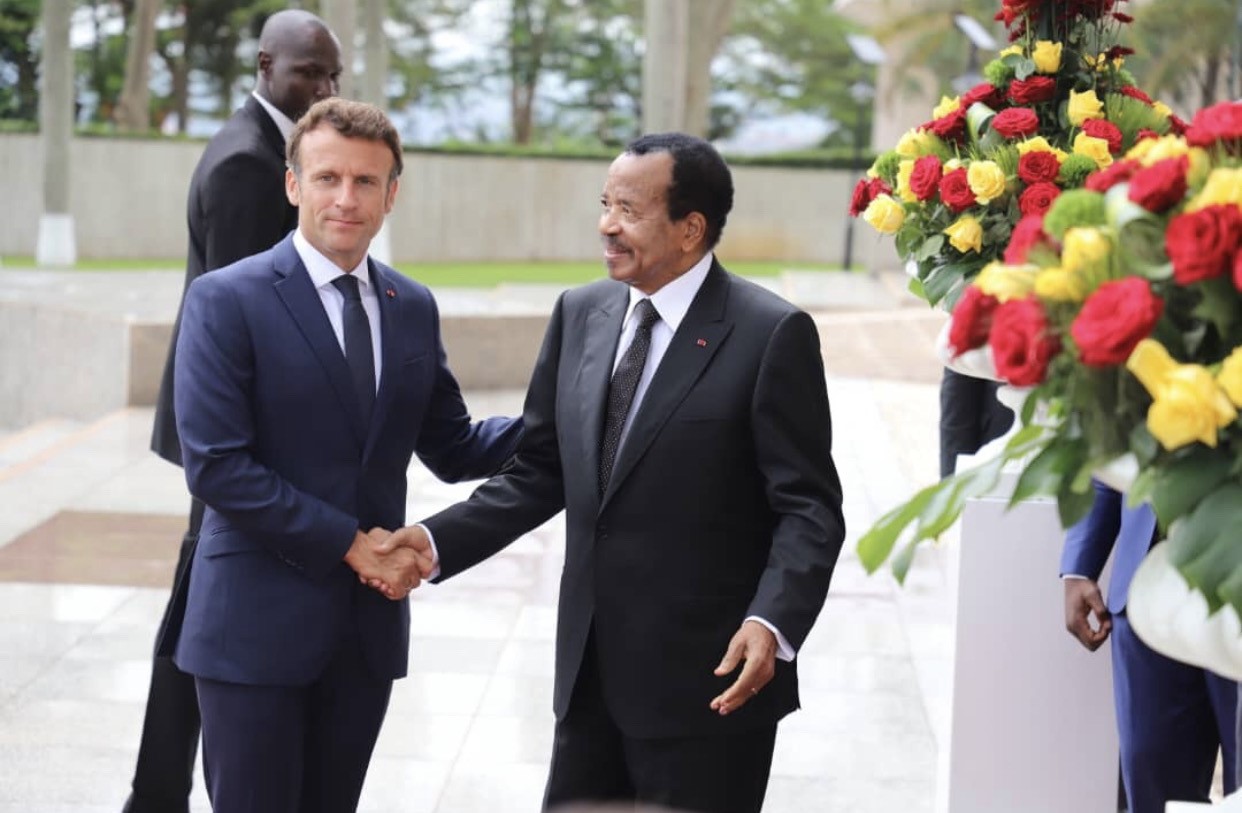 Cameroonians have expressed mixed opinions about the visit of French president Emmanuel Macron to the West African country, following his one-day visit on July 26. Macron on Tuesday declared his country would support Africa's need for security as he embarked on a three-nation tour aimed at renewing France's relations with the continent.
Cameroon, a mineral-rich Central African nation, is a significant food producer for the region and Macron's delegation will seek investment opportunities in the agricultural sector through a Food and Agriculture Resilience Mission initiative launched in March with the African Union to boost food production.
Nji Lucas, a political analyst in an interview with Pan African Visions says he expected Macron to have talked about certain things like those who were massacred in 1958 right up to 1960 itself. He said: "I expected him to have talked of the reparation of some of our artefacts that are in the French museum. At the beginning of his first mandate, he talked about returning certain things that were taken from African countries which France did colonize."
"I expected Emmanuel Macron to have laid more emphasis on the Anglophone crisis reason being that France and the joint task force that is fighting Boko Haram understand what is on the ground. They cannot tell us they do not know what is happening on the ground. What I was not happy with is when he talked of
regionalism; I do not know what exactly that is – is he saying given powers to the various regions as they have in France; is it the kind of democracy like in France?"
"I followed French President Emmanuel Macron's speech, Etienne Enouga a merchant says. And the only thing that we Cameroonian youth ask this president is for mutual respect towards our leaders because they are elected by us and it is inadmissible that during one of his walks in France, he made disparaging remarks towards our President of the Republic."
Cameroon like other African countries and the rest of the world has seen its economy hit hard by the ongoing COVID-19 pandemic. The conflict in Ukraine has not done the country any good with prices of basic commodities have skyrocketed due to the violence. Unemployment, instability and lack of funds are currently hindering the growth rate of the country.
"We need development, we need to build ourselves to invest in innovations, in new technologies, in agriculture, in everything that can contribute to the development of our country," Oumarou Yaya, the agricultural technician said. "Even at the political level, it can accompany us. Even peace is very important for us.
Cameroon is also faced with the insurgency in the southern English-speaking majority region where some insurgents seek to secede among other demands. Noumsi Clément hopes that France will help mediate the crisis for better stability in the central African country.
"We hope that France will support Cameroon in this fight against insecurity in the northwest and southwest and even in the Far North because Cameroon needs it. And it is important that Cameroon, being the leader of Central Africa, remains a haven for peace as it has always been," he said.