Kenya, Guinea-Bissau Sign Three Pacts To Deepen Bilateral Ties
By Samuel Ouma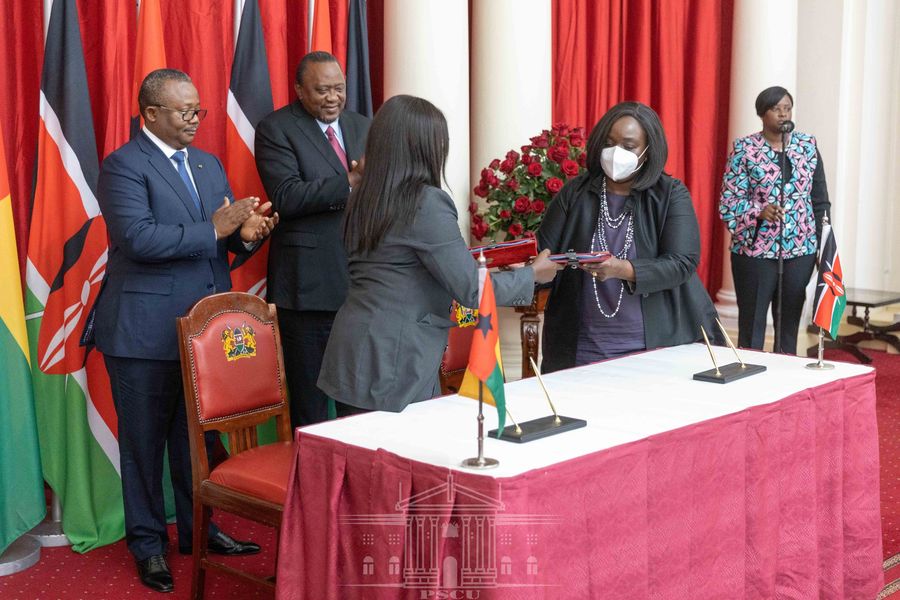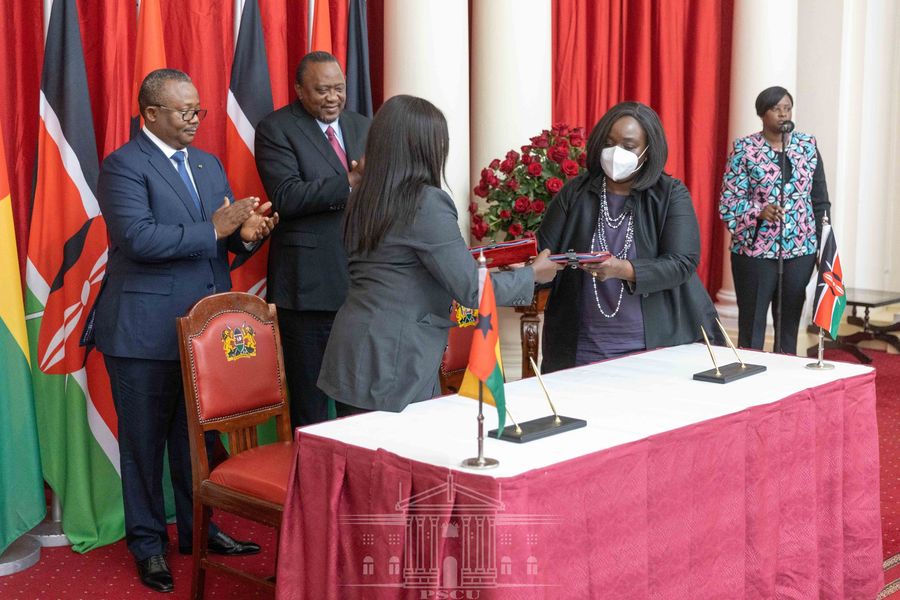 Kenya and Guinea-Bissau signed three agreements on Friday, July 15, 2022, to strengthen their economic and social ties.
Presidents Uhuru Kenyatta and Umaro Sissoco Embaló of Guinea-Bissau signed the agreements after leading their delegations in bilateral talks at State House, Nairobi.
One of the bilateral pacts is an agreement to establish a Joint Commission for Cooperation (JCC). This agreement aims at establishing a framework for bilateral consultations and cooperation between the two countries in various fields, including political, economic, commercial, scientific education, cultural and technical matters.
The other two agreements signed were a Memorandum of Understanding (MOU) on the establishment of Political and Diplomatic Consultations between the two countries and another one between the Foreign Service Academy of Kenya and the Ministry of Foreign Affairs of the Republic of Guinea Bissau.
Speaking at the bilateral meeting, President Kenyatta urged the Ministries of Foreign Affairs of Kenya and Guinea-Bissau to expedite the implementation of the agreed areas of cooperation.
"This will create the requisite momentum in our bilateral engagements, allowing us to accelerate growth and achieve win-win cooperation," President Kenyatta said.
President Kenyatta pointed out that the agreements will leverage the existing platforms to share the dividends that will accrue from the bilateral cooperation between the two countries in the agreed areas.
Noting that bilateral engagements have been low despite the solid relations between the two countries, the Head of State said the time was ripe for the two nations to recalibrate and elevate their ties to a more strategic level.
He emphasized the need for the two countries to take advantage of the African Continental Free Trade Area (AfCFTA) trade to boost their economic ties.
"The entry into force of the African Continental Free Trade Area (AfCFTA) provides untapped opportunities to collaborate in scaling up trade and investment between our two countries, to scale up production and benefit from expanded regional markets," President Kenyatta said.
He reiterated his call to African countries to work together more closely to address the continent's challenges, saying they are allies in development, not competitors.
"Because we are not competitors, we need to complement one another, we need to strengthen one another," President Kenyatta said.
On his part, President Sissoco Embaló said his country was committed to strengthening its long outstanding, mutually beneficial ties with Kenya.
"Guinea-Bissau and Kenya share long outstanding mutually beneficial relations. The brotherly partnership between our two countries is happening by common values and principles," President Sissoco Embaló said.
The Guinea-Bissau President cited agriculture and tourism as some of the areas in which the two countries could cooperate to bolster their economic ties.