Qatar Airways Resumes Services to Windhoek, Namibia as part of its largest ever African schedule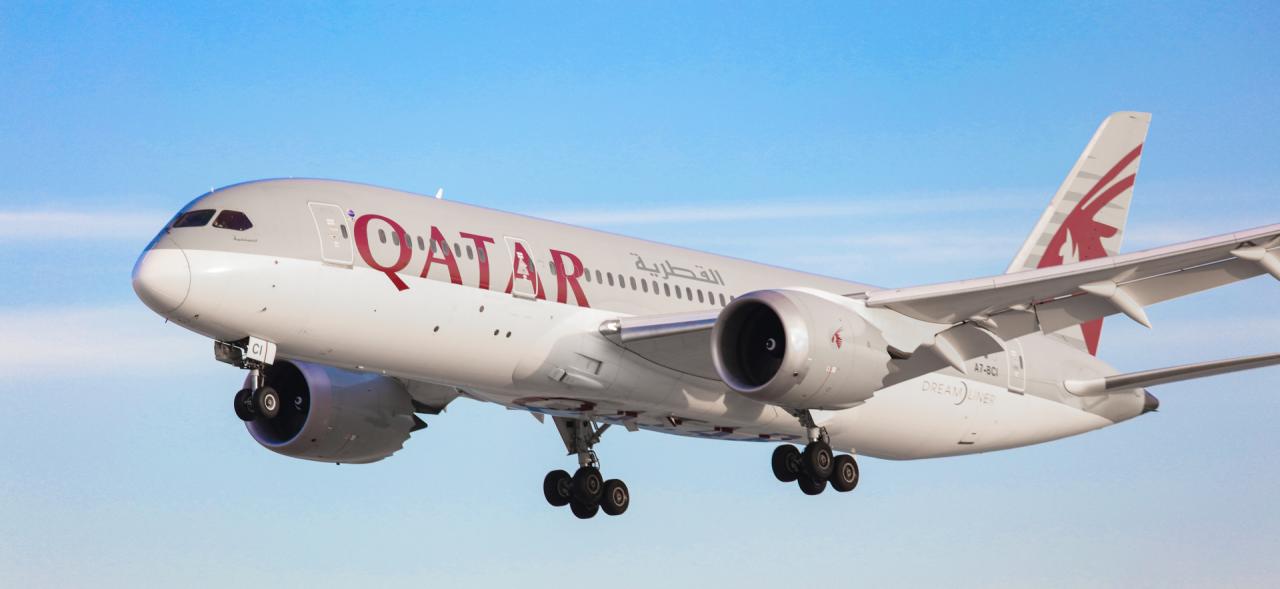 From 25 June, the award-winning airline will operate three weekly non-stop flights with a Boeing 787-8 Dreamliner aircraft to the Namibian capital
The latest addition to the World's Best Airline's growing network will be its 31st gateway in Africa, with more than 200 weekly flights to and from the continent, via Doha
DOHA, Qatar – Qatar Airways will resume its service to the Namibian capital, Windhoek from 25 June 2022 as part of its largest ever African schedule. With more than 200 weekly flights to 31 gateways across Africa following this launch, the Windhoek route will offer seamless connectivity for passengers to almost 150 destinations in the airline's extensive global network, including gateways in Europe, such as Germany, France, Spain, the U.K. and India.
The national carrier of the State of Qatar will operate three weekly non-stop flights to and from Windhoek via the World's Best Airport, Hamad International Airport (HIA), flown by the state-of-the-art Boeing 787-8 Dreamliner offering 22 seats in Business Class and 232 seats in Economy Class.
Qatar Airways Group Chief Executive, His Excellency Mr. Akbar Al Baker, said: "This resumption demonstrates the strong ties between Doha and Namibia, with Qatar Airways enjoying an increasingly robust presence across the African continent, supporting economies and the ongoing recovery of the travel industry in the region".
"Reinstating flights from Windhoek to Doha will not only ensure Qatar Airways is best-placed to meet the increasing demand for travel in Southern Africa, it will also enable an even greater number of our valued passengers in Africa to experience our signature five-star service on board."
From the sand seas of the Namib Desert where the tallest dunes in the world reside, to the awe-inspiring Fish River Canyon, Namibia holds an array of gravel plains, rolling hills and diamond-rich coastal deserts. The country is also known for its stunning landscapes offering passengers the chance to explore some of the most impressive geographical features in Africa, including the Skeleton Coast which is one of Namibia's largest national parks.
Qatar Airways flight QR1373, will depart from Hamad International Airport at 01:45, arriving at 09:50 to Hosea Kutako International Airport. Qatar Airways flight QR1374, will depart from Hosea Kutako International Airport at 13:20, and arrive to Hamad International Airport at 23:00.
A multiple award-winning airline, Qatar Airways was named 'World's Best Airline' in the latest World Airline Awards, managed by the international air transport rating organisation Skytrax. The airline's hub, HIA, was recently recognised as the 'Best Airport in the World 2021', ranking at number one in the Skytrax World Airport Awards 2021.
In addition to this, Qatar Airways has become the first global airline in the world to achieve the prestigious 5-Star COVID-19 Airline Safety Rating by Skytrax. This follows the success of Hamad International Airport (HIA) as the first airport in the Middle East and Asia to be awarded a Skytrax 5-Star COVID-19 Airport Safety Rating. These awards provide assurance to passengers across the world that the airline's health and safety measures are subject to the highest possible standards of professional, independent scrutiny and assessment. For full details of all the measures that have been implemented on board and at HIA, please visit qatarairways.com/safety.
A multiple award-winning airline, Qatar Airways was announced as the 'Airline of the Year' at the 2021 World Airline Awards, managed by the international air transport rating organisation, Skytrax. It was also named 'World's Best Business Class', 'World's Best Business Class Airline Lounge', 'World's Best Business Class Airline Seat', 'World's Best Business Class Onboard Catering' and 'Best Airline in the Middle East'. The airline continues to stand alone at the top of the industry having won the main prize for an unprecedented sixth time (2011, 2012, 2015, 2017, 2019 and 2021).
Hamad International Airport (HIA), the airline's home and hub, was recently announced as the 'World's Best Airport' in the Skytrax 2021 World Airport Awards. HIA has been steadily rising in the 'World's Best Airports' rankings since the start of its operations in 2014.
Qsuite, a patented Qatar Airways product, features the industry's first-ever double bed in Business Class, as well as privacy panels that stow away, allowing passengers in adjoining seats to create their own private room, a first of its kind in the industry.
Qatar Airways was the first Gulf carrier to join global airline alliance oneworld, enabling its passengers to benefit from more than 1,000 airports in more than 160 countries, with 14,250 daily departures.
Oryx One, Qatar Airways' in-flight entertainment system offers passengers up to 4,000 entertainment options from the latest blockbuster movies, TV box sets, music, games and much more. Passengers flying on Qatar Airways flights can stay in touch with their friends and family around the world by using the award-winning airline's on-board Wi-Fi and GSM service.
Qatar Airways proudly supports a range of exciting international and local initiatives dedicated to enriching the global community that it serves. Qatar Airways, the official FIFA partner, is the official sponsor of many top-level sporting events, including the FIFA World Cup Qatar 2022TM, reflecting the values of sports as a means of bringing people together, something at the core of the airline's own brand message – Going Places Together.
Qatar Airways Cargo, the world's leading international air cargo carrier is based in Doha, State of Qatar. It serves a global network of more than 60 freighter destinations and 140 passenger destinations utilising freighters, belly-hold passenger flights, passenger freighters and mini freighters. The airline's freighter fleet includes two Boeing 747-8 freighters, two Boeing 747-4 freighters, 26 Boeing 777 freighters, one Airbus A330 freighter, one Airbus A310 freighter and one Boeing 777-300ER mini freighter. It also has an extensive road feeder service (RFS) network.
Qatar Executive is the private jet charter division of Qatar Airways Group. Luxury jet services are available for worldwide charter on board the operator's wholly-owned business jet fleet. Qatar Executive is the launch customer for Gulfstream's G700, the world's first commercial service operator of the Gulfstream G500 and largest commercial operator of the G650ER worldwide. Qatar Executive's service portfolio also includes aircraft management, maintenance and Fixed Based Operator services.
*Quarter Airways