Gitega-Kigali: Towards handshake between Kagame and Ndayishimiye
By Egide Lucky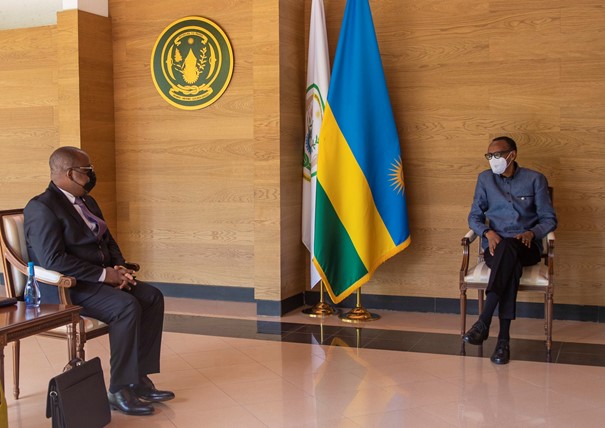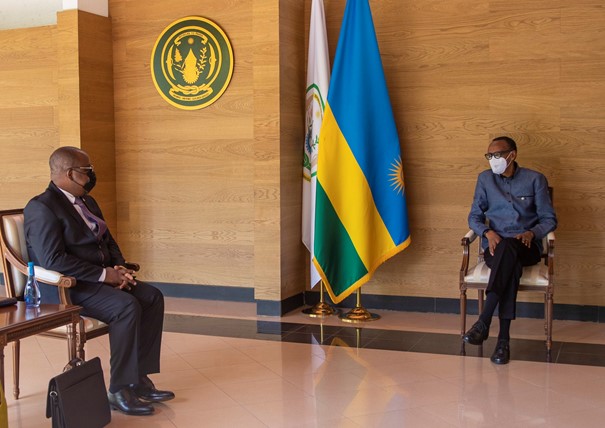 Signs of complete normalization of relations between Burundi and Rwanda keep increasing. The recent meeting between president Kagame and the Burundian delegation is promising. Populations from both countries expect possible reopening of borders for soon.
On the 10th of January, a delegation led by Ezéchiel Nibigira, Burundi Minister in charge of EAC affairs, Youth, Culture and Sports, was received by Rwanda President Paul Kagame at Urugwiro Village, Rwandan presidency.
The Burundian delegation also comprised General Silas Pacifique Nsaguye, Burundi Chief of Military Intelligence and Aimée Laurentine Kanyana, deputy of the Chief of Civil Cabinet in the Burundi presidency.
On its twitter account, the presidency of Rwanda posted that the Burundian delegation brought a message from President Evariste Ndayishimiye to his counterpart President Paul Kagame.
"The purpose of the visit was to foster bilateral relations and strengthen the historical ties between the two countries," tweeted the Burundi Ministry in charge of EAC affairs.
Talking to the BBC on the 11th of January, the spokesman of the Rwanda government Alain Bernard Mukuralinda said that Rwanda received well the message from Burundi.
According to him, exchanges between President Kagame and the Burundian delegation focused on strengthening relations between Burundi and Rwanda.
However, he did not give more details about the discussions.
He said that ties between the two countries are stronger than any problem that may emerge between them.
"If there have been problems that jeopardized the relations, there are also ways to discuss them. It's normal that problems arise between neighbors."
What is important is that all ways from low to the higher level are now open so both sides can discuss, he added.
As for the reopening of borders between the two countries that have been shut for about six years, Mr. Mukuralinda said that it is a process.
He, however, mentioned that borders have not been completely shut.
"There are no soldiers or policemen on the borders to impede movement between our countries. You have even seen that officials at different levels met after crossing borders," he also said.
Expectations for borders' reopening are high
A reliable source from the Burundi presidency revealed that the next step may be the meeting between Evariste Ndayishimiye and Paul Kagame.
According to the same source, the reopening of borders between Burundi and Rwanda may take place soon.
Both Burundians and Rwandans are waiting to see a free movement of people and goods resuming at the borders.
"The reopening of borders will be an unforgettable day, a miracle for me. I miss Burundi, particularly the Bujumbura City, the good weather at the shores of Lake Tanganyika. I can't wait coming there soon," says a Rwandan university student.
Some people have their relatives in Rwanda or Burundi and have not been able to visit them for the last years.
"I have an uncle who lives in Butare, Rwanda. I used to visit him regularly but since 2016, I haven't been able to cross the border," says a Burundian teenager from Ngozi province in the north of Burundi.
Another Rwandan regrets that she has not been able to meet her friends and relatives who are based in Cibitoke province, north-west of Burundi where he grew up.
Business people, especially those who conduct transborder trade believe relations between Burundi and Rwanda are at the peak of normalization.
"I think the handshake between Kagame and Ndayishimiye is the next and final step. Since then, I will do my business from Burundi to Rwanda as before," says a seller of fishes in Kirundo province who used to export them to Rwanda.
A merchant of clothes in Kigali reveals he used to supply himself in Burundi and Uganda but with the diplomatic unrest between Rwanda and the two countries, his business has almost gone bankrupt.
He calls on both governments to accelerate the move towards restoration of bilateral relations and opening of borders.
"Rwandans and Burundians are brothers and sisters. High authorities have to discuss any problem and find solutions. Many Rwandans miss Burundians and vice-versa," he said.
The meeting between the Burundian delegation and President Kagame is not the first sign of normalization of diplomatic and bilateral relations between Burundi and Rwanda. Several meetings between governors, ministers and military intelligence chiefs preceded it.
On the 25th of October last year, governors of the eastern and southern provinces of Rwanda met with Burundian governors of Kirundo and Muyinga provinces at the Gasenyi-Nemba border post in Kirundo, north of Burundi.
On October 15th, at the Ruhwa border post in the north-west of Burundi, the Burundian governor of Cibitoke Carème Bizoza met with his counterpart governor of the western province of Rwanda François Habitegeko.
Earlier on the 06th of August, a similar meeting was held between the governor of Kayanza Rémy Cishahayo and his counterpart from the Rwandan southern province Alice Kayitesi at the Kabarore-Nshili border post.
Handover of suspect rebels also marked the reconciliation process between Gitega and Kigali in 2021.
On October 19th, 11 suspect combatants of the National Liberation Front (FLN), a Rwandan rebel group, were handed over to Rwanda by Burundian military intelligence officials.
Rwanda had also handed over to Burundi 19 suspect rebels of Red Tabara, a rebel group operating in the Democratic Republic of Congo, on July 30th the same year.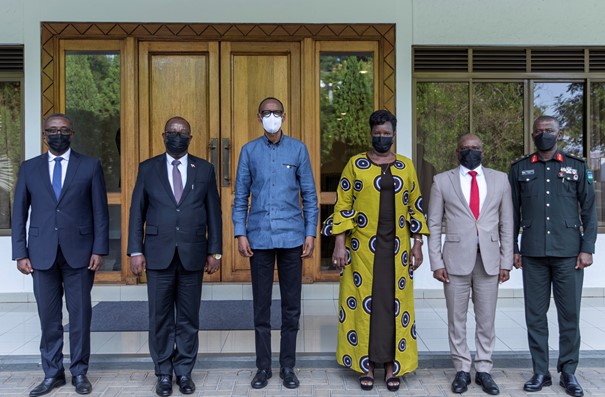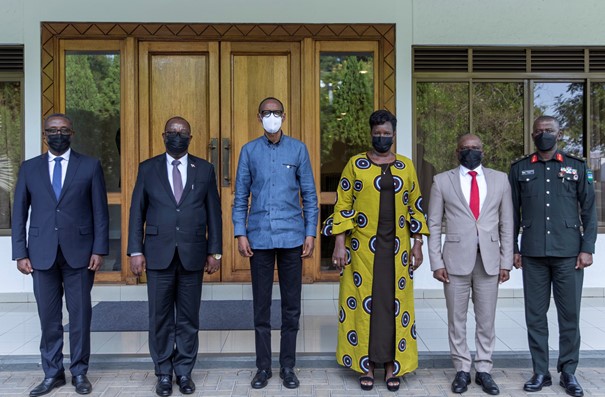 Rwanda Prime Minister Edouard Ngirente participated in Burundi's 59th Independence Day on the 1st of July 2021 in Bujumbura. He also brought a message from President Kagame to his counterpart President Ndayishimiye.
Earlier in October 2020, the Burundi Minister of Foreign Affairs Albert Shingiro met with his Rwandan counterpart Vincent Biruta at the Gasenyi-Nemba border post, still in the mutual effort to normalize bilateral relations between the two countries.