Sierra Leone: JUSAS Global CEO appointed as Scout Ambassador at Large and Senior Commissioner to USA
The Chief Executive Officer of JUSAS Global, Abdul Sigismond Sesay has been appointed as the "Ambassador At Large & Senior Commissioner" of the Sierra Leone Scouts Association to the United States of America at a special ceremony at the scout Headquarters, on New England Ville, in Freetown.
The ceremony was attended by senior members of the Sierra Leone scouters Association in the country notably its president Sheik Fomba Abu-Bakr Swaray, Chief Commissioner Abu Bakarr Nylander Kargbo, Administrative Commissioner Scouter Patrick J. Massaquoi and other commissioners to grace  the occasion.
According to the Warrant, Letter of Introduction and Mandate of the Ambassador at Large to USA was that he is entrusted and expected to carry out duties on behalf of the Sierra Leone Scouts Association abroad.
''To provide representation, solicit funding, support and promote the vision and mission of the association. Build healthy relationship between the Sierra Leone Scouts Association, The Boy/Girl Scouts of America and other like-minded organizations. Responsible/ facilitate the coordination, visiting and participation of Sierra Leone Scouts to international events like jamborees/ camporees, workshops/conferences etcetera to USA and beyond,'' the warrant letter reads.
The warrant letter added that the Ambassador –at-Large's responsibilities are that he must endeavor to promote good working relationship, experience and exchange programmes with other Scout Association or organization at the global level whilst also enhancing linkages and promote good relationships with other Scout Association/Groups abroad.
''In response to the appointment; I vividly expressed commitment to abide and work with the leadership in accordance with the scout promise, laws, principles and methods. Also, promised to work with both the private and public sectors within and without Sierra Leone to promote the interest of scouting and mobilize/raise funds to give a facelift to the association,'' Abdul Sigismond Sesay said .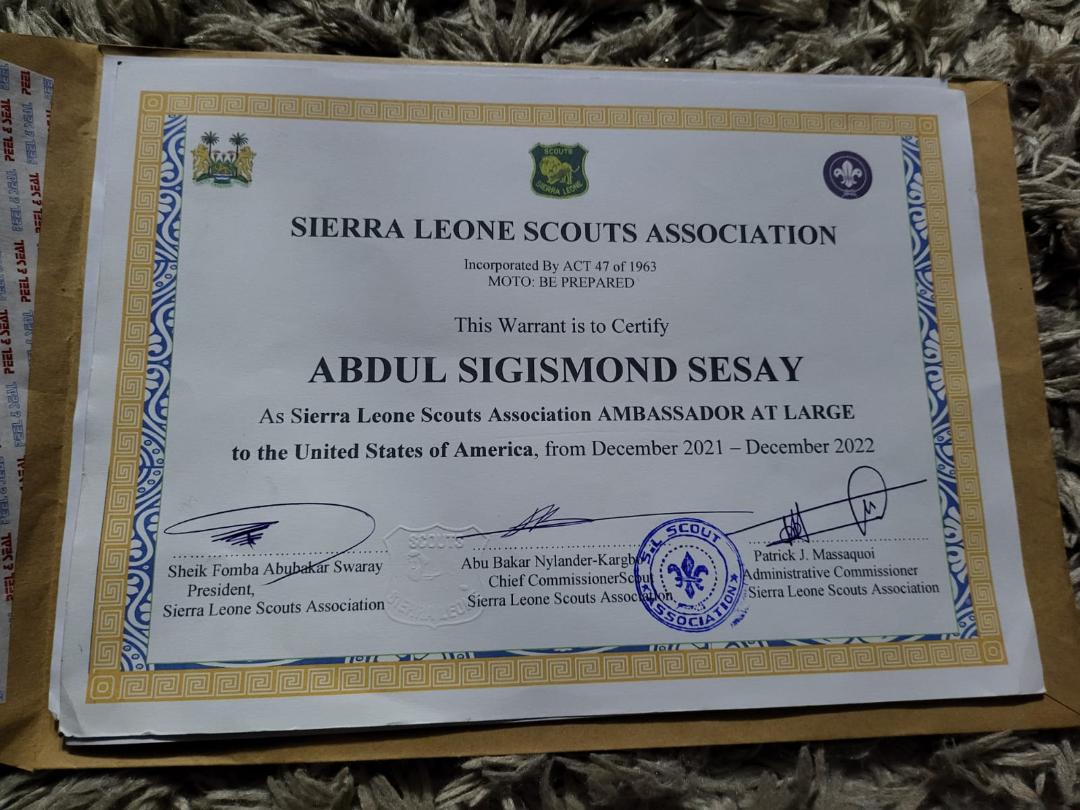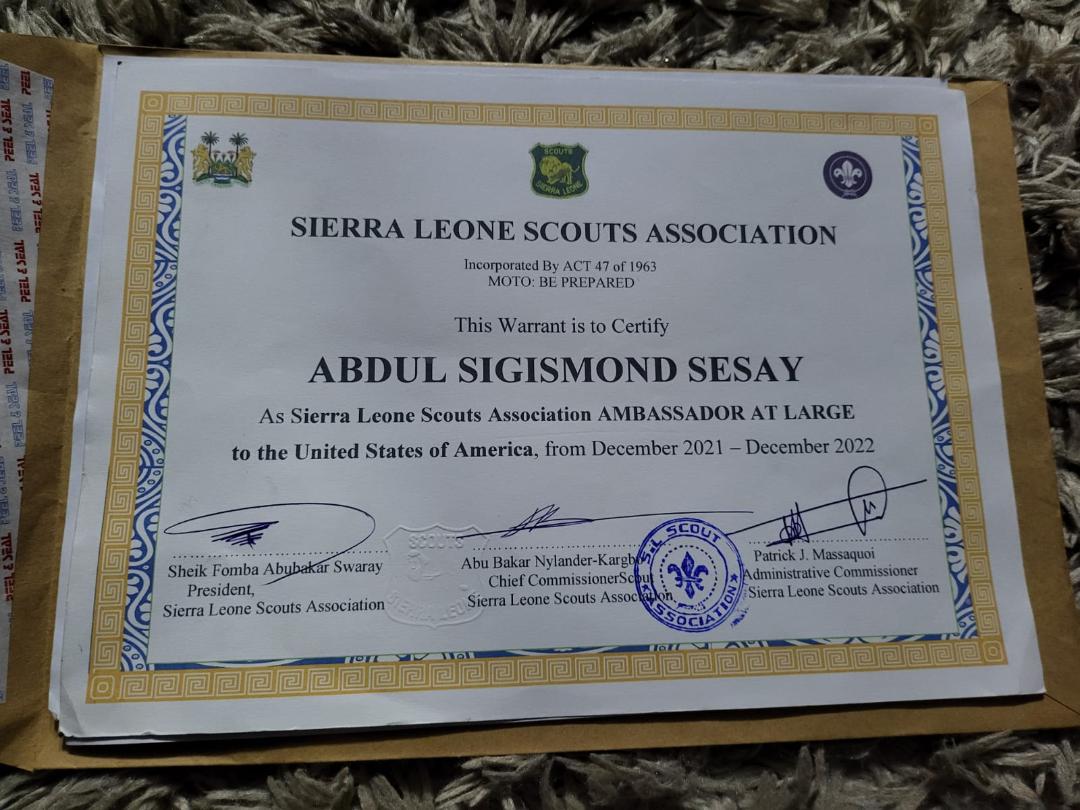 CEO Sesay however on behalf of his  family and the JuSAS GLOBAL Conglomerate extended his  sincere thanks and appreciation to the leadership and members of the Sierra Leone Scouts Association for  bestowing  upon him the task  to serve the association  abroad adding that he is grateful and will endeavor to live up to the expectations.
Many believed that his appointment as ambassador at large for the Sierra Leone Scouters Association in the USA didn't come as a surprise to them  as Mr. Abdul Sigismond Sesay has been a selfless and patriotic individual that is always and ready to serve his country both at home and abroad.
In 2014, he was instrumental in championing the fundraising drive of the Auradicals' Ebola Response of Le. 200,000,000 worth of Food and Non Food condiments that was distributed to victims, complemented with other outstanding contributions to the country.