South Sudan: Peace Cabinet Ministers Sworn in
By Deng Machol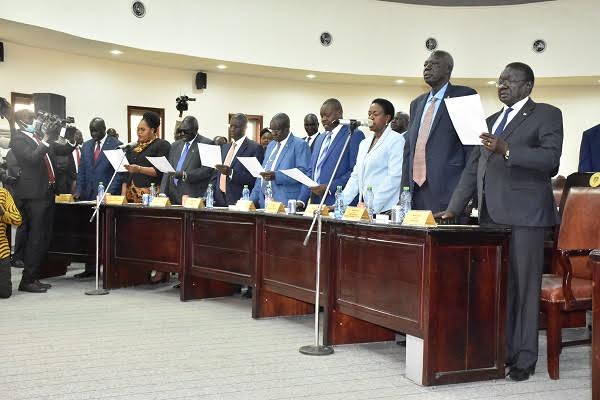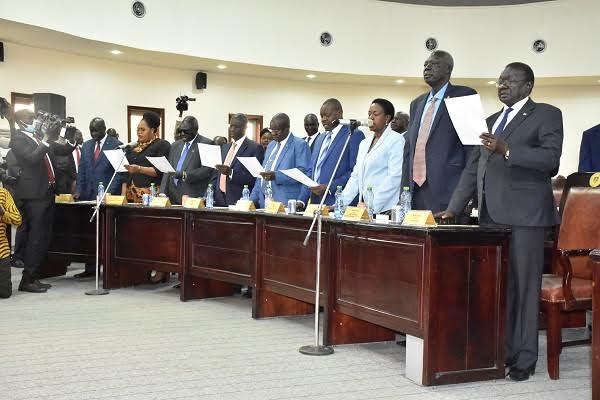 Juba – South Sudan's transitional cabinet ministers were sworn in on Monday to officially begin work, in an attempt to end the country's six year conflict that has killed nearly 400,000 people, and uprooted four million from their homes.
The swearing-in ceremony of 33 ministers and nine deputies was administered by John Gatwech Lul, deputy chief justice in Juba and witnessed by President Salva Kiir, the First Vice President Riek Machar and four other deputy presidents.
Foreign Affairs Minister Beatrice Khamisa Wani and Deputy Minister of Interior Mabior Garang de Mabior who are under self-quarantine over the COVID – 19 fears are yet to arrive in Juba from Nairobi and will be sworn in at a later date.
"I wish you all the best of luck and I need you to succeed in your duties as you have made your oaths in front of us here. So as the head of the government I will work with you together and to see into it that we are doing the right thing," Kiir told the ministers shortly after taking their oath.
President Kiir last week named 35 cabinet ministers to serve in the transitional unity government after a series of delays.
The appointment of the Ministers of the Revitalized Transitional Government of National Unity is a step forward in the implementation of the revitalized peace deal that would give chance for peace and stability in South Sudan, following the collapse of 2015 peace deal in July, 2016, a renewal fighting broke out in Juba a month after establishment of new unity government, forced Dr. Machar to flee the country.
However, Country's Cabinet Affairs Minister Martin Elia Lomoro said that appreciated all the political parties for nominating them for their positions adding that they would do their best to correct the tarnished image of South Sudan.
He echoed that the duties and responsibilities of the peace government of national unity are defined in the agreement in which they are committed to implementing it to the letter and spirit.
He called on the newly appointed Ministers to cooperate with their Deputies and work hard for the development of the country.
"Mr. President, this is an opportunity you have given us as ministers to work for our country, to clean our faces that has been tarnished by the more than six years of conflict that everybody describes as unnecessary," Elia said.
Cabinet minister further said they have accepted to serve the people of South Sudan to achieve permanent peace and not to return to war again and forever.
South Sudan, which gained her independence from Sudan on July, 2011 after decades of earth-scorched civil war, descended into conflict in December 2013 after political disagreement in with the ruling parties, then followed by President Kiir sacked his deputy Machar, who later founded the SPLM-IO, leading to conflicts between soldiers loyal to their respective leaders.
The formation of a unity government is yet uncompleted, as the governors of the states and advisors are not yet be appointed.
Also, the security arrangements remains as a loophole, as the unification of necessary force is not yet on the ground despite the appointment of a collegial presidency and cabinet ministers respectively in the country. Therefore, the implementation of this fragile revitalized peace deal remains at risky point.