Culture at Work Africa second networking workshop opens in Harare
By Wallace Mawire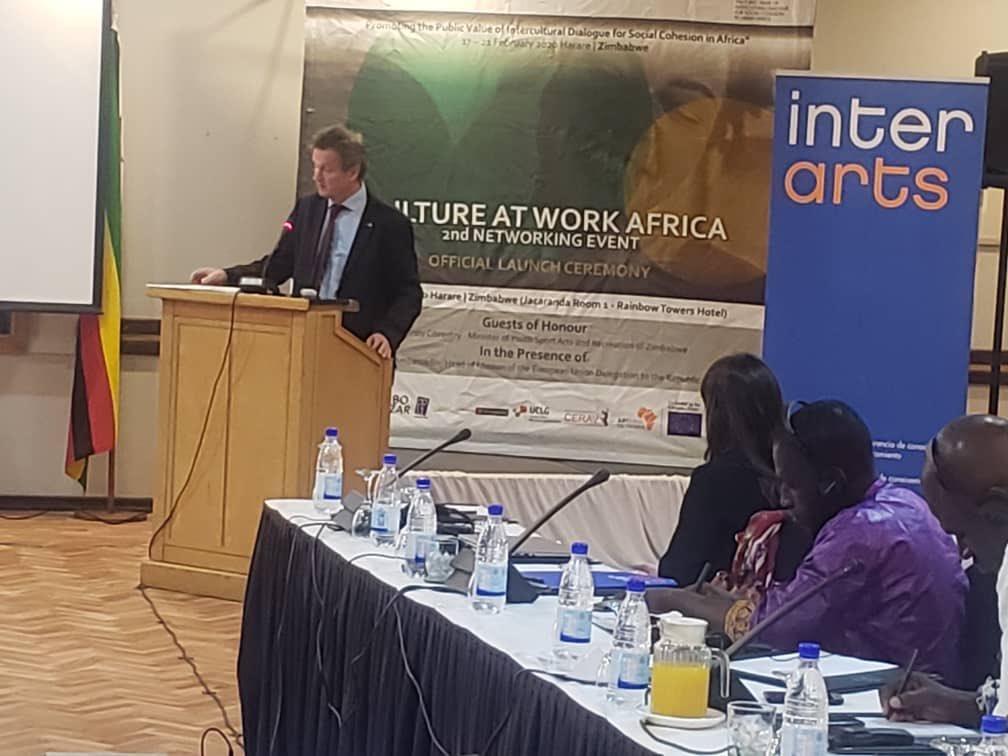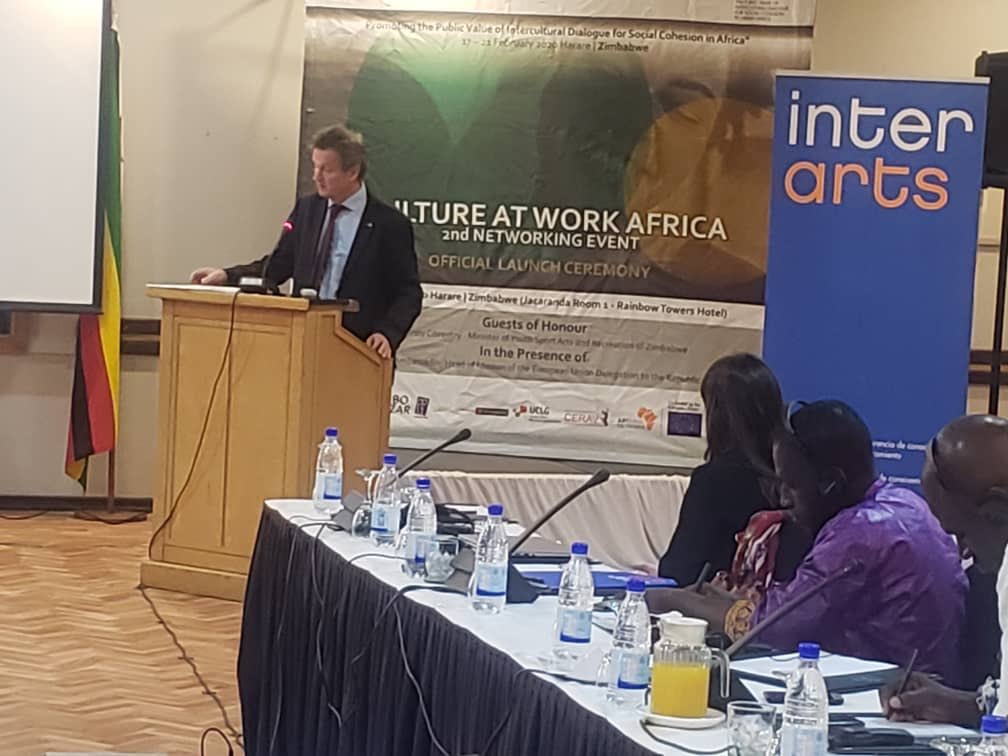 Harare-The second activity of networking of the Culture at Work Africa consortium opened in Harare, Zimbabwe running from 17 to 21 February 2020 under the theme: Promoting the public values of intercultural dialogue for social cohesion in Africa.
Culture at Work Africa was launched in February 2018 with support from the European Union in Brussels. Its objective is to promote intercultural dialogue and cultural diversity in urban and peri-urban areas to enhance social inclusion of vulnerable and marginalised groups and to contribute to sustainable development in Africa.
The project takes up the challenge raised by the African Union (AU) and its vision for 2063 for an integrated, prosperous and peaceful Africa, driven by its own citizens and representing a dynamic force in the international arena.
 It is supporting innovative on the ground projects in 15 African countries namely Benin, Burkina Faso, Cameroon, Cote D'Ivore, Democratic Republic of Congo,Kenya,Mali,Niger,Nigeria,Rwanda,Senegal,Tanzania,Togo,Uganda and Zimbabwe aiming at developing safe and neutral spaces for intercultural dialogue, active citizenship and intercommunity relations and organising training and capacity building activities for cultural operators, public authorities and cultural mediators as well as networking and regional exchanges between different stakeholders.
Culture at Work Africa is driven by a consortium of eight African, European and international partners which include Interarts, Arterial Network, Centre for Fine Arts-BOZAR, Culture et Developpement, Regional Centre for the Living Arts in Africa-CERAV/Afrique, Culture Fund of Zimbabwe Trust, International Music Council-IMC and the Committee on culture of United Cities and Local Governments-UCLG.
Culture at Work Africa was co-funded by the European Union with support from the Barcelona City Council.
The event has brought together the beneficiaries of the grants of the 1st and 2nd call for proposals. Over 50 professionals involved in the 35 projects funded by Culture at Work Africa in 15 African countries are attending the workshop in Harare.
Honourable Ms Kirsty Coventry, Minister of Youth, Sports and Arts and Recreation in Zimbabwe was guest of honour at the official launch ceremony. Also His Excellency Mr Timo Olkkonen, Ambassador of the European Union to Zimbabwe made his remarks at the opening session.
Throughout the week, training sessions, seminars and visits to cultural venues in the city of Harare will be organised.
The programme will enable participants, authorities and other local operators to also share and exchange experiences. Different topics will be addressed such as project management, cultural disciplines to foster skills' development, intercultural mediation, promotion of intercultural dialogue and understanding between different groups through multidisciplinary and multi-stakeholder projects, cultural and public space development, among others.