Universal Music Nigeria releases Jizzle's Debut Album, 'Finally'
By Bakary Ceesay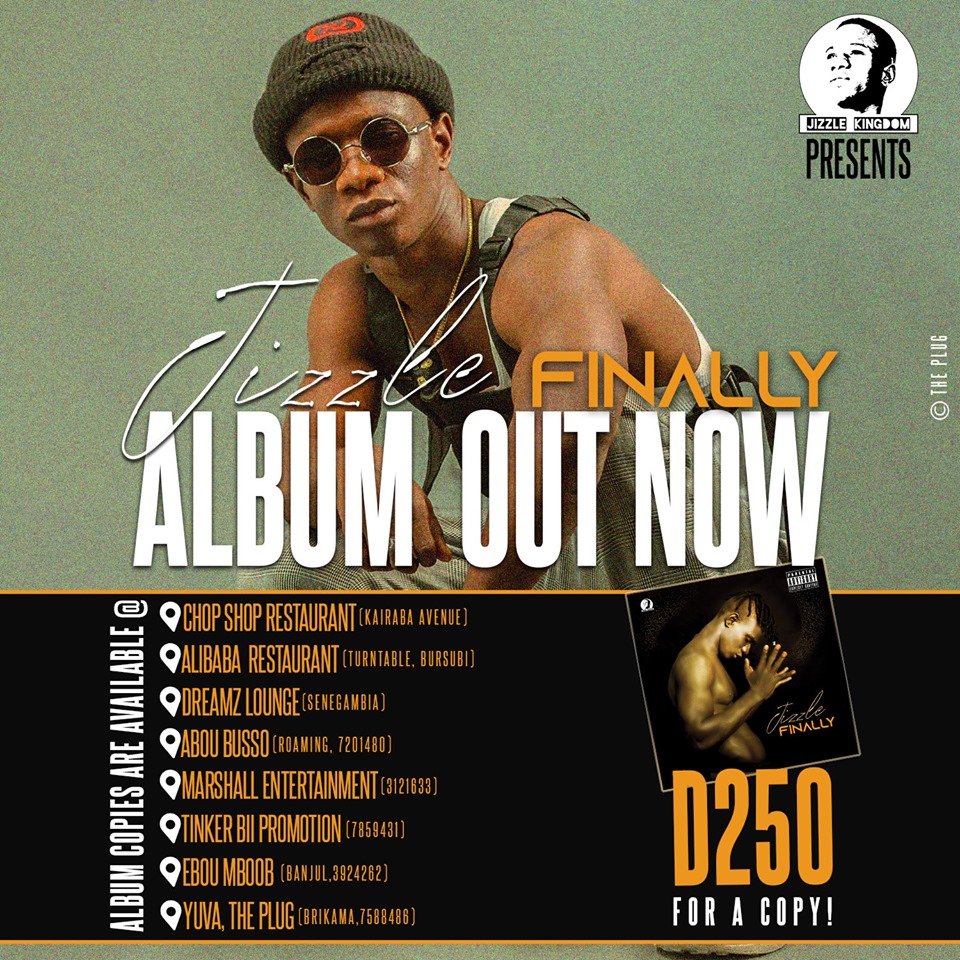 Finally, Universal Music Nigeria releases Gambia's afro pop artiste  Jizzle's 1st album, Finally.  There have been many months of anticipation for the album, from the Biggest In The Game artist. 
 The album is made up of twelve tracks representing the sounds of Afro pop, Afrobeat, and Afrofuzion with elements of Hip Hop.
The lyrics are very catchy with a sing along type of vibrations with topics that all elements of his fans can identify with.  As a multi-talented artist, Jizzle has produced five songs on the album with the production from top Gambian producers Shyboy, Endy Official, and J Live Music. Machine Man Tim from the UK and J Masta from Sweden also make hot beats on the album.
Jizzle is dubbed as the artist in the Gambia that can take Gambian music to an international market and make it successfully on the mainstream platform.  "My main goal with my music is to take Gambian music to the next level.  Finally means the world to me and I put a lot of myself in it for the world to love and enjoy," expresses Jizzle.
He features a number of West African Artists, Dip Doundou Guiss, Samba, Peuzzi, Bm Jaay, and Hakill from Senegal.  Shaydee represents Nigeria and Gee from The Gambia.  Jizzle is a very unique type of artist and his style is very different compared to a lot of artists. He is able to capture his audience through a variation of different languages from English to Mandinka, Fula, and Wolof.
 "I am very happy with the response that I have been getting from my first album, Finally.  I feel like the whole world loves this project. The outpour of love and support for my first album has been breathtaking. I am humbled by my fans and ask that continue to buy my music," explains Jizzle in jubilation.
 Jizzle does not take for granted his natural musical ability and quality. He employs both exuberance and brainpower to pull off conscious, sweet songs viable in today's pop-culture. Finally, is a testament to Jizzle's love for music and natural star quality.
 He  is currently embarking on a three-week European Tour in Sweden, Italy, and Germany to promote Finally.  All of his shows will display his dynamic stage presence and performance. ALBUM DOWNLOAD LINK: https://umgafrica.lnk.to/finally