Video reveals violent methods used by Government Forces to combat extremist attacks in northern Mozambique
By Arnaldo Cuamba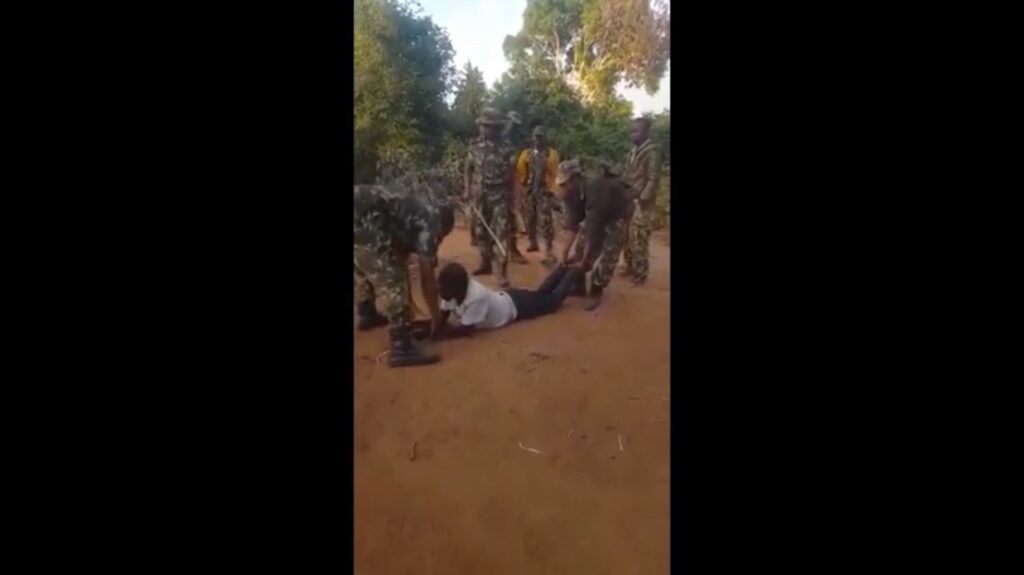 A video that is circulating on social networks shows elements dressed with the uniform of the Defense Forces of Mozambique, FADM, torturing a supposed civilian, in the scope of the fight against the extremist attacks that since October of 2017 terrorize the province of Cabo Delgado, in the extreme north of Mozambique.
In the images, it is possible to see the soldiers whipping the victim supposedly because he did not give a satisfactory answer when asked about what he was doing in the vicinity of that military position. One of the uniformed men suggested that the victim should be shot while another was searching for water, probably for the practice of torture known as water boarding.
The video was picked up by one of the FADM military on one of the patrol rounds against the extremist attackers and that, in fact, it is their modus operandis, according to local reports. There are also reports of kidnappings of merchants in the areas of the attacks allegedly because they are believed to be feeding the attackers.
In late 2018, human rights watchdog Human Rights Watch (HRW) reported on arbitrary detention, ill-treatment and summary executions of dozens of individuals suspected of belonging to armed groups.
The situation prompted divergent comments on social networks with one wing condemning the use of aggressive methods by the FADM while another encouraged by the argument that the attackers have also been barbaric in their incursions that have already resulted in the murder of more than 200 people, mostly civilians, as well as the burning of dwellings, the ambush of vehicles, the plunder of public and private property.
Recently, the Mozambican president, Filipe Nyusi, classified the attacks as <acts of terrorism> and ensured that the Defense and Security Forces will continue on the ground to fight, without respite, and will not rest until peace is restored.
The attacks occur near one of the world's largest natural gas reserves located in the deep waters of the Rovuma basin, which covers the northern Mozambican-Tanzania border.
Several oil giants, notably Italy's ENI and the US-based Anadarko and ExxonMobil, are preparing to extract natural gas in a process that will cause the country's economy to grow sharply.
The National Petroleum Institute of Mozambique admits being worried about the violence considering that the situation should be controlled "as soon as possible" to facilitate the development of the projects.