Rwandan silk ties with Brazilian on best quality globally
By Jean d'Amour Mugabo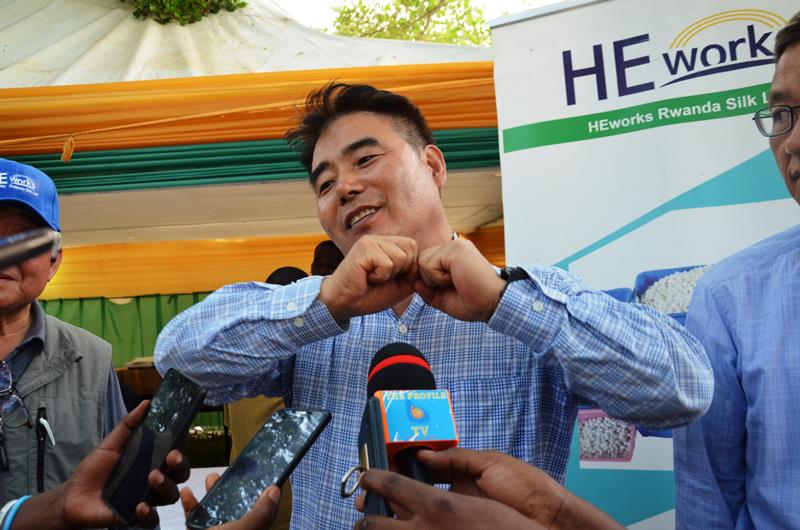 Sericulture is turning into a goldmine for Rwandan farmers as first ever locally produced silk yarn is ranked the best with 6A, the quality which has only been available in Brazil, confirms HeeChoon Yang, CEO of the Korean-based silk firm HeWorks Inc.
Mr Yang was speaking to the media in Kigali last Friday as HEworks Rwanda Silk Ltd awarded the best sericulture farmers with cows, bicycles and mobile phones.
"Our company has developed high technology in order to produce good raw silk from newly established silk processing factory in Kigali; and as a result, we produced the very good raw silk, the number one quality worldwide and this is the pride of Rwanda, it is made in Rwanda," he said.
Yang said he has found Rwanda to be the best place for sericulture business in the world because the country has the most sericulture favourable weather and good rainfall throughout the year.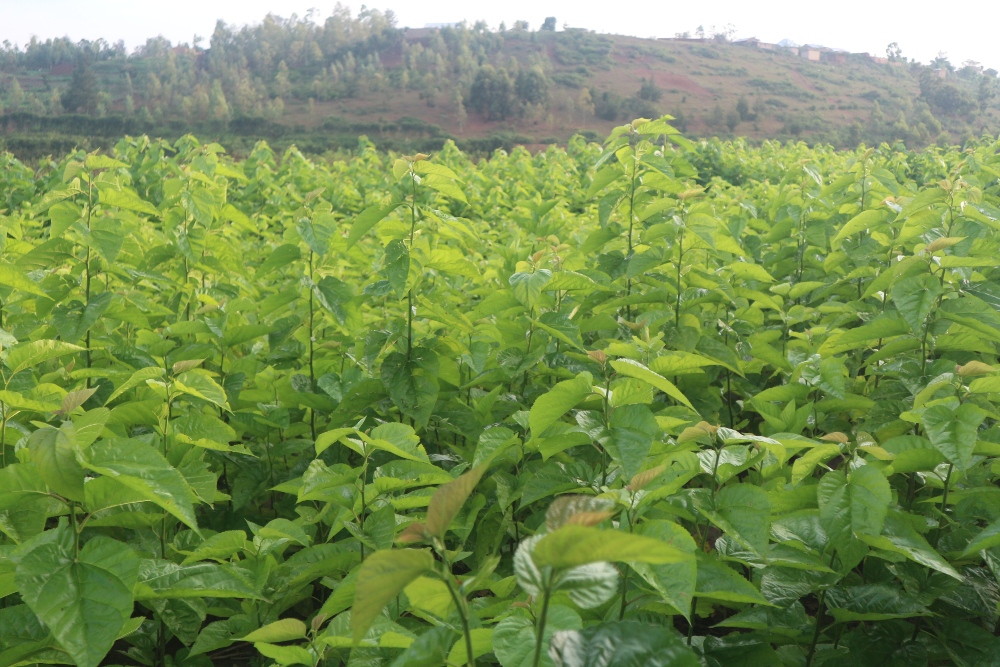 "We have made money in this business in Korea yet we produce cocoon only twice per year; so I toured the world looking for another country where to set up this business and I found Rwanda to be the best. Here, you can rear silkworm to produce cocoon eight times a year. It is really a very good place," he said.
In addition to Kigali-based silk factory which was established early this year with the capacity of processing at least 70 metric tonnes of dry cocoon into raw silk daily, Mr Yang added that his company is going to start constructing another but much larger silk factory in Rwanda's Eastern Bugesera District this year as the company pursues its vision of becoming the largest silk producer globally by 2030.
"I urge farmers to follow our technicians' guidance, spread the compost into mulberry plantation and feed enough leaves to silkworms; I am sure they will cash in a lot," he said.
Silk market assured
Alice Niyitegeka, a cocoon producer from Karongi District in Western Rwanda, told Pan African Visions that sericulture is earning her much more than any other crop she had ever grown before.
"I entered sericulture in 2016 when I started planting mulberry without sufficient skills about it. I received training later, I started looking for bigger farms and I have got five hectares of mulberry plantation. I recently reared five boxes of silkworm whose cocoons earned me with Rwf225,000 per one cycle," said the mother of seven, adding that she projects to double that production next year.
Niyitegeka, who was awarded with a cow worth Rwf500,000 as the best sericulture farmer in Karongi alongside other 23 best farmers from other districts, said farmers also sell mulberry cuttings to earn more money.
"I have a 20-year contract with the investor; it is rare to do farming while having the contract with the production's buyer. This cow will provide me with compost to use in mulberry plantation, milk to sell and buy fertilisers and that will help me increase cocoon production," she added, encouraging other farmers to join in sericulture.
Jean Marie Vianney Munyaneza, the Manager for Diversification and Products Development at National Agricultural Exports Development Board (NAEB), assured farmers of a reliable market as the country has got a committed investor, HEworks Rwanda Silk, and the completion of silk processing factory in Kigali while another one is planned to be established in Bugesera District.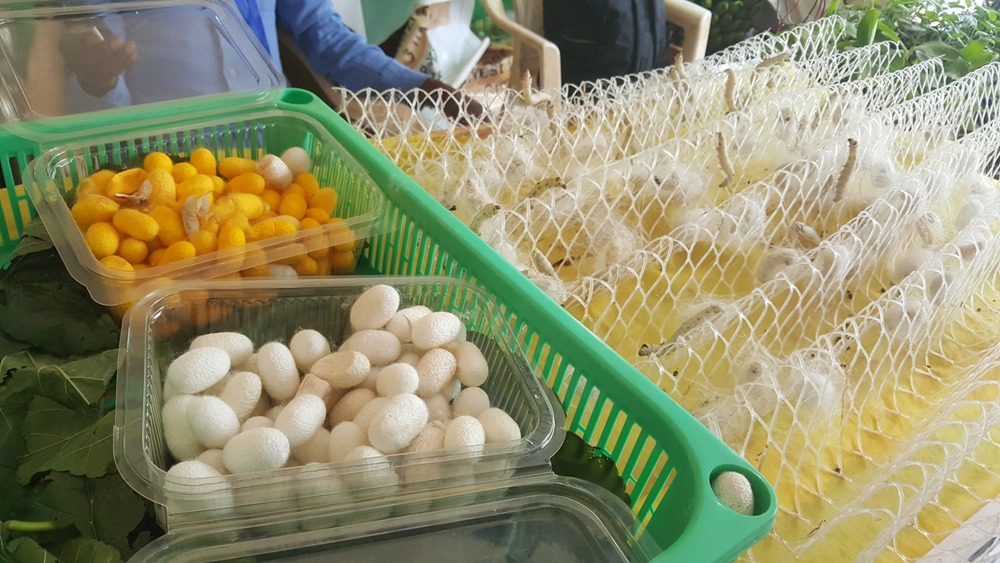 "We assure farmers of the market potentials, we have the firm now and with good technology to produce 6A silk yarn, the highest quality which has been available in Brazil only," he said.
Silk's quality is ranked in the way 6A is the highest but is rare to find; then there is 5A, 4A, 3A, 2A, 1A to B, C, D… From 3A and above, the quality is high, according to Munyaneza. This quality mainly comes from the quality of mulberry plantation, weather conditions, how rearing of silkworm is done and the technology used in reeling dry cocoons into raw silk, among other factors.
Munyaneza added that Rwanda recently sent its raw silk to South Korea for quality testing and 60% was found in 6A category while 30% and 10% was found in 5A and 4A, respectively.
Silk prices on increase
Munyaneza offered another market assurance as increasing silk prices on the international market especially due to the fact that China, the largest silk producer, is abandoning sericulture while focusing on technology businesses.
"So, Rwanda has got high chances to dominate global silk market in the future," he said.
Sericulture statistics indicate that China led at 146,000 metric tonnes of silk produced in 2016, followed by India and Uzbekistan at 28,708 and 1,100 tonnes respectively. Thailand was fourth and Brazil fifth at 692 and 560 tonnes respectively.
HEworks Rwanda Silk projections confirmed by NAEB indicate that Rwanda's silk will fetch more revenues than each of tea and coffee, the current major agricultural exports, by 2030.
"Sericulture exports are likely to surpass coffee and tea due to the fact that the biggest silk producers are abandoning it while its prices are going higher; so Rwanda would take this advantage and make a lot of money from silk exports," said NAEB's Munyaneza.
Silk prices have increased from $50 per a kilogram of silk yarn in 2016 t $80/kg currently.
"The cocoon price here was at Rwf1,900/kg for the highest quality and currently stands at Rwf3,250 but there are also bonuses of up to Rwf200/kg offered to farmers depending on contracts they sign with the investor, putting the price at Rwf3,450/kg," said Munyaneza, adding the price is expected to further increase by15% from October, this year.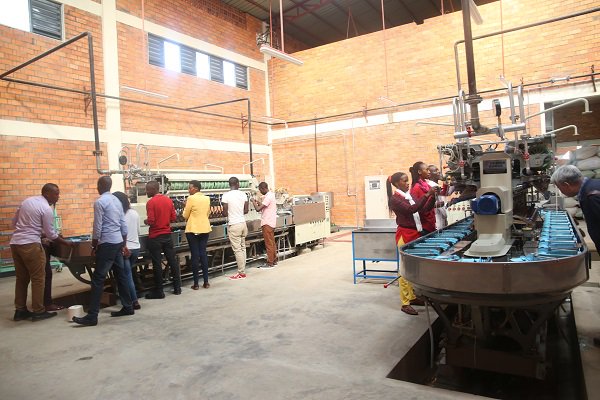 There are 3950 sericulture farmers, up from 1900 in 2016 and the mulberry plantation has expanded from 2,800 hectares in 2016 to 5,000 currently. The production is expected to reach 23 metric tonnes of dry cocoons this year, up from 10 tonnes recorded in 2016.
Rwanda targets to fetch $30 million from silk exports by 2024, up from the projected $350,000 revenues in 2019.