Nigerians debate giving 10% of their income to the church
Many Nigerian Christians believe it is compulsory to give 10% of their income to the church. But, Yemisi Adegoke writes, others say this practice, known as tithing, means poor people are funding the extravagant lifestyles of some of Nigeria's richest people – charismatic preachers.
"Anyone who is not paying his tithe is not going to heaven, full stop," Pastor Enoch Adeboye said to a hall full of pastors in Lagos earlier this month.
"Go back, immediately after this convention to restitute your ways with your congregation," he ordered the pastors at the Redemption Camp.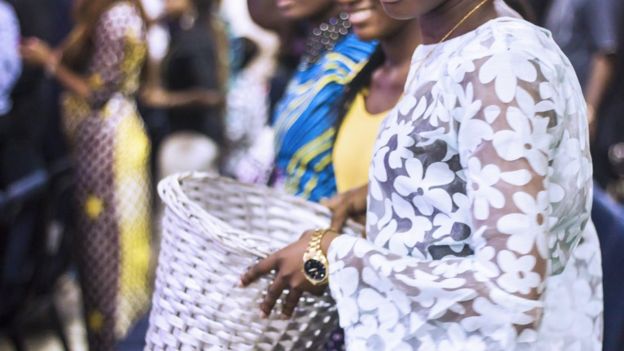 He has spoken about this many times before. "Paying your tithe is not a minor thing," he warned in a previous sermon. "Go back to Malachi, chapter three, verse 8-11," he urged.
In the Contemporary English translation, that part of the Old Testament says: "I am the Lord All-Powerful, and I challenge you to put me to the test. Bring the entire 10% into the storehouse, so there will be food in my house. Then I will open the windows of heaven and flood you with blessing after blessing."
Other translations, including the King James Bible, just use the word tithe, which is an old English word meaning tenth.
And Nigerians have been continuing the debate on social media.
Some critics have linked preachers' insistence that followers must give a tithe with the immense wealth of many Nigerian pastors.
With about half of Nigeria's 180 million people saying they are Christians, the potential income to the country's many churches is enormous.
Pastor Adeboye himself has been listed by Forbes as one of the richest clerics in the world with a net worth of $130m (£91m).
'Manipulative doctrine'
What particularly irks radio personality Daddy Freeze is that preachers tell very poor people that if they give to the church, God will make them wealthy – an idea known as the "prosperity gospel".
"The only people that seem to be getting richer are these people who are preaching this gospel of prosperity," he told the BBC.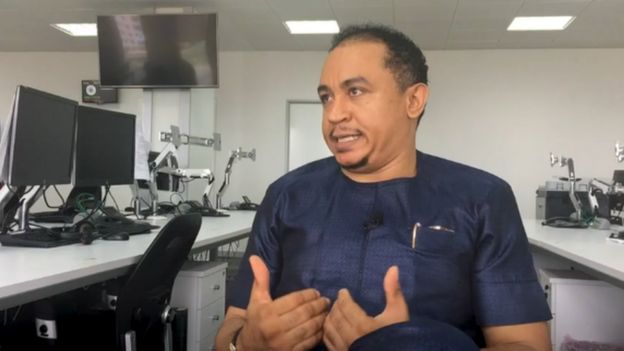 "You have a pastor who builds a school with the funds generated from tithing and offerings from poor congregation members and they can't [afford to] attend those schools."
The presenter, whose real name is Ifedayo Olarinde, used to pay tithes himself and still describes himself as a follower of Christ.
But he believes that tithes are an irrelevant part of the Old Testament.
"It's a non-progressive doctrine, it's a manipulative doctrine and it's an enslaving doctrine."
Daddy Freeze's comments have cost him.
Preachers have spoken out against him in their sermons and people have started avoiding him.
"Nobody wants to work with me, nobody," he said. "But I believe what I'm doing, I'm doing for humanity, people need to be set free."
He is not the only Christian who disputes whether the Bible advises to pay 10% of your income to the church – some well known preachers have come forward to say it is not compulsory.
Doing God's work
For Idris Belo-Osagie, a pastor at the Lifepointe Church in Lagos, the 10% figure is a "useful reference" for Christians due to its "historical context," but he stipulates that "we are not forced to give to God".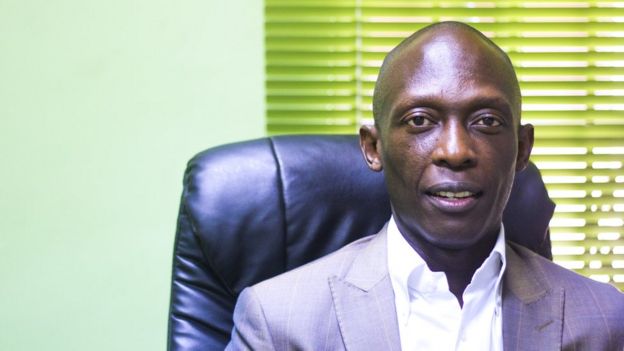 However, he adds that "it's hard to see how you can follow in Jesus' steps and not give".
In a country where state-run health and education services are often lacking, he argues that the church often uses the money it gets for the welfare "of those who can't take care of themselves".
"There are hundreds of thousands, perhaps millions, who are fed in Nigeria by the church because they've been empowered by the giving of the people of God," he said.
He also points out that the money is used to spread the church's teachings.
And the church-goers I met in Lagos are happy to carry on paying the 10%.
"It's something I've practised over time and it's worked for me, so I'll just keep doing it," the smartly dressed assistant to pastor Caleb Ekpenyong told me.
For him the doctrine is clear and there is no grey area.
The conspicuous consumption of some preachers doesn't deter Christians from giving either.
One church-goer, Temitope Olagbgegi, told me the preachers' lavish lifestyles were a matter for God, not her.
"So many people are concerned about how the funds are being used, forgetting that, because it's a spiritual thing, if the pastor chooses to misuse funds he's going to bear the brunt of it."
*BBC