Tanzania universities add course in female genital mutilation to fight the practice
<![CDATA[By Kizito Makoye*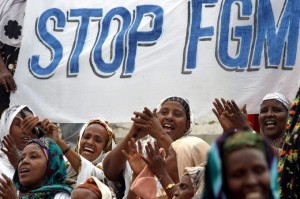 DAR ES SALAAM (Thomson Reuters Foundation) – Three Tanzanian universities are offering a new course on female genital mutilation (FGM) to train health care professionals how to deal with victims of the harmful practice that is still widespread although illegal.
The course, to be taught at the University of Dodoma, Muhimbili University of Heath and Allied Sciences (MUHAS) and the Kilimanjaro Christian Medical Centre (KCMC), makes Tanzania the second country in Africa to offer such training after Ghana.
FGM, which involves total or partial removal of the external female genitalia, has been illegal in the east African nation since 1998 but the law is poorly enforced and thousands of girls are affected every year.
More than 7.9 million girls and women in Tanzania are believed to have undergone FGM which causes numerous health problems. Some girls bleed to death or die from infections, while others die later in life from childbirth complications.
Idris Kikula, vice chancellor of the University of Dodoma in central Tanzania, said the course is designed to equip students pursuing medicine and social sciences with skills and knowledge to take an active role in eliminating the practice. "FGM has for years been affecting women and young girls. Much has been done to overcome the problem, albeit with poor results as there were no professionals to deal with the matter," Kikula said. "I believe this initiative will ultimately lead to sound results." Kikula said the physical and psychological suffering faced by most FGM victims does not always get the attention of trained health care specialists due to a lack of expertise.
The courses contains topics such as the origin of FGM and its health complications and how to manage and counsel girls and women with physical, psychological and sexual complications.
FGM affects an estimated 140 million girls and women across a swathe of Africa and parts of the Middle East and Asia, seen by many families as a gateway to marriage and way to preserve a girl's virginity. Uncut girls are often ostracized. Nigeria outlawed FGM earlier this year, and the practice survives in only a few countries in the region, including Sierra Leone, Liberia and Mali.
Sia Msuya, a public health expert at the KCMC in Moshi, said the training would help broaden the understanding of most health workers so they can meet the specific needs of the victims with the practice deeply rooted in local traditions.
"Most girls who have undergone the female cut often keep their stories to themselves because they don't see someone to tell," she told the Thomson Reuters Foundation.
Rehema Mosha, a first year medical student at MUHAS in Dar es Salaam, said the course should have been adopted a long time ago because FGM has inflicted "so much pain on so many people".
"I believe that with appropriate training we can be advocates for change to eliminate this harmful practice once and for all," she told the Thomson Reuters Foundation.
*
Reuters/Yahoo
]]>