Samsung Nigeria named Best Company in Youth Focused CSR at SERAS 2015
<![CDATA[In addition, its Corporate Citizenship Manager, Abosede Modupe Alimi, was recognized as one of the top three CSR practitioners in the country [caption id="attachment_22784" align="alignleft" width="300"]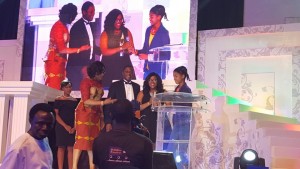 Koye Sowemimo, Head of Corporate Marketing and Abosede Modupe Alimi, Corporate Citizenship Manager of Samsung Electronics West Africa receives the Award for Best Company in Youth Focused CSR at the 2015 SERAS Awards[/caption] Samsung Nigeria  was conferred the Best Company in Youth Focused CSR at the recently concluded (SERAS) Nigeria CSR Awards 2015. In addition, its Corporate Citizenship Manager, Abosede Modupe Alimi, was recognized as one of the top three CSR practitioners in the country. The awards, reputed to be the major force behind galvanising businesses across various sectors and industries in Nigeria to promote CSR and Sustainability in Nigeria, aims to acknowledge corporate entities who invest in society through CSR programmes. Mr. Brovo Kim, Managing Director of Samsung Electronics West Africa said: "We are humbled by this recognition but by the same token, understand that the task ahead is even bigger. We need to rise to the challenge and provide apt and innovative partnerships that will set Nigeria on the path to attaining the Sustainable Development Goals." Samsung Electronics West Africa is among several businesses assessed by a jury made up of experts drawn from Nigeria and other parts of the world. The jury based its assessment on the outcome of field visits and verification of data. For the Best Company in Youth Focused Award, Samsung was lauded for its sterling work and contribution to the lives of the Nigerian youth through the following programs:
Samsung Engineering Academy which has trained 118 young people, 40% of which are gainfully employed as a result of the training received;
Digital Village placed in Cross Rivers State, which has a significant number of young people who would potentially benefit from this project especially the Solar Powered Internet School.
Samsung was nominated in a total of three categories including Best Company in Youth Focused CSR, Best Company in CSR Innovation and Most Improved Company in CSR 2015. Receiving both awards for Samsung on the night, Abosede Modupe Alimi, said:  "For me, this accolade represents a vote of confidence in our efforts to positively impact the lives of people, particularly the youth. Our goal has always been to address the felt-needs of the communities we operate in and this recognition will go a long way in inspiring the team to do more in ensuring that we change the course of Nigeria through sustainable corporate citizenship programmes."
Samsung Electronics Co., Ltd
.  inspires the world and shapes the future with transformative ideas and technologies, redefining the worlds of TVs, smartphones, wearable devices, tablets, cameras, digital appliances, printers, medical equipment, network systems, and semiconductor and LED solutions. We are also leading in the Internet of Things space through, among others, our Smart Home and Digital Health initiatives. We employ319,00 people across 84 countries with annual sales of US $196 billion. *
APO
]]>