Uganda's opposition agree single presidential candidate
<![CDATA[[caption id="attachment_22043" align="alignleft" width="300"]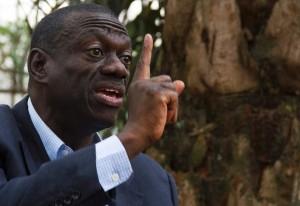 Kizza Besigye backs an opposition plan for a joint presidential candidate to challenge veteran Ugandan leader Yoweri Museveni (AFP Photo/Isaac Kasamani)[/caption] Kampala (AFP) – Uganda's opposition leaders said Friday they will field a joint presidential candidate to challenge veteran leader Yoweri Museveni, after efforts for a coalition collapsed when all wanted to be leader.
The joint candidate will unify opposition towards Museveni, who has led the east African nation since 1986 and is widely expected to return to power.
While the candidate has not yet been chosen, the two key leaders — Kizza Besigye, leader of the Forum for Democratic Change (FDC) party and a three-time challenger, and ex-prime minister Amama Mbabazi — have agreed to it in principle, they said in a joint statement.
"We shall go into the elections, as agreed, as a single coalition with one presidential candidate," the statement read, following a deal signed on Thursday in London by Besigye and Mbabazi.
In September, efforts to select the candidate for The Democratic Alliance (TDA) coalition collapsed when they failed to agree who would be the leader. Museveni, in power for almost three decades, has already been endorsed by the ruling National Resistance Movement (NRM) to represent it in the vote scheduled for February. With the main opposition leaders being influential former members of the ruling party, they struggle to offer a convincing alternative or to effectively criticise a system they benefitted from, or in some cases helped create.
Besigye, once Museveni's personal doctor, previously said he would not contest elections again after losing in 2001, 2006 and 2011, claiming free and fair polls were impossible.
After losing in 2011, Besigye led repeated anti-government protests, at which he was regularly arrested and held for hours before being released while his supporters were also chased, tear-gassed, beaten and arrested.
Mbabazi's bid has sparked criticism from those who point out that many of political failings he speaks of happened when he was the ruling NRM party secretary-general.
*Source
AFP/Yahoo
]]>