Magufuli sworn in as Tanzania's president amid opposition boycott
<![CDATA[By Fumbuka Ng'wanakilala* [caption id="attachment_22170" align="alignleft" width="450"]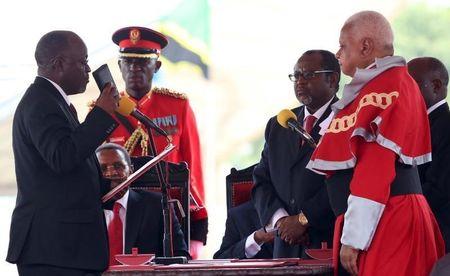 Tanzania's President-elect John Magufuli (L) takes the Oath of Office during his inauguration ceremony at the Uhuru Stadium in Dar es Salaam, November 5, 2015. REUTERS/Emmanuel Herman[/caption]
DAR ES SALAAM (Reuters) – Tanzania's new president John Magufuli was sworn in on Thursday, promising to unite the country after a contested vote, create more jobs and drive up economic growth.
The main opposition coalition, which has contested the Oct. 25 poll results, boycotted the inauguration and threatened to hold nationwide demonstrations.
"It's now time for us to unite and put our ideological differences aside," Magufuli, 56, told thousands of supporters singing and dancing in a stadium under pouring rain.
"I will work hard for all Tanzanians regardless of their tribal, religious or ideological affiliations."
Magufuli takes over from Jakaya Kikwete, who served two terms.
His ruling CCM party, which has governed the East African country since independence in 1961, faced its toughest electoral challenge in years after the main opposition parties united for the first time around a single candidate, Edward Lowassa.
Lowassa, 62, a former prime minister who defected from the ruling party in July, rejected the electoral commission's declaration, saying the opposition's own count based on its representatives at polling stations showed he had won.
Both candidates had promised to speed up development in a nation that has vast tracts of agricultural land, a wealth of mineral resources and huge gas reserves but remains impoverished. Magufuli secured 58 percent of the votes, compared to Lowassa's 40 percent. But his victory was overshadowed by a political crisis in Tanzania's semi-autonomous Zanzibar archipelago. Zanzibar's election commission annulled the vote for the island's president, citing "gross violations". The main opposition Civic United Front (CUF) rejected the move, saying it had won that poll.
A fresh presidential election is scheduled to be held within 90 days, but senior officials in the ruling and opposition parties are engaged in talks to try to end the deadlock.
"If wisdom prevails, we will pass through this situation in a peaceful manner," Magufuli said of the Zanzibar impasse.
Guests at the swearing-in ceremony included at least nine African heads of state. Among them were South African President Jacob Zuma, Ethiopia's Prime Minister Hailemariam Desalegn and Zimbabwe's President Robert Mugabe.
*Source
Reuters/Yahoo
]]>