Ford's Nigerian plant turns out first vehicle
<![CDATA[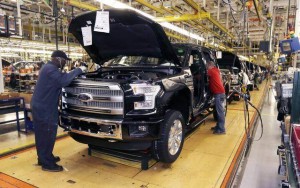 Ford Motor Co's new Nigerian assembly plant has built its first model and will produce an initial 10 vehicles a day for the domestic market, the U.S.-based carmaker said on Tuesday.
The company said in August it would start the assembly of its best-selling Ford Ranger pickup trucks in Nigeria, as it expands in Africa and the Middle East.
The auto market in Africa's biggest economy has huge potential but only a small number of new vehicles are sold annually. The sector is dominated by imported used vehicles and the absence of an industrial policy that would encourage suppliers to set up in Nigeria has stunted growth.
"Africa is one of the youngest markets in the world and presents a huge opportunity in terms of consumption," Jeff Nemeth, Ford's sub-Sahara chief executive, said in a statement.
The Nigerian assembly plant, set up in partnership with Ford dealer Coscharis Motors Ltd, is the first in Africa outside South Africa, where Ford produces the Ranger for 148 markets.
"The facility will accommodate one shift and will produce an initial 10 units per day for the Nigerian market, creating approximately 180 direct and indirect jobs," Nemeth said.
The Ikeja plant near Lagos will assemble the Ford Ranger using parts and components imported from South Africa. It will have the capacity to assemble up to 5,000 vehicles annually, which will be sold in Nigeria.
Ford produces 85,000 vehicles in South Africa each year, which are sold in 24 African countries.
*
Reuters/Yahoo
]]>