Baby joy for Nigerian Ebola survivor
<![CDATA[
Lagos (AFP) – A Nigerian medical doctor who contracted and recovered from Ebola has given birth in the United States, the hospital where she works in Lagos said on Tuesday.
[caption id="attachment_22148" align="alignleft" width="300"]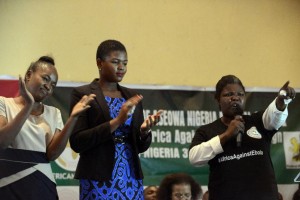 Ebola virus survivors including Dr. Ada Igonoh (C) speak to volunteer Nigerian health workers on a mission to fight the Ebola virus in affected West African countries, in Lagos on December 3, 2014 (AFP Photo/Pius Utomi Ekpei)[/caption]
"First Consultants Medical Centre officially announces that resident staff and Ebola survivor Dr Ada Igonoh gave birth to a baby girl a few hours ago," it said in a statement.
"The baby girl, weighing nine pounds one ounce (4.11 kilos), was born at the Greater El-Monte Community Hospital, California."
First Consultants hospital, a 40-bed private clinic in the bustling Obalende district of Lagos, was where Nigeria's first case of Ebola was detected in July last year.
Igonoh helped to treat the patient, a Liberian finance ministry official, and certified him dead several days after he was first admitted. She fell ill the following week.
Microsoft founder and philanthropist Bill Gates published her lengthy account of the experience on his blog www.gatesnotes.com/Health/Surviving-Ebola-Dr-Ada-Igonoh.
First Consultants said Igonoh had been under medical supervision since becoming pregnant and that her daughter was certified Ebola-free at birth.
The birth was "a new lease of life and in memory of fallen colleagues and survivors of Ebola", it added.
The World Health Organization declared Nigeria Ebola-free in October 2014 after seven deaths from 19 confirmed cases.
Across West Africa, more than 11,000 people have died from the disease since late 2013 — the deadliest outbreak since the virus was first identified in 1976.
*
AFP/Yahoo
]]>