Africa: Trade Ministers Must Aim for Pragmatic Deal in Nairobi 'Homecoming' Talks
<![CDATA[By Stephen Karau*
Nairobi has been on the radar globally as the world discusses the upcoming Tenth World Trade Organization Ministerial Conference, known as MC10, to be held in the city in December.
[caption id="attachment_22245" align="alignleft" width="614"]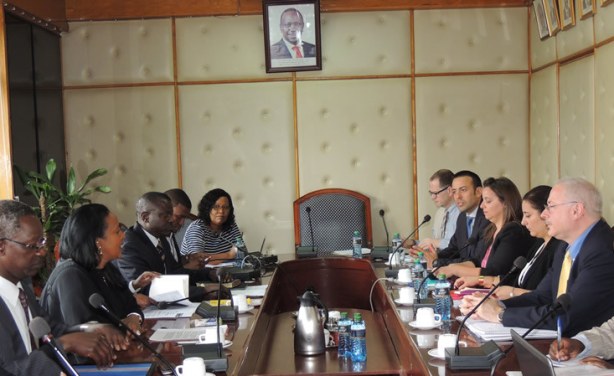 Photo: WTO-MC10 Nairobi 2015
Briefing by the Kenya Team on MC10 Preparation to WTO Delegation.[/caption]
In October dozens of trade ministers gathered in Brussels to grapple with a crucial question: how can the Nairobi meeting on international trade – the first of its kind on African soil – deliver for the world's most vulnerable countries?
In the Belgian capital, many of the countries most affected by inequalities in world trade met first in an African Union (AU) meeting and later in a gathering of the Africa Caribbean and Pacific (ACP) group of states. These two groups of countries see the conference in Kenya, as the first in one of their member states, as a homecoming – and hope that it will deliver results worthy of a homecoming.
The trade ministers in Brussels discussed the urgent business of developing a common position on what they want to advocate and achieve in Nairobi. The countries of the AU and ACP share a common understanding on numerous trade issues fundamental to the growth of their economies and the development of their people.
The Doha Development Agenda (DDA) was a big talking point. In the Qatar capital, in 2001, countries designed a rich agenda aimed at lifting the economies of the poorest nations by placing development concerns front and centre. The most pivotal issues in the agenda are yet to bear fruit, and members attending the October meetings pondered how countries could build a consensus that would allow Nairobi to offer new impetus to the DDA.
Among the most fundamental of these Doha issues is a raft of measures that will provide substantive commercial gains to the Least Developed Countries group in agriculture negotiations – allowing a level playing ground and better global market share for farmers in developing countries. Other issues involve goals on delivering flexibilities for Small and Vulnerable Economies (SVE's), enabling them to integrate and perform better in the multilateral trading system.
While these issues are crucial to the success of the Nairobi meeting and the future of trade with developing countries, some are also heavily contested. This is why the director-general of the World Trade Organization, Roberto Azevêdo, speaking at both the AU and the ACP meetings in Brussels, urged participants to map pragmatically what is achievable in Nairobi and aim for that rather than bite off too much and endanger the adoption of a Nairobi declaration.
Having the outcome of MC10 captured in a ministerial declaration is important if it is to carry legal weight and enable issues to be implemented or followed up. That is why African, Caribbean and Pacific countries – and all other parties – must map out their targets and ask what is achievable in Nairobi. In the weeks leading up to the Nairobi conference, we must be both idealistic and pragmatic.
Idealism calls us to imagine what is possible and go for it. It is good to have a map of where we want to go and what we want to achieve as we pursue fairer trade practices for all countries. Fired by idealism, we must dream of a time when trade policies will benefit as many people as possible, and be guided by a strong determination to boost those in need.
Nevertheless idealism alone is not enough. As we go to Nairobi, we must also be pragmatic. We must be strategic in seeking to build quick and solid consensus around goals that can be achieved in the time we have and the set of conditions in play.
While seeking to get the best from Nairobi, we must also plan long term. By asking what the best achievement from Nairobi can be, we can also blend some of our immediate ambitions with a strong post-Nairobi framework for crucial issues that may not be accomplished in December.
There may be no sure way to know exactly how such a Nairobi outcome and a post-Nairobi work programme would look like at this juncture. However, it seems to me that product must be guided by the old principle of give and take. Both rich and poor nations, developed and developing countries, must give up some ambitions and take up others for a successful Nairobi meeting. They must seek to build bridges with a key focus on better trade for all.
In a city which hosts the only world headquarters of United Nations agencies in the global south, countries can also unite to give the world outcomes that can take trade among nations to the next level. The world is hopeful of a good outcome from Africa this December. Will the delegates rise to the occasion?
*Source Allafrica,Dr. Stephen Karau is Kenya's Permanent Representative to the UN, WTO and other international organizations in Geneva.
]]>