Ivory Coast opposition leader woos Gbagbo backers before election
<![CDATA[By Ange Aboa* [caption id="attachment_21389" align="alignleft" width="450"]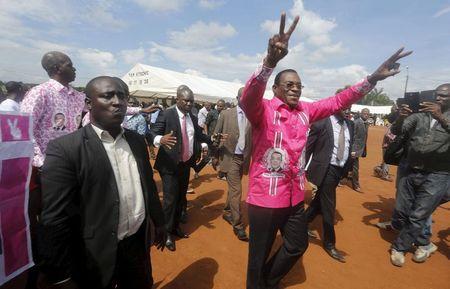 Pascal Affi N'Guessan, leader of Ivorian Popular Front (FPI), arrives for a campaign rally in Gagnoa, Ivory Coast October 10, 2015. REUTERS/Thierry Gouegnon[/caption]
GAGNOA, Ivory Coast (Reuters) – The head of the political party of Ivory Coast's jailed ex-president, Laurent Gbagbo, sought to win over Gbagbo's grassroots supporters on Saturday and overcome an internal rift as he kicked off his campaign for the Oct. 25 election.
Pascal Affi N'Guessan chose Gagnoa, a city in the heart of the cocoa belt and a bastion of support for Gbagbo's Ivorian Popular Front (FPI), to launch his bid to unseat President Alassane Ouattara.
Aided by a booming economy, Ouattara is heavily favoured to win re-election in a poll that he hopes will turn the page on years of turmoil and reassure investors attracted by the West African nation's rapid post-war revival.
"Laurent Gbagbo should be here," N'Guessan told a crowd of over a thousand supporters gathered at Gagnoa's Place Laurent Gbagbo. "It's his disciple who is here before you because circumstances have made it so. I am here before you to lead the struggle."
Gbagbo's refusal to acknowledge Ouattara's victory in the last presidential election in 2010 sparked a brief civil war in which over 3,000 people died. He is now awaiting trial before the International Criminal Court, charged with crimes against humanity. The FPI has boycotted parliamentary and local elections since 2010, demanding that Gbagbo be freed as a pre-condition of their return to the political mainstream. PARTY AT ODDS
N'Guessan's decision to take part in this month's poll has put him at odds with party hardliners, who have portrayed him as a traitor and are calling for yet another election boycott.
"He doesn't represent the FPI that Gbagbo led. He's an impostor," shopkeeper Serge Kipre said on the margins of Saturday's rally. "We are waiting for Gbagbo himself to tell us what we must do."
N'Guessan has argued that the FPI, the main opposition force, risks becoming irrelevant if it does not contest the election.
Another opposition bloc, the National Coalition for Change (CNC), has struggled to gain traction since its formation earlier this year. Former parliament speaker Mamadou Koulibaly became the second of its candidates to pull out of the race in less than a week when he announced his withdrawal on Friday.
N'Guessan also argues that winning back power is the only way to eventually secure Gbagbo's release.
"If you want Gbagbo freed, vote for Affi on Oct. 25," N'Guessan told the crowd, many of whom danced and sang songs in honour of the former president.
Given the FPI's current divisions, analysts view a victory by N'Guessan as unlikely. However, they say a united party could do well in parliamentary polls expected next year, breaking a ruling coalition stranglehold on the legislature.
"The way we are going, we're not going to free Laurent Gbagbo," said N'Guessan supporter Monique Ahou Delia. "Let's build peace first. Let's go to elections, and after the victory we'll talk about that.
*Source
Reuters/Yahoo
]]>