I handed my Kenyan husband £25,000 – then found he'd got 47 other women across the world: Retired teacher, 61, duped by lothario she met on UK dating site
<![CDATA[
Judith Stillwell, 61, married Ovi Elias three years after meeting him online
Parish councillor gave him £25,000 of her savings to fund his expenses 
Elias travelled the world meeting women while claiming to be on business
She said he was 'completely different' from any man she had met  before
By
ALISON SMITH-SQUIRE
* [caption id="attachment_21541" align="alignleft" width="634"]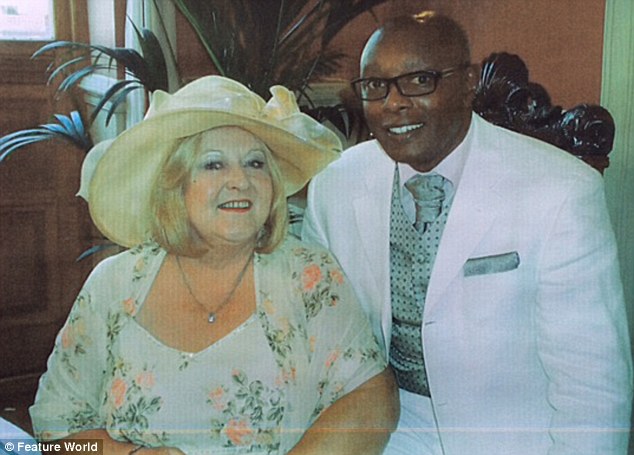 Seduced: When Mrs Stillwell met Elias on a dating website he told her he lived in London and she thought she had found her soulmate[/caption]
It's a familiar story: a British grandmother falls for a smooth-talking foreigner on holiday and ends up handing over her life savings.
But former teacher Judith Stillwell, 61, did not need to travel abroad to meet the Kenyan husband who eventually betrayed her trust.
The divorced parish councillor met Ovi Elias, who told her he lived in London, on a dating website and thought she had found her soulmate.
They decided to meet in person, began a relationship and got married three years later, after Mr Elias moved into Mrs Stillwell's home in Ashington, West Sussex.
But she later discovered that her husband, who made frequent trips abroad for what he claimed was 'urgent business', had 47 other lovers across the world.
She gave him around £25,000 from her savings to fund his expenses, and now believes she was the victim of an elaborate scam. Mr Elias, who told Mrs Stillwell he was 62, had claimed to be a 47-year-old called Steve when chatting to other women as far away as Australia.
Mrs Stillwell said: 'While I believed him when he said he was flying to Dubai to do property deals, I have now discovered he was actually flying all over the world meeting other women who funded his lifestyle, just like me.
'I thought we had a genuine relationship and I'd met my soulmate. But the reality is Ovi – or Steve as he was also known – seems to be making a good living out of women like me. He meets them on a website, says he is in love and then after coming out with various sob stories, gets them to pay for his bed, board, and travel.'
Mrs Stillwell, who worked in a primary school and has two grown-up children and one grandchild, met Mr Elias on a UK dating website.
She said: 'He was completely different from any man I'd ever met and I was intrigued.'
[caption id="attachment_21542" align="alignright" width="634"]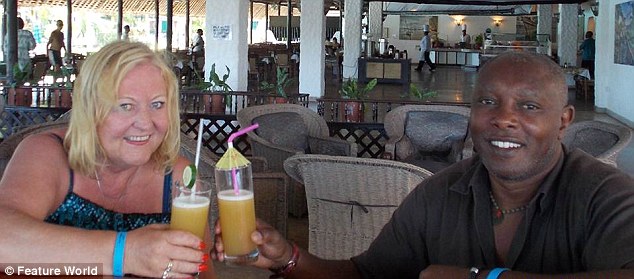 Betrayed: Mrs Stillwell believed they had a genuine relationship. Pictured: On holiday with her husband Ovi Elias in February 2013[/caption]
He told her he had come to the UK 20 years ago as a student and now owned a flat in London. He claimed he was a retired accountant, and was in the process of buying a property in Dubai.
They first met in 2009, and Mr Elias later moved into her three-bed bungalow. The couple wed in Brighton in August 2012, with Mrs Stillwell changing her name to Mrs Elias.
She said: 'After our wedding I paid for us to visit his relatives in Kenya for a blessing, staying in one cramped room with other relatives.
'I was so moved by the dilapidated state of the house his father lived in, I paid out thousands to have water and electric showers connected plus other essential repairs.'
On return to the UK, Mrs Stillwell gave her husband £10,000 to help with legal fees for his Dubai property venture. She said: 'I should have realised something was wrong as he would say he was going there for a week and then end up staying there months.
'But he always came up with reasons – for example there was extra legal red tape.'
In February this year, he left again for what his wife believed was another trip to Dubai.
'But two days later I was updating my computer when I noticed his e-ticket,' she said.
'I was shocked – because it was a ticket to Australia.
'He claimed he'd gone on a detour to Dubai via Australia with a business friend.'
But three weeks later Mrs Stillwell received a message from a woman in Australia.
[caption id="attachment_21543" align="alignleft" width="634"]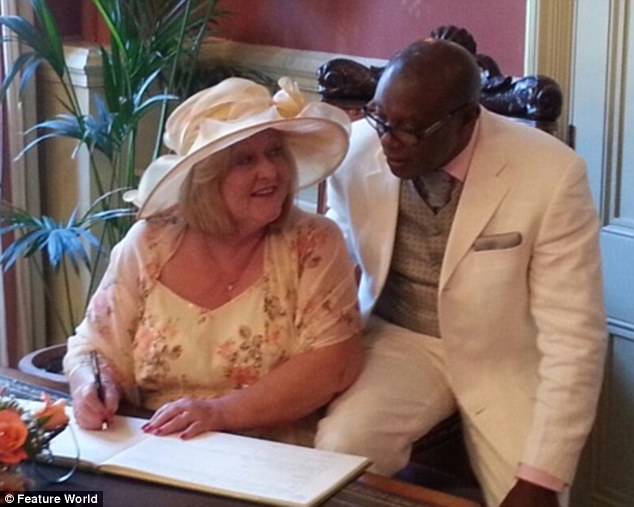 Illusion of happiness: Judith Stillwell and Ovi Elias on their wedding day in Brighton. He has now vanished[/caption]
'She said Steve had used her laptop but not closed his emails down properly. And she'd found a list of 47 women, including us, dotted around the world. She'd even contacted some of them – a woman in the States, a "Roz" in Tasmania, another woman in the Philippines and so on.
'Apparently he met them all on dating websites and using the story about a property in Dubai, got them to pay his air fares all around the world.
'Then he stayed for weeks at a time living with each woman, spinning her the same line.' In April, Mr Elias returned briefly to West Sussex.
Mrs Stillwell said: 'I knew by then I was part of an elaborate scam and told him to leave. Overall I've given him around £25,000 . I've not seen him since.'
She said police have told her there is nothing they can do as her husband did not break any laws. She added: 'My only hope is telling my story warns other women to beware.'
*Source Daily Mail
]]>