DR Congo, S. Africa vow to step up work on giant hydro dam
<![CDATA[[caption id="attachment_21538" align="alignleft" width="300"]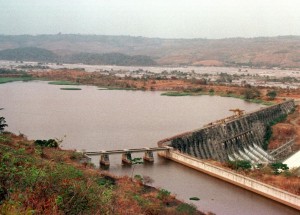 A view of the Inga dam, located some 350 kilometers southwest of Kinshasa, taken on August 30, 1998 (AFP Photo/Issouf Sanogo)[/caption]
Kinshasa (AFP) – The Democratic Republic of Congo and South Africa vowed Friday to step up work on a massive new hydroelectric dam on the Congo River that could provide power to the entire continent.
DR Congo President Joseph Kabila and his South African counterpart Jacob Zuma welcomed progress so far on the multi-billion dollar Inga 3 dam project, a statement said, after their talks in Kinshasa.
But the leaders also urged authorities in their two countries to "speed up the process with a view to resolving all the outstanding issues… in order to clear the way for carrying out this pan-African project", Congolese Foreign Minister Raymond Tshibanda said reading from the statement.
The Congo is Africa's most powerful river and already a major producer of hydroelectric power, but the Inga 3 would be unprecedented.
The Inga 3 Basse Chute project near Matadi would divert Congo River waters into a 12-kilometre (7.5-mile) channel and then pass them through a 100-metre-high (330-foot) hydropower dam in the Bundi Valley before releasing the water back into the river. The intake would be above the existing Inga 1 and Inga 2 dams, and the outflow downstream from both. The dam is expected to generate 4,800 megawatts of power, equivalent to the output of three third-generation nuclear reactors, and boost power supplies to a region starved of electricity. The estimated 12-billion-dollar Inga 3 project first got off the ground more than a decade ago. After languishing for years it was revitalised by a 2013 promise by South Africa — which has endured years of rolling blackouts caused by power shortages — to buy more than a half of the power produced there, effectively ensuring its financial viability.
Despite being financially supported by the World Bank and African Development Bank, the dam has faced delays.
In April, the World Bank said building would not begin until 2017 at the earliest.
In west Africa, Guinea last month inaugurated a $500-million hydropower plant in a bid to boost its power-starved national grid.
*
AFP/YAHOO
]]>