China rides the rails of Ethiopia's development
<![CDATA[
Minimal corruption, efficient bureaucracy, and cheap production costs are driving China's investment in Ethiopia.
By 
Elias Gebreselassie
* Ethiopia's Addis Ababa Rail project opened last month to the delight of excited residents of the country's capital. [caption id="attachment_21861" align="alignleft" width="300"]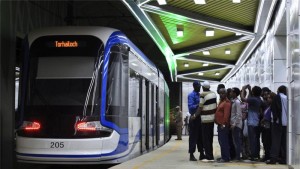 Passengers wait to board a train at the St George underground station in the capital Addis Ababa [Solan Kolli/EPA][/caption]The $475m urban rail project – funded by China – is one of the most obvious examples of Beijing's huge role in Ethiopia's infrastructure development. The world's most populous nation has also built dams, roads, and factories in Ethiopia, and even gifted Addis Ababa the African Union headquarters, which cost $200m. Gedion Gamora, a research fellow at Erasmus Mundus University in the Netherlands, said while the relationship between China and Ethiopia goes back to ancient times, formal relations between the countries began only in 1970. Ironically, though, the Marxist-inspired Ethiopian revolution of 1974 put a damper on the countries' ties for the next 17 years. Ethiopia's closeness with the Soviet Union meant its relations with China, then a Russian rival, were minimal. In 1995, former Ethiopian Prime Minister Meles Zenawi made a trip to China where the two sides signed an economic cooperation agreement. Relations were further strengthened when Ethiopia hosted the second Forum on China-Africa Cooperation in 2003. Gamora also cited political similarities to explain the Ethiopia-China relationship: Both countries are ruled by dominant single parties, which he claimed run meritocratic systems that accelerate economic growth and development. While media reports often speak of Africa-China ties as being based solely on China's interest in the continent's natural resources, that is not the case for resource-poor Ethiopia. In 2014, Chinese exports to Ethiopia stood at $4.5bn, consisting mostly of industrial products. By contrast, Ethiopia exported just $456m, mainly agricultural products, to China.
Ethiopia's deputy finance minister, Ahmed Shide, said the relationship with China is "based on changing people's lives, on building infrastructure and enabling countries to eradicate poverty".
Ethiopia's plans to take advantage of its plentiful manpower and become a light manufacturing hub is an extra incentive for China, he explained. For China's part, an official from the Chinese embassy – speaking on condition of anonymity because he wasn't authorised to talk to the media – said Ethiopia's relative safety, low levels of corruption, efficient bureaucracy, and cheap production costs are driving China's investment. He added China keenly understands the needs of developing countries such as Ethiopia. "China, less than two generations ago, was a very poor country with people aspiring to be developed and rich. And it has still infrastructure that needs to be carried out, from ICT to railways. So we understand the need of infrastructure for Ethiopia's development." This isn't a one-way street, however. Although Ethiopian exports to China are relatively small, China wants Ethiopia's agricultural exports, and rising production costs in China have spurred Chinese firms, such as Huajian, to build factories in Ethiopia, said the embassy official. Figures from the Ethiopian government show private operational Chinese investments from 1992-2015 stood at 16.2 billion birr ($773m), bigger than any other country's investment in Ethiopia during this period. However, there are also negative views of China's role in Ethiopia. Chinese goods suffer from perceptions that they are of low quality, and Chinese firms operating in the country have been criticised for not transferring knowledge to Ethiopians. Major work on expanding Ethiopia's telecommunications networks by Chinese firms, such as state-owned ZTE, has been of poor quality at times, according to Gamora, who said this could be improved if the Ethiopian government was more transparent about the deals. But Gao Yan, ZTE's public relations manager, dismissed talk of poor-quality work as "rumours", and said ZTE operates according to international standards in Ethiopia, where it has been working for 15 years. Yan noted in less than a decade, the company has been able to increase Ethiopia's mobile network capacity from 900,000 in 2006 to 20 million today, while also establishing 3G data networks. She also countered claims that Chinese firms are unable or unwilling to transfer knowledge to locals. "We've trained 1,000 engineers for Ethiopia for free to enable Ethiopian technicians to independently manage their own network," she said. "We've also cooperated with 13 universities to bring up talents for the telecommunications industry." Yan added ZTE also has its own complaints with what it calls the relative inefficiencies and slower decision-making process when operating in Ethiopia. While China has already invested billions of dollars in Ethiopia, the country can also expect more through the "
One Belt, One Road
" initiative that China launched earlier this year focusing on economic cooperation and connectivity among nations. While Gamora is generally optimistic about the Ethiopia-China relationship, he nevertheless cautioned that Ethiopia should not be overly dependent on China in light of the recent Chinese economic slowdown. But this worry is not on the mind of Solomon Mamo, one of the first residents of Addis Ababa to travel on the rail project. He is just excited to ride the train. "I hope to have a comfortable, fast travel between home and the workplace than I do now," said Mamo. "And I hope to see many more projects that make our city life better." *Source
Al Jazeera
]]>