Africa's Deadwood: The gold rush is on in Uganda
<![CDATA[By RODNEY MUHUMUZA* [caption id="attachment_20371" align="alignleft" width="300"]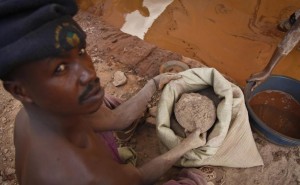 In this photo taken Wednesday, Aug. 19, 2015, a Ugandan gold miner scoops powdered ore to be washed to separate the dirt from the gold, in the Mubende district west of the capital Kampala, in Uganda. The gold rush is on in a big way in the Ugandan district of Mubende, with tens of thousands of people making their livelihood from it. (AP Photo/Stephen Wandera)[/caption]
MUBENDE, Uganda (AP) —     The hunt for gold takes the men 100 meters (yards) underground, past contraptions of wood and rope rigged to function like pulleys, past hard rock that they attack day and night with demolition hammers. When they emerge at the end of a shift, the miners carry stone samples that will be examined for the dark veins that suggest presence of gold.
The gold rush is on in a big way in this central Ugandan district of Mubende. So big that tens of thousands of people make their livelihood from it. Makeshift tents of blue tarps dot the green hills that are pockmarked by pools of muddy water where ore is washed, separating the gold. Four mining camps have sprung up in recent years, featuring brothels and restaurants.
 Now, Ugandan government officials are considering evicting the miners, saying they are not licensed. The government would evict them under eminent domain, compensate them and then open the area to bidders with development plans.
"These people are scratching across the surface, like rats," Edwards Kagimba, the director of geological surveys and mines at Uganda's Ministry of Energy, said in a phone interview with The Associated Press. "These are small-scale miners living hand to mouth. They cannot set up a proper mine."
But Kagimba and some other officials believe it would be a politically unpopular move, and perhaps a dangerous one, to try to force some 50,000 people from the land. Uganda holds presidential elections next February or March. Any evictions, if they happen at all, would likely be after the vote.
Some miners say they would fiercely resist any eviction attempt. Many would prefer to be licensed, pointing out that that would also benefit the government as they would consequently be paying taxes.
A Ugandan-led company was officially awarded an exploration license, but it has not had access to most of the areas under its jurisdiction, saying the unlicensed miners have refused to cooperate.
 The presence of potential gold deposits here was first discovered by the British colonial government in the 1920s. Then, in the late 1990s, regular visits by potential investors with big plans alerted locals to the existence of a valuable mineral in their midst, and soon Ugandans from other parts of the country were flocking to the area to start small-scale operations as illegal miners. A full-blown gold rush — with speculators buying up plots that they hoped contained gold — started about five years ago, according to veteran dealers.
  It's now like a Deadwood in Africa.
[caption id="attachment_20372" align="alignright" width="300"]
In this photo taken Wednesday, Aug. 19, 2015, a Ugandan gold miner washes gold ore to separate the dirt from the gold, in pools of muddy water in the Mubende district west of the capital Kampala, in Uganda. The gold rush is on in a big way in the Ugandan district of Mubende, with tens of thousands of people making their livelihood from it. (AP Photo/Stephen Wandera)[/caption]
 In a mining camp in the village of Lujinji, prostitutes stand provocatively near the entrance of a nightclub which has rooms that stink of sweat. Gold buyers with scales and money changers line dirt pathways. Gold traders' agents sit under tarpaulins, waiting for miners to bring shiny little balls of metal that are burned to remove mercury, which attracts the gold but does not ignite.
  All around is a great din from the constant turning of machines that crush stones from which dealers hope to extract gold.
On a recent afternoon, gold dealer Emma Kibirige's employees spread those stones around his compound under a blistering sun before breaking them in to smaller chunks to feed into a milling machine, which turns them into powder. The gold in these stones would probably amount to about 250 grams, he said after assessing them with a practiced eye. That's worth about $8,000, a cool sum for a 30-year-old who was jobless not long ago. About $1,600 of that money covers his labor costs over several days and the rest he keeps as profit. His next harvest is uncertain, as there can be dry spells in which quarries produce nothing.
 "This is my life and I cannot imagine doing anything else," Kibirige said. "In the last few years I have managed to buy myself four plots of land in Kampala."
 Even casual laborers here make about $5 each day, in a country where the average daily earning was less than $2 in 2014.
One miner, Eriya Mugerwa, cheerfully pointed out that his monthly earnings, about $150, is even more than what some Ugandan policemen and teachers make.
              Francis Gumisiriza, a greying 50-year-old who controls scores of young miners he calls his boys, used to import second-hand clothing before he acquired patches of land to mine gold.
              "To remove us from here, they will have to bring tear gas, and we are not afraid of that," Gumisiriza said. "All we are asking the government is, give us licenses to do business."
*Source
AP/Yahoo
]]>