Beyond Burkina Faso, Africa's 'Black Spring' hopes may be premature
<![CDATA[By Emma Farge and Bate Felix* [caption id="attachment_13874" align="alignleft" width="693"]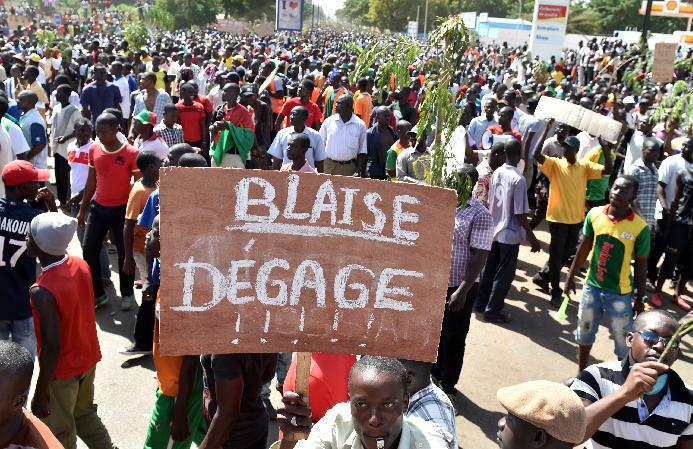 Burkina Faso opposition supporters protest in Ouagadougou on October 28, 2014 (AFP Photo/Issouf Sanogo)[/caption]
DAKAR (Reuters) – Inspired by protests in Burkina Faso that ousted one of Africa's longest-serving leaders, opposition activists across much of the continent are hoping for a "Black Spring" to mirror the Arab Spring. The experience of Clement Mierassa suggests their hopes are premature.
Mierassa, an opposition leader in Congo Republic, wanted to capitalize on last week's uprising that ousted Blaise Compaore after he tried to change Burkina Faso's constitution to extend his 27-year rule. He organized a meeting to oppose any similar move by his own veteran President Denis Sassou-Nguesso.
But the gathering at Mierassa's Brazzaville home on Tuesday had only just begun when police vehicles surrounded the house. Armed officers beat up the participants and arrested them.
From Congo Republic to Benin, Democratic Republic of Congo to Rwanda, several "Big Men" rulers are approaching the end of their mandates amid concerns that they may try to cling to power by changing their countries' laws.
Particularly in West Africa, some opposition supporters believe they can thwart such ambitions in the same way that Arabs in North Africa forced out the rulers of countries such as Tunisia and Egypt in 2011. "After the Arab Spring, this is the Black Spring," said Martin Aglo, a law student from Benin where the opposition has already organized demonstrations against any attempt by President Boni Yayi to stay in power. Long-serving African leaders, such as those in Angola, Zimbabwe and Equatorial Guinea, face emerging pressures at home from restless unemployed youth, discontent over inequality and democratization demands, magnified by expanding social media. But not all African states can replicate Burkina Faso's readiness for change.
The poor, cotton-producing state south of the Sahara desert already had a tradition of street protest and military-supported social uprisings. Marxist military captain Thomas Sankara led a popular revolution in 1983 inspired by Fidel Castro's rise to power in Cuba in the late 1950s.
Opposition movements elsewhere want Compaore's downfall to serve as a warning to their own rulers. "I am full of admiration for what happened in Burkina Faso … Our African leaders should draw a lesson from this," said Mierassa in Brazzaville, where Sassou-Nguesso has spent a total of 35 years as president.
However, they face more firmly entrenched rulers and elites than did the protesters in Burkina Faso. Crucial to the success of Compaore's overthrow was army sympathy with the disgruntled masses, following a 2011 military revolt over unpaid bonuses. As the crowd swelled to hundreds of thousands in Ouagadougou's Place de la Nation, soldiers stayed in their barracks, allowing the protesters to set the parliament ablaze. By contrast, presidents of wealthy oil-producing states, such as Angola's Jose Eduardo dos Santos or Equatorial Guinea's Teodoro Obiang Nguema, can use state resources to grease the wheels of political patronage and invest in the loyalty of their military hierarchies. Another factor in Burkina Faso was a lively, youth-orientated grassroots movement, led by many disaffected former allies of the president, as well as a history of winning government concessions through dogged protests. "I don't think it's going to unleash a wave of revolution (across Africa) or topple people like Dos Santos or Obiang," said Jennifer Cooke, Director of the Africa Program at the Washington-based Center for Strategic and International Studies. But she added: "I do think it is a manifestation of pressures that other countries are going to face … The example may embolden other citizens elsewhere." PUSHING THE LIMITS
Many African states introduced two-term limits in a wave of political reforms in the early 1990s aimed at ending the prevalence of post-independence "presidencies for life".
Well over a dozen leaders have tried to remove or extend the limits, most of them successfully using politically compliant parliaments which can pass the constitutional changes. Besides Angola, Zimbabwe and Equatorial Guinea, this has occurred in Chad, Cameroon, Gabon and Togo. In Burkina Faso, Compaore first tried to repeal term limitations in 1997, only to reverse the decision later under popular pressure. In Cameroon, opposition supporters hope President Paul Biya will go the same way as Compaore. "Burkina Faso is teaching us a lesson. We are eagerly awaiting Paul Biya's turn," said Nicolas, a university professor in Yaounde, who declined to give his last name for fear of reprisals by the authorities. Many see Democratic Republic of Congo as a possible next flashpoint. Supporters of two-term president Joseph Kabila are campaigning for a mandate extension in the turbulent country that has long attracted foreign investors to its mineral wealth. "When you look at all the various factors that contribute to threats to the succession dynamic … all those elements are really quite acute in the DRC," said Mark Schroeder, Director of Sub-Saharan Africa Analysis at U.S.-based Stratfor consultancy. But in Congo's capital of Kinshasa, a recent opposition rally against Kabila attracted only about 100 people. Many were swiftly arrested by security forces known for their heavy-handed tactics, witnesses said. "My fear is this could lead to violence because maybe the regimes in those other countries will not be as restrained as the Burkina Faso army," William Assanvo, Dakar-based researcher for South Africa's Institute for Security Studies (ISS), said. Cristophe Wille of the Control Risks consultancy said Kabila may try to prolong his power by means other than constitutional change. One option would be to delay an election until after a long-awaited national census that could take years. A DEMOGRAPHIC TIME-BOMB? But veteran leaders cannot underestimate their increasingly vocal young urban populations. Millions of youngsters are coming onto the labor market and if their hunger for jobs, equality and a greater political say is not met, this could be a demographic time bomb for those who are reluctant to go.
"Sub-Saharan Africa's citizens and youth are waking up and guarding their constitutions closely," said Yuhniwo Ngenge, program officer with the International Institute for Democracy and Electoral Assistance (International IDEA). "It's no longer business as usual."
In Burkina Faso, a group of young activists called "Citizen's Broom", led by a rapper named Smockey, led the protests that culminated in the storming of parliament.
Street-level pressure also played a role in Senegal in 2012 where the "Fed Up" movement led the blocking of incumbent President Abdoulaye Wade's bid for a third term.
By contrast, in Democratic Republic of Congo, the main opposition figure Etienne Tshisekedi is in his 80s and widely seen to be losing touch with the youthful grassroots.
Western pressure can coax African strongmen into ceding power – the United States and France had encouraged Compaore to give up his extended mandate ambitions. However, the West also has strategic interests, such as the need for solid allies to fight Islamic militants in West and Central Africa.
Nevertheless, mass protests have a better chance of being heard now that Compaore has gone. "It's a demonstration of the power of the street that leaders are going to have to be attuned to," said CSIS's Cooke.
*Source
Reuters/Yahoo
]]>