China to extend over $12 bln in aid to Africa
<![CDATA[[caption id="attachment_9301" align="alignleft" width="150"]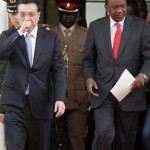 Chinese Premier Li and Kenya's President Kenyatta arrive for a news conference after holding bilateral talks in Nairobi[/caption] Chinese Premier Li Keqiang unveiled extra aid for Africa totalling at least $12 billion on Monday, and offered to share advance technology with the continent to help with development of high-speed rail, state media reported
Li pledged the additional funding in a speech at the Organisation of African Union headquarters in the Ethiopian capital, Addis Ababa.
China will increase credit lines to Africa by $10 billion and will boost the China-Africa Development Fund by $2 billion, bringing it to a total of $5 billion, Li said, according to the official Xinhua news agency. He provided no details of the timeframe
Li "depicted a dream that all African capitals are connected with high-speed rail, so as to boost pan-African communication and development," the report said. As China has advanced technologies in this area, Li said China was ready to work with Africa "to make this dream come true".
China will also offer $10 million in aid for wildlife protection, Li added, for a part of the world where the Chinese appetite ivory and rhino horns have driven some species to the brink of extinction.
It is Li's first visit to Africa since he became premier last year, and follows on from a trip to the continent by President Xi Jinping in March 2013, when he renewed an offer of $20 billion in loans to Africa between 2013 and 2015.
Li said that the new $10 billion credit line would be on top of the existing $20 billion already offered, the China News Service reported.
Chinese officials said last week that Li's trip, which also takes in oil-rich Nigeria and Angola, would not simply be for energy deals and Beijing will be seeking to help boost African living standards.
Li said he hoped that some of the loans being offered would be used to support small and medium-seized companies in Africa, adding that economic development on the continent offered huge opportunities for both China and Africa.
"History and reality make clear to all: China's development gives opportunity to Africa; Africa develops, and China also benefits," he said.
Trips by Chinese leaders to Africa are often marked by big natural resource deals, triggering criticism from some quarters that China is only interested in the continent's mineral and energy wealth.
China has a relationship with Africa which pre-dates its current resource-hungry economic boom. In previous decades, China's Communist leaders supported national liberation movements and newly independent states across the continent.
Africans broadly see China as a healthy counterbalance to Western influence but, as ties mature, there are growing calls from policymakers and economists for more balanced trade relations.
This version of the story corrects the figure for wildlife aid in the fifth paragraph. Earlier state media reports put the figure at $100 million, but transcript of speech puts figure at $10 million.
*Source
Reuters
]]>