Aliko Dangote: A lesson for African entrepreneurs
<![CDATA[
"I built a conglomerate and emerged the richest black man in the world in 2008 but it didn't happen overnight. It took me 30 years to get to where I am today. Youths of today aspire to be like me but they want to achieve it overnight. It's not going to work. To build a successful business, you must start small and dream big. In the journey of entrepreneurship, tenacity of purpose is supreme." – Aliko Dangote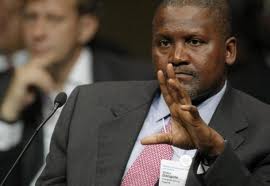 Alhaji Aliko Dangote represents what African businessmen should be. He is an example for aspiring entrepreneurs across the continent. Start small, aim very high, identify and take advantage of opportunities. Do not be discouraged by challenges.   Give, and give generously to help others make progress.
That was how Aliko Dangote, who started out as a trader of commodities, became Africa's leading businessman, with companies in 16 countries, employing over 10,000 people. In the process, he became the richest African and black man on the planet, with a personal fortune of $25 billion. It is this feat that makes him eminently qualified, and deservingly recognised as the Vanguard Newspaper African Personality of the Year.
Born with the Midas touch
When on 10th of April 1957, a male child was born in Kano; little was heard or known of the child. Like Shakespeare wrote in one of his epic books, Julius Caesar, 'when beggars die there are no comets seen but the heavens themselves blaze the death of Princes'. In some dynasties and royalties, when kings are born, they are celebrated.
hat was not the case in Kano when Aliko Dangote was born. He was just like any other child. He, like other children, learnt to crawl, walk and run. He cried like others but at school, he was focused on what he chose to do.
He probably discovered his destiny early enough and keyed into it. In his words: "I can remember when I was in primary school, I would go and buy cartons of sweets (sugar boxes) and I would start selling them just to make money. I was so interested in business, even at that time." Dangote, right from when he was young had his eyes on business.
He had always, as all real entrepreneurs do, seen opportunities where others see high risk and failure. In an atmosphere of difficulty, when others would have given up, he took the risk. He is known for taking great risks in a highly risky environment.
He has grown to have a Midas touch in every business he ventured into. He started as a commodity trader, he made success of it, he entered into sugar refining, and he made success of it. He set up cement manufacturing; he has made a huge success of it.
Now he is venturing into petroleum product refining. His hard work has set him apart to the envy of his detractors who only see him as a beneficiary of government waiver and concession. But there are others who have had the same benefit but could not make anything tangible from it.
That has brought success to him, his family, state and his country. He has invested in the various sectors of the Nigerian economy and across the African continent thus creating millions of direct and indirect jobs in the continent of Africa. He has become a business colossus that bestrides the global business environment, making him the richest African today.
Undeterred by Risks & Uncertainties
In one of the articles written by Jonathan Berman in Harvard Business review entitled; American CEOs should Stop Complaining about Uncertainty, he wrote how uncertainty has not deterred Aliko Dangote from investing in Nigeria and across Africa. In the write-up, Barman said: "This month, the chief executive officers of America's biggest companies went on a media blitz to decry the uncertainty caused by the fiscal cliff. In such uncertain times, they say, they are hesitant to invest in the US economy.
I departed Washington in the midst of these rumblings to attend a forum of Africa's leading CEOs. Here's a quick sample of the scheduled participants: Aliko Dangote, CEO of Dangote Cement. He's building a $2 billion fertilizer plant in his native Nigeria. He recently announced the next two growth markets for sizeable investment by his group are Iraq and Myanmar.
"For Dangote and many other executives in frontier markets, uncertainty is not the inhibitor of opportunity. It is the condition in which opportunity arises. That is a reasonable perspective to look for in American CEOs as well." The moving force behind private enterprise all over the world is what Adam Smith described as the invisible hand that allocates resources in the most uncertain environment.
It is real entrepreneurs that see opportunity in very risky areas, yet go in there with the hope of making profit. Business is about taking risk and any local entrepreneur that is not ready to take risk is not a genuine businessman. Dangote saw opportunities in the very uncertain and tough business environment in Nigeria. From trading in rice, sugar and other commodities, he veered into manufacturing in an environment many foreign and local investors see as very risky.
Alhaji   Aliko Dangote's business empire is estimated at a net worth of $20.8 billion as of November 2013 spanning interests in commodities with operations in Nigeria and several other countries in Africa , including Benin, Cameroon, Togo , Ghana, South Africa  and Zambia. Dangote in 2013 was ranked by Forbes Magazine   as the 43rd richest person in the world and the richest man in Africa based on his investment and the listing of his companies' interest at the Nigerian Stock Exchange. Taking some of his companies to the exchange has given other Nigerians opportunities to share in his success and has shown that he operates his companies in an open manner.
Early life
Alhaji Aliko Dangote, a northerner, precisely from Kano State, Nigeria, was born on the 10th of April 1957 into a wealthy Muslim family. He studied Business at the Al-Azhar University   in Cairo, Egypt   and thereafter returned to Nigeria to borrow from his uncle, Sanusi Abdulkadir Dantata. The uncle (Dantata) eventually gave him a loan of N500,000 when he was just 21 years old to start his own business.
Business career
The Dangote Group which started as a small trading firm was established in the year 1977. Today, it is a multi-trillion naira   conglomerate with many of its operations in Benin, Ghana , Nigeria, and Togo. At present, Dangote has enlarged his line of businesses to also cover food processing, cement manufacturing and freight. The Dangote Group also dominates the sugar and cement markets in Nigeria and is a major sugar supplier to Nigeria's soft drink   companies, breweries , and confectioners.
The Dangote Group has also moved from being a trading company to being the largest industrial group in Nigeria and the group includes: Dangote Sugar Refinery, Dangote Cement and Dangote Flour   just to mention but a few. He plans to set up the largest petroleum product refinning facility in Nigeria.
In the month of July 2012, he approached the Nigerian Ports Authority with the idea of leasing an abandoned piece of land at the Apapa Port, which was welcomed and approved. He later went to build facilities for his flour company there. In the 90's, he approached the Central Bank of Nigeria with a proposal that it would be cheaper for the bank to allow his transport company manage their fleet of staff buses which was also approved.
He owns the Obajana Cement plant which is the largest cement manufacturing facility in Africa. Apart from these, Dangote Group owns salt factories and flour mills and also a major importer of rice, fish, pasta and fertilizer. The company exports cotton, cashew nuts, cocoa, sesame seed and ginger to several countries. It also has major investments in real estate, banking, transport, textiles and oil and gas.
The company employs over 11,000 people and is the largest industrial conglomerate in the whole of West Africa. Dangote is also exploring the telecommunications sector and has started building 14,000 kilometres of fibre optic cables to supply the whole of Nigeria and as a result, he was honoured in January 2009 as the leading provider of employment in the Nigerian construction industry.
Africa's richest man, Aliko Dangote, continues to expand his publicly traded Dangote Cement across the continent, announcing plans to build new plants in Kenya and Niger. With operations in about eight countries, it is the largest cement manufacturer in sub-Sahara Africa.
In May 2013, Dangote said he would build a $9 billion oil refinery and petrochemical complex in Nigeria. When completed, it will be Nigeria's first and Africa's largest petroleum refinery.
His words; "As an investor who believes in Nigeria, knows Nigeria well and whose prosperity was made in Nigeria, we have responded to the challenge with our decision to invest $ 9 billion in a refinery/petrochemical and fertilizer complex to be located at the OKLNG Free Trade Zone.   This complex will be the largest industrial complex project ever in the history of our great nation.
On the 14th of November, 2011, Dangote was awarded a National Honour, Nigeria's second highest honour, Grand Commander of the Order of the Niger   (GCON ) by the President of Nigeria, Goodluck Jonathan .
Apart from his business acumen, he is also a philanthropist who has collaborated with American billionaire, Bill Gates Foundation to invest in the provision of health especially the eradication of polio in Africa and other parts of the world where the disease is still prevalent.
The DANGOTE Group consists of:
Dangote Cement Plc
Dangote Sugar Refinery  Plc
Dangote Flour Mills Plc
 Dangote Pasta Plant Limited
Dangote Agro Sacks Limited
Prayer Mats Production
Dangote Salt Plc
Ports Operations
Haulage
Steel Production
Dangote Foods Limited
Real Estate
Telecommunications
Oil Refinery, Petrochemicals and Fertilisers
The Philanthropic side of Dangote
To underscore his belief in giving back to the society, Aliko Dangote, through his Dangote Foundation, has over the years committed a lot of his resources into philanthropic activities.
The Dangote Foundation which was set up in 1994 is the Corporate Social Responsibility arm of Dangote Group.   The Foundation intervenes in the areas of health, education and empowerment. The Foundation is also involved in providing humanitarian aid to victims of natural disasters. It has contributed over $100 million (about N16 billion) in charitable funds to several causes in Nigeria and Africa over the past four years.
Dangote recently announced plans to endow the Foundation with N200 billion ($1.25 billion). He said the endowment would come from personal contributions as well as shares of his publicly quoted companies, which would be transferred to the Foundation for onward disbursement to beneficiaries. He added that this will ensure that the Foundation has secure and steady funding to carry out its mission as we significantly scale up our work.
Board of Trustees of the Foundation include Dangote as Chairman; his brother, Sani; his daughter, Halima Aliko Dangote; Chief Operating Officer, Dangote Industries Limited, Olakunle Alake; A.B Mahmoud (SAN); former Group Managing Director/CEO, Access Bank Plc, Aigboje Aig-Imoukhuede; wife of the former Ekiti State Governor, Angela Adebayo; wife of the former Managing Director/CEO Guaranty Trust Bank Plc, Hajara Adeola; and Group Chief Executive Officer, Renaissance Capital West Africa, Mrs. Yvonne Ike-Fasinro.
SOME OF DANGOTE'S CSR INTERVENTIONS:
$500,000 to boost UNICEF's fight against measles
The Dangote Foundation contributed $500,000 (N79.15 million) through the United Nations Children's Fund (UNICEF) to support the Federal Government's response to recent measles outbreak that affected many states in Nigeria. The donation was announced on April 12, 2013 in Lagos during a visit to the office of the Chairman of Dangote Foundation, Aliko Dangote, by a delegation of the UNICEF led by the Country Representative, Ms. Jean Gough. Gough lauded Dangote Foundation saying: "Public-Private sector interventions such as these in the health sector and other sectors such as water and early childhood development are the way forward for Nigeria to improve the well-being of Nigerian children." The grant is a major contribution to government's fight against measles which is among the leading causes of child deaths in Nigeria, especially in areas where immunization coverage is low.
The grant from Dangote Foundation, Ms. Gough pointed out, will support the measles campaign of the government through its Ministry of Health and the National Primary Health Care Development Agency (NPHCDA).   Dangote said the issue of health and safe living was a core responsibility in the discharge of the corporate social responsibility of the Foundation pointing out that "we have a common synergy with UNICEF in the areas of health, education and nutrition and we hope that our efforts will encourage more private sector operators to engage with on­going efforts to improve the well-being of Nigerians."
$6.4m to International Cancer Centre Abuja (ICCA)
Dangote Foundation made a donation of $6.4 million towards building a world class International Cancer Centre in Abuja, in 2009. The donation is to strengthen the fight against the disease.   The International Cancer Centre Abuja (ICCA) was initiated by Dr. Hajiya Turai Umaru Yar'Adua, former First Lady of the Federal Republic of Nigeria, as a non-­ governmental humanitarian project devoted to training, research and diagnosis of various forms of cancer. It is intended to be a one-stop centre, providing a comprehensive range of high quality, holistic and cost effective treatment for cancer patients in sub-Saharan Africa. The centre will actively engage in research geared towards prevention, early diagnosis and treatment of cancer. Education and public awareness programmes will be employed as tools for cancer control and prevention.
Donates dialysis machines to Lagos General Hospital
Dangote Foundation, in collaboration with the Rotary Club of Victoria Island, donated two dialysis machines to the Dialysis Centre of the Lagos General Hospital, Marina, in April 2010, to facilitate treatment of patients with acute and chronic kidney disease. In addition, the Foundation provides all the consumables used for the treatment. This has drastically reduced the treatment charges on the patients. "The machines have been of utmost importance and inestimable benefits to the patients who come from far and near to receive medical support. The machines have been very useful serving both the acute and chronic kidney patients." – Dr. Sade Soyinka, Dialysis Centre at Lagos General Hospital, Marina, Lagos
$ 2.6m to flood victims & women in Kogi
President/Chief Executive, Dangote Group, Aliko Dangote, on October 5, 2012, announced a donation of $2.6 million (N430 million) to victims of the flood disaster and for women empowerment in Kogi State. At a ceremony attended by top government functionaries in the state capital, Lokoja, Dangote said the contribution which is given through his Dangote Foundation is meant to complement the efforts of the government in providing relief materials to the victims and in resettling them as soon as possible. Dangote who gave out $312,500 (N50 million) worth of foodstuff and relief materials, and $937,000 (N150 million) in cash, also said $1.4 million (N230 million) would be distributed to 1,000 women in each of the 21 local government areas of the state to boost economic activities.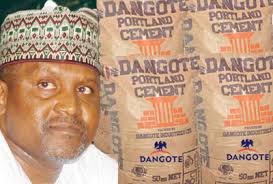 In his speech entitled: Lending a Helping Hand," Dangote said, he was touched by the pain the victims were passing through, noting that the flood has led to loss of lives and property and may cause outbreak of epidemic. "Obviously, the government alone cannot shoulder this onerous responsibility of bringing relief to the victims," he said.
Partners Bank of Industry (BOI) to boost job creation
Dangote Foundation and the Bank of Industry (BOI) signed a partnership deal that will create direct employment for one million Nigerians over the next few years, on March 7, 201 1 in Lagos.
The partners announced the funds release of $32 million in the first tranche, which is expected to grow up to $128 million eventually.
Dangote Foundation committed $16 million to the fund, while BOI also contributed a matching fund of $16 million, thus creating a total fund of $32 million to launch the fund. The fund would be used for lending to groups in the informal sector of the economy, as take off or working capital to support their businesses.
The Dangote component of the fund attracts zero interest, while that of BOI is 5 per cent. This is expected to impact directly on up to 13,000 registered groups in the entire country, each with an average of 20 entrepreneurs, thus impacting the lives of up to 250,000 micro-entrepreneurs, through job creation, spreading across all six geopolitical zones in Nigeria. The project is first of its kind in the country.
Some beneficiaries of the Dangote/BOI partnership:
Ken Baxton Limited: Secured about N19 million ($118,012) loan from Dangote/BOI intervention fund at five per cent interest rate.
Stallion (Ikeja) Cooperative Multi-purpose Society Ltd: Secured a N4.8 million ($29,813) loan under the Dangote/ BOI Fund with just 5 per cent interest rate.
Afriks Vegetable Oil Multi-purpose Cooperative Society, Kano State: Secured a N5.1 million ($31,677) Dangote/BOI loan which has enabled it to expand its operations.
Kudenda Thure Multi-purpose Cooperative Society: Secured N5.25 million ($32,609) loan which has enabled it to employ more hands to run two production shifts.
Geese (Ikeja) Cooperative Society Limited: Secured N7.5 million ($46,584) loan at 5 per cent interest.
Wahabiyya Vegetable Oil and Cold Room: Secured N5.28 million ($32,795) loans under the Dangote/ BOI Fund
 *Source
Vanguard
Nigeria]]>