South Sudan's partial prisoner release risks undoing peace agreement
<![CDATA[Rebel leader Machar has called on South Sudan to release four additional detainees, as agreed in a tentative peace deal. The men may face a treason trial. By Robert Marquand*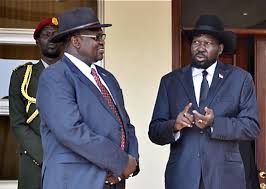 With sporadic fighting still reported in South Sudan despite a ceasefire, rebel leader Riek Machar today called for the release of the remaining four rebel leaders now being held by the government in Juba, and denied he had started a coup in December. Mr. Machar, the former vice-president, spoke to the BBC on a radio phone a day after South Sudan released seven of 11 rebel leaders it was holding as part of the terms of a "cessation of hostilities" deal signed last week. The men were flown to neighboring Kenya. However, South Sudan's justice minister said Wednesday the four remaining rebels will be put on trial for treason – potentially undoing an already fragile peace process. At an African Union meeting today in Addis Ababa, Ethiopian prime minister Hailemariam Desalegn said South Sudan could fall "into an abyss" if further war is not averted. Speaking on the sidelines, US Deputy Secretary of State William Burns urged the release of the four rebel leaders to avoid fresh hostilities. "We welcome the release of the seven detainees and we believe that is a positive step…. We will continue to urge the release of the remaining four detainees," Mr. Burns told reporters. Last week's tentative peace deal followed more than a month of brutal fighting that has displaced some 700,000 people and put the world's newest nation on the brink of civil war. In December, what had been a political fight between Machar (an ethnic Nuer) and President Salva Kiir (an ethnic Dinka), former allies in the independence struggle with Sudan, devolved into ethnic strife across the country and pitted villages and neighbors against each other. To what extent hostilities have ended on the ground is unclear. The UN reported this week that civilians around the nation are refusing to leave safe areas and compounds. Rebel leaders attending talks in Addis Ababa and officials in Juba have traded allegations of ceasefire violations. The tentative deal agreed on Jan. 24 in Addis is being monitored not by the UN but by "regional mediators" that include East African nations. Machar today told the BBC that officials from those nations must "live up [up] to their commitment" and free the four men who he said were "important in the peace process." They include a former ambassador to the US, a former national security minister, a former ruling-party leader, and a top defense minister. If a cessation of hostilities holds, formal talks between the sides will start later in February.
Foreign troops
Another sticking point is the presence of foreign troops aiding the South Sudan Army. This week the foreign minister of Norway, a top donor nation in 
East Africa
, called on 
Uganda
 to start pulling its troops out of South Sudan. The government in Juba has received considerable support from Ugandan forces, especially in recapturing the strategic town of Bor, which the rebels held off and on, and that Machar threatened to make a staging area for an advance on the capital. "It is now important that President Museveni of Uganda starts the process of reducing and later pulling out the Ugandan troops that are in Juba and surrounding areas," Norwegian Foreign Minister Børge Brende told Reuters. From the outset of the fighting, rights groups have described a series of brutal crimes and the discovery of mass graves. Yesterday a senior UN human rights official 
published testimony by a survivor of killings
 at a police station not in the countryside but in Juba, the capital:
We were picked up at checkpoints or during house searches. They recognized us by our accents, or by the traditional marks on our faces. 200-400 of us were brought to a room of a police station, so small that we were suffocating. Suddenly they opened fire on us from two windows. I fell to the ground, and was protected by the bodies of dead and injured lying on top of me. Some of the wounded were moaning, and they opened fire twice again during the night.
The official, Ivan Simonovic, pushed for continued monitoring and public reports on
 "
on human rights violations, victims and perpetrators," arguing that only "impartially established facts will prevent false rumors from further fueling the conflict … and bring accountability in the long term." *Source
Christian Science Monitor
]]>