Graça Machel on Mandela: 'I learned to separate the man from the myth'
By David Smith*
Many South Africans will say they have lost their tata, as in father. But amid the outpouring of emotion here and around the world, it is easy to forget that there is a woman mourning her husband. Graça Machel married Nelson Mandela on his 80th birthday on 18 July 1998, providing an unexpected romantic epilogue to an epic life. She was to be his champion and companion in his twilight years and first witness to his inexorable decline.
Machel is 27 years younger than Mandela but has known the pain of loss before. Her first husband, Mozambican president Samora Machel, died in a mysterious plane crash in 1986. She is the only woman in the world to have been first lady of two countries.
Born in Mozambique in 1945, she trained as a soldier in Frelimo, the liberation movement led by her first husband. She became the country's first education minister after independence from Portugal in 1975 and held the post for 14 years. It was the start of a long career dedicated to children and social causes. She once said: "It is the meaning of what my life has been since a youth – to try to fight for the dignity and the freedom of my own people."
Mandela met Machel briefly in Mozambique after his release from prison in 1990, later recalling her as "a very impressive woman and striking personality". She caught his eye again when she received an honorary doctorate in Cape Town in 1992. They got much better acquainted a year later when Mandela became a father figure to Samora Machel's six children, taking over on the death of his old friend Oliver Tambo.
Mandela's marriage to his second wife, Winnie Madikizela-Mandela, had not survived his incarceration and they divorced in 1996. Soon there was no secret about the president's new relationship – he and Machel were seen holding hands on overseas trips and kissing during a state function in Zimbabwe.
"I cannot describe my joy and happiness to receive the love and warmth of such a humble but gracious and brilliant lady," Mandela wrote at the time. "It gives me unbelievable comfort and satisfaction to know that there [is] somebody somewhere in the universe on whom I can rely, especially on matters where my political comrades cannot provide me."
Speaking to a TV interviewer, he added: "I'm in love with a lovely lady. I don't regret the reverses and setbacks because late in my life I'm blooming like a flower because of the love and support she's given me."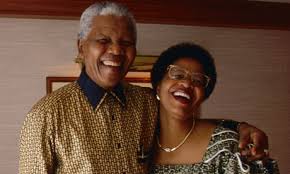 In 1998, aged 80 and 52 respectively, they bought a house together and married. Archbishop Desmond Tutu, who had previously complained about them living in sin, said at the wedding: "Graça has made a decent man out of him."
In a 2008 interview with CNN, Machel insisted the age gap had never been a problem. "He is simply a wonderful husband," she said. "We met in life at a time we were both settled. We were grown up, we were settled, we knew the value of a companion, of a partner. Because of that, we have enjoyed this relationship in a really special way.
"It's not like when you are still young, you are too demanding. No, no. We just accept each other as we are. And we enjoy every single day as if it is the last day. Because of that, it has been wonderful to have him as a husband."
Asked by CNN: "Do you look at him and go, 'I married Nelson Mandela?'" the former first lady replied: "At the beginning, yes. I already had this very deep involvement with him. It's … there was a sort of conflict between the man I loved and the myth. Particularly because people were saying things, and I couldn't figure out the two would go together.
"I know him as a human being, a person, and this myth surrounding him. The aura around him was a bit confusing, but then I learned to live with it, in terms of separating the two."
During Mandela's increasingly scarce public appearances following his retirement, Machel was usually at his side. She supported his frail arm as he tried to wave to crowds at the 2010 World Cup closing ceremony. While the rest of the world speculated over his health, she was forced to watch the dying of the light first-hand.
"I mean, this spirit and this sparkle, you see that somehow it's fading," she told eNews Channel Africa in 2009. "To see him ageing, it's something also which pains you. You understand and you know it has to happen."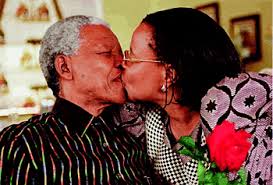 A formidable personality, Machel appears to have been unfazed by Madikizela-Mandela remaining part of Mandela's life. In 2012 photographer Adrian Steirn spoke of them "laughing hysterically" together at his birthday party. It remains to be seen whether Machel will clash with Mandela's children and grandchildren over his legacy.
Twice married and twice widowed, she has never allowed herself to be defined by Samora Machel and Nelson Mandela.
She established the Foundation for Community Development in Mozambique, a UN independent expert on the impact of armed conflict on children and she was a founding member of The Elders – a group of eminent global figures promoting peace and human rights. She is fluent in French, Spanish, Italian, Portuguese and English, as well as her native Tonga. –
*Source Mail & Guardian