East African states to share SIM card, national ID data
By CHARLES WOKABI*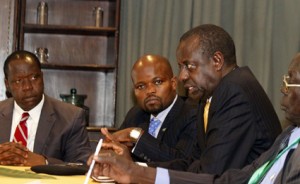 Kenya, Rwanda, Uganda and South Sudan are working towards establishing a cross-border SIM card registration framework in a new effort to curb the rise in crimes perpetrated by the use of mobile devices.
Meeting in Nairobi last week, Information, Communication and Technology ministers from the four countries  agreed to harmonise the different legislative frameworks guiding SIM registration in each country to spread the benefits of the exercise across the region.
A joint statement signed by Kenya's ICT Secretary Fred Matiang'i, Uganda's John Nasasira, Jean Philbert Nsengimana of Rwanda and South Sudan's Rebecca Joshua Okwachi said the four governments would also interconnect national identification (ID) systems.
"SIM card registration is now a regional security issue and must be handled with the importance it deserves. A regional deadline for deactivation of all unregistered SIM cards will be set and strictly adhered to," Mr Nasasira, who also chaired the meeting, said.
The interconnected national ID systems is meant to facilitate faster movement of people across the four countries, and at the same time ensure people moving from one country to another do not fake their nationalities and identities.
However, the absence of Tanzania in the meeting raises questions about the success of such an initiative given the borderless nature of technology.
The fact the country is not a signatory to the agreement means criminals can still use unregistered SIM cards within its borders to coordinate crimes in the region.
Mr Matiang'i said the meeting was intended for countries along the northern corridor, hence the absence of Tanzania.
"We are in touch with our Tanzanian counterpart and will be sharing our agreements with the country so they are free to come on board. This is one area where we need the inclusion of Tanzania to achieve the objective."
Kenya leads in the SIM card registration exercise, having switched off millions of unregistered subscribers from local networks in the first quarter this year.
The ICT cluster meeting follows a directive issued jointly by Presidents Kenyatta of Kenya, Paul Kagame of Rwanda, Yoweri Museveni of Uganda and Salva Kiir of South Sudan after the heads of state Integration Projects Summit held in Kigali, Rwanda in October.
The presidents also ordered their ministries to ensure international calling rates and roaming charges are reduced to speed  regional integration.
"The ministers agreed to jointly explore ways of lowering the regional roaming charges, including defining wholesale and retail price caps for roaming charges based on best practices," a communique signed by the four ministers read in part.
*Source Daily Nation