Hand washing: A lifelong Vaccine to Diseases (Ugandans' love for spoon feeding costly)
By Nelson Kukundakwe
Isingiro District
06th Nov 2013.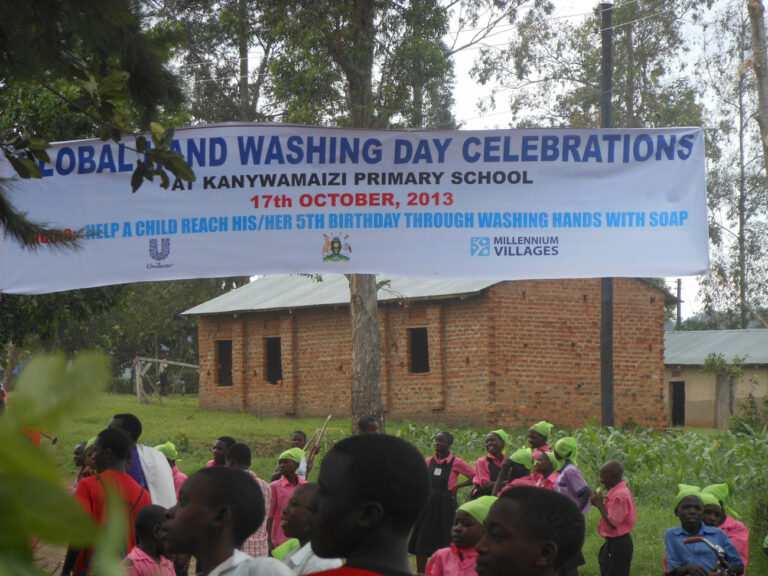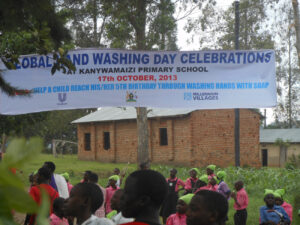 "Building toilets alone does not solve the problem nor does providing free soap. Countless "unwanted" toilets are scattered around the world, and, even though most poor people have soap, it is rarely used for hand-washing. To tackle the problem effectively, efforts to provide wash infrastructure must always come hand in hand with efforts to change attitudes and behaviors around sanitation and hygiene". Those were assertive remarks made by the chairperson LC5 Isingiro district Ignitions Byaruhanda while talking to residents on the day to mark international hand washing celebrations at Kanywameizi primary School in Kabuyanda subcounty. In our communities and other family settings, many lack something as basic as a hand washing facility despite the convincing figures that shows its vitality.
Dr. Edson Tusherure the District Health Officer says Ugandans' love for 'spoon feeding' costs both them and the government. "even when the government tells it's folk to wash hands they wait to be told to also use soap, and even when they are told to use soap, they want the government to articulate it cyclically or even plead to them" he noted with a profound concern. In Uganda's rural communities washing hands is an inconvenience adding that it becomes worse if you tell them to use soap. But Patience Byensi the Local council three chairpersons says families are too poor to afford buying soap alongside other family needs "families are too poor to consistently use soap because many of them leave under chronic poverty" she said. But Dr. Tusherure trashes this school of thought on the forced costly expenditure made while treating diseases that consequently come as a result of the would have been a life saving act. He said it's a question of attitude that needs to be dealt with. "You prefer spending 100,000shs and more on a patient than a 3,000shs for bar of soap a fortnight" he said "we can't keep buying drugs for patients lets equip them with skills on how to prevent them and make sanitation a lifelong Vaccine to many diseases" he added to argue insightfully. Byaruhanga who also was a guest of honor on the event called for a deliberate move agitating for a perpetual practical hand washing act starting from lower primary.
Statistics and survey
According to statistics a simple basic activity of washing hands can reduce respiratory tract infections by up to 25% and save at least a child who dies every after 20 seconds somewhere in the world, but the act is limitedly practiced due to a number of manageable challenges including but not limited to lack of toilets and clean water apparently, only 3 out of 10 Ugandans can wash hands properly using soap and only 29% Ugandans have access to hand washing facilities this explains why over 70% of the disease burden in Uganda is linked to Inadequate Sanitation. Statistics from the Uganda demographic health survey (UDHS 2005/6) show a total number of 190,000 children die every year due to only diarrhorea whereas over 400 Ugandans succumb to waterborne infection diseases not limited to dysentery, cholera, typhoid and the deadly Marburg and Ebola.
The event was organized by the millennium development project Mbarara region with the aim of achieving MDGs number 5and 6 and goal number 4 that intends to reduce child mortality rate. Unbelievably, the provision of improved sanitation and safe drinking water could reduce diarrheal diseases by nearly 90 per cent hence saving 12% of money spent on the health budget in sub Saharan Africa.
Globally, 3.5 children die before celebrating their fifth birthday due to diahorrea and other sanitary prevented diseases also about 2.5 billion people live without access to a toilet, exposing them to risks of catching Diarrhea that emanates mostly from lack of toilets and poor hygiene making it and pneumonia the biggest silent killer worldwide.