Ghana Gas production to start May 2014
By  Musah Yahaya Jafaru*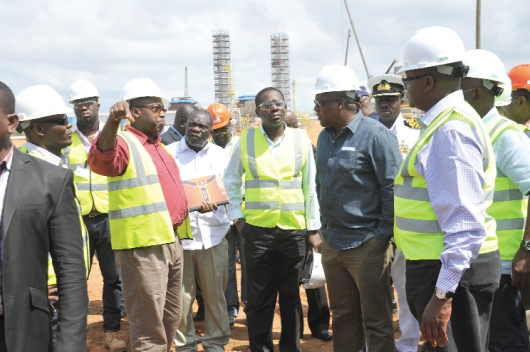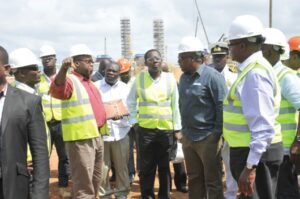 Ghana is expected to start producing its own gas from the Ghana Gas Infrastructure Project at Atuabo in the Western Region in May, 2014.
The project, which is to process 150 million standard cubic feet of raw gas per day from the Jubilee Oilfield, is billed to be completed by the end of April, 2014, four months beyond the original completion period of December, 2013.
The Chief Executive Officer (CEO) of the Ghana Gas Company, Dr George Sipa Yankey, told President John Dramani Mahama yesterday during an inspection of the project at Atuabo that the delay in the completion of the project was due to some technical challenges.
He told the President that the engineers had overcome the challenges and were working hard to finish the project by the end of April, 2014.
State of project
The overall Ghana Gas Infrastructure Project is 75 per cent complete. The gas processing plant component is 60 per cent complete, while the onshore and the offshore pipelines are 94 per cent and 95 per cent,  complete respectively.
Aside from the processing of gas, the plant will separate raw gas into various components such as lean gas, liquefied petroleum gas (LPG), as well as other mineral residues such as propane and bitumen.
The lean gas will then be transmitted through the pipelines to the Aboadze Power Plant for power generation.
Sinopec of China is the lead contractor for the gas project.
Other petroleum companies working on the project are Aecom from the United States, Thermo Design Engineering from Canada, Yokogawa from Japan, Technip from France and Worley Parson from the United Kingdom.
Dr Yankey assured sceptics that the Ghana Gas Company and the government were committed to the execution of the gas project.
He said the completion of the project would reduce the cost of power generation and ensure reliable power supply in the country.
The Chairman of the Ghana Gas Company, Dr Kwesi Botchwey, said the company had resolved to deliver the gas project according to specification and with good quality.
President Mahama
In his remarks, President Mahama said the gas infrastructure project was critical for the country in terms of the numerous petrochemical products that the people would derive from it.
"I am convinced that by the middle of next year we should start producing our own gas," he said.
The President commended the engineers and the management of the project for bringing it thus far.
"Do not rest on your laurels but rather work diligently to deliver the gas at the time that we have scheduled," he requested of them.
*Source Graphic Online